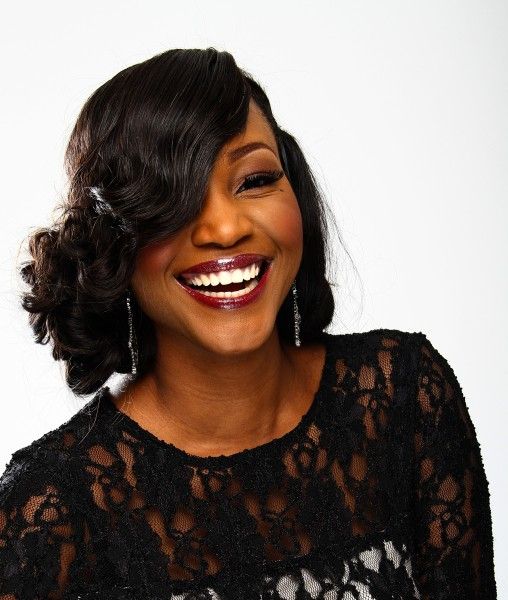 I sincerely lay no claims to being more knowledgeable than anyone, but I do confess that I know better than I did yesterday, last year and a decade ago. Isio Knows better is an attempt to capture the shocking and highly entertaining conversation within myself. The conversations between my mind (the sharp witty one), my soul (the lover and the spiritual one) and my body (the playful one concerned with the more mundane things of life). She is the eternal referee between the caustic mind and the sensitive soul. This is Isio.
So, here's to making private conversations public.
Enjoy!
***
So, I decided to travel again.
This time I chose Los Angeles. I had had an intense couple of weeks, chaotic, stressful weeks designing three new offices. Between my carpenters, installers and clients changing their design every 6 hours, I was just happy it was over. All I wanted was an escape. So, it wasn't with little expectation I packed my suitcase and headed for the airport.
As usual, our Lagos airport was noisy and stuffy. Part of it smelled like an Izal-cleaned public space. There were so many "checkpoints". The Caucasian woman beside me shrieked with exasperation at the fourth "checkpoint" we passed through, "How many are they?!" she wailed in that nasal accent. She seemed like she couldn't breathe. I smiled politely at her sweaty face. I continued to mind my business. We passed through the scanner. The female security offer patted me down. Like really patted me down, like she was convinced my thigh gap housed something more. I felt so unclean *shudders*. The immigration man asked me if I was a student.
No. What an incredulous statement. The look on my face said it all.
Immigration man: What do you do and where do you work?
I scowled and grumbled something about being an Interior Architect.
He let me through.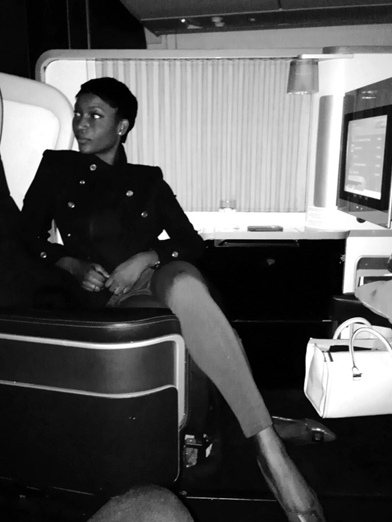 The flight was not so bad. Buckling my seat belt, I refused to let myself think of the past weeks. Carpenters can be so exhausting. They could put any one's people-management skills to the test. Instead, I let myself think of the experience of LA. I wondered if I would see many surgically enhanced duck face women – and men… I wondered if I would be polite enough not to stare.
And then I got to LA.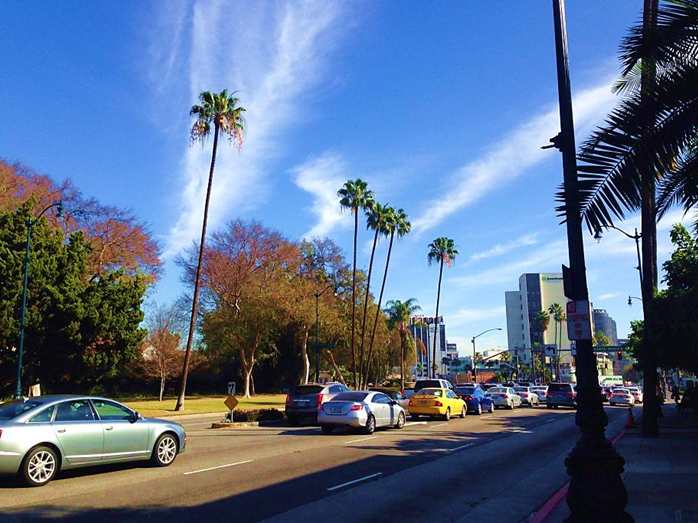 Wow!
My first question was, how is it that the sky is so blue in this part of the world? How is the cloud so white and the sun shines so bright? Yet in my own darling Nigeria, it just doesn't look like this.
Shuo, no be the same sun, cloud and sky we get? See the photo na, even with a camera phone. I told myself maybe it's the air. There must be a grayish-brownish haze floating around my beloved homeland, colouring our visuals.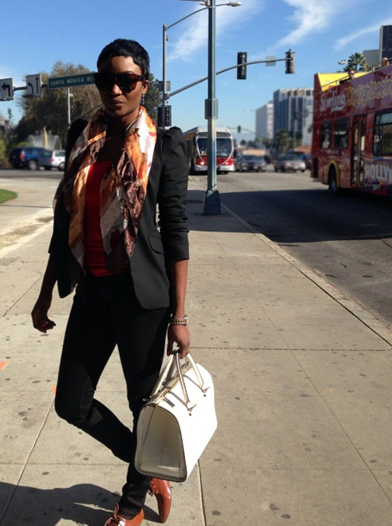 Honestly, my first moments in LA were of acute exhaustion. I think I had been travelling for about 30 hours (had to transit through London and waited for many hours at the airport). I wanted nothing more than to soak my aching muscles in hot water and pass out. Time difference between Lagos and LA was -9 hours.
When I got to my room, I was knackered. But before I hit the bed I placed a call and booked a Swedish massage. Groggy and half asleep, I dreamed of the massage. Swedish massages were one of my favorites…long, deep, sweeping strokes. I wondered what my masseuse would look like.
Eyes like Michael Ealy…
Long flowy hair like Brad Pitt…
Or maybe serious and strong like Idris Elba…
I smiled. And slept beautifully..
The Massage
It was absolutely the worst massage of my life- until it was not.
Turns out my Michael Ealy-Brad Pitt-Idris Elba masseuse fantasy was just that, a FANTASY. My fantasy quickly evaporated like flimsy wisps of smoke from a dying fire in the presence of a squinty-eyed, middle aged Asian woman with high cheekbones. Her black hair was short and seemed to sprout from her scalp like elephant grass. She was Anna. She smiled a welcome at me. I blinked.
What is this?
I wondered if it was too late to ask for my money back. My dears, that was how I was ushered into a treatment room o and Anna began work. Hmmmmn. Anna was just massaging the back like it was a soft boiled egg. Like if she applied any pressure, I would start to leak egg yolk. Choi. I don vex eh. It took 30 years of breeding and the almighty grace of God for me to not leap out of that bed like Jackie Chan, fling the towel off my back and shout, "Aunty, I say PRESS this back! Press this bone sef, massage the bone well-well make e bend like crayfish. I want to be shouting sef. Which one be this wey you dey do? Aunty Anna we go quarrel o!"
I gritted my teeth. She asked me if it was okay. I said, "uhunnn". My mind was berating me severely. SO, THIS IS WHAT YOU PAID $200 FOR ABI, YOU MUST COLLECT CHANGE, WALAHI! IF I HEAR! You will not tell her you don't like it o, be deceiving yourself with that your soft voice. This is unacceptable Isio. You might as well just sit down in front of a standing fan as this massage is nothing." She hissed a long stinging hiss.
"Em, Anna? Could you please apply more pressure?" I managed to ask Anna sweetly.
She did. And it became somewhat glorious after that. My mind called me a chicken. I called her mean. My soul remained uninvolved.
I must say that Anna tried with her massage. If only she knew that I liked hard massages, I am sure she would have done better. As for me I did not walk out of there like a bent crayfish, so I rate her 5/10. Okay 5.5.
And then it was time to pay.
Like the massage was not overpriced enough, the spa receptionist asked me how much "tip" she should include in my bill. The look on my face eh… WHICH KAIN YEYE TIP. I told her I didn't know.
She then said and I quote, "Maybe, 30%?"
I smiled, but my thought went thus…
Hahahahaaaaaaa, I laugh in Japanese. Come and collect 30 percent na. Yeye Dey Smell.
Wait, isn't a tip supposed to be subject to a customer's discretion and not the "service provider's" right? Well, I suppose 5.5 Anna deserved a tip. But there is no way in heaven, hell or earth that I will be parting with "$60 aka N10,080 for any kind of massage. Haba, Aunty Americana-receptionist, make you fear God now? Your tip alone would buy me two home-service massages with Mama Caro in Lagos.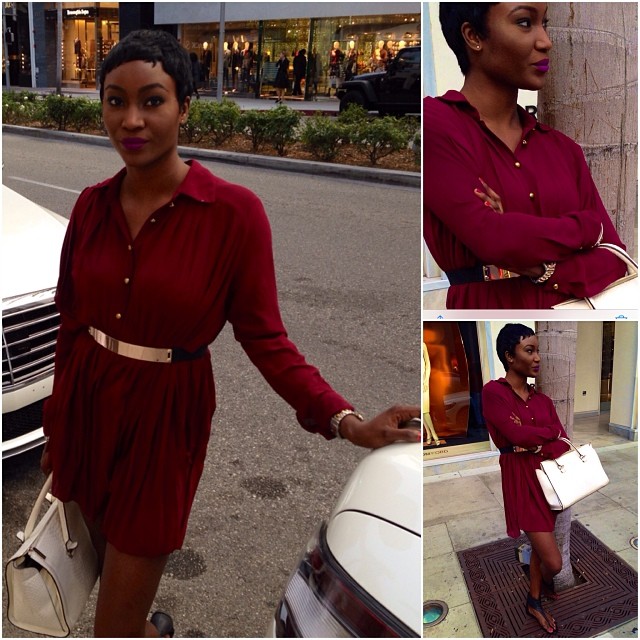 I told the receptionist I was going to give a 10% tip. She seemed disappointed. I walked away from that place. Not like a crayfish and with my skeleton intact. I was now ready to explore Los Angeles.
______________________________________________________________________________________________
Isio Wanogho is a top-model, TV Personality and entrepreneur. She is conversant in five languages and has 12 years of experience in the Nigerian entertainment industry. Isio, popularly known by her brand name Isio De-laVega, captivates audiences with her signature wide smile and relatable, quirky personality which endears her to many. Follow her on Instagram and Twitter @isiodelavega