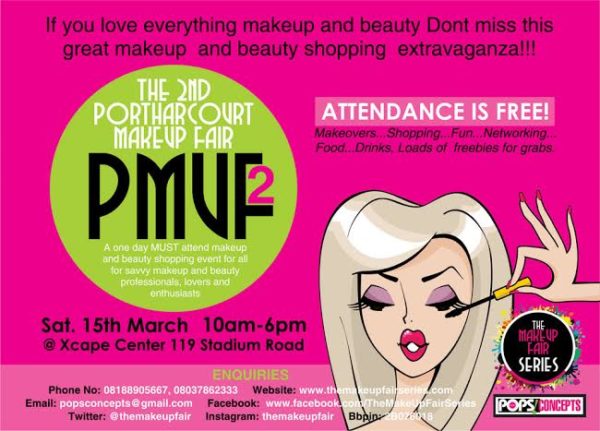 Following the success of its first edition, The Makeup Fair Series presents the 2nd edition of the of the Port Harcourt Makeup Fair 2 (PMUF 2).
PMUF2 is the 9th edition in The MakeUp Fair series which is a makeup and beauty shopping extravaganza intended to provide a platform for professionals in the business of makeup and beauty, to showcase and demonstrate their products to a select target audience of potential customers and business partners.
The exhibition would include categories like makeup products, tools & personal care materials, wellness & spa, hair care products and accessories. There will also be a lot of giveaways like free makeovers, free make up advice, shopping, food as well as presentations, makeup demos, networking, music and loads of fun.
Attendance is FREE so bring a friend!
Date: Saturday 15th March 2014
Time: 10AM – 6PM
Venue: Xcape Centre (ICinema), 119 Stadium Road, Port Harcourt
To Exhibit call 08037862333 or 08188905667 | Send an e-mail to [email protected] | Add BB pin: 2B076018 | Follow them on Twitter: @themakeupfair | Follow them on Instagram : @themakeupfair | Find them on their Facebook page: www.facebook.com/themakeupfairseries | Visit their Website: www.themakeupfairseries.com
_________________________________________________________________________________________
Sponsored Content