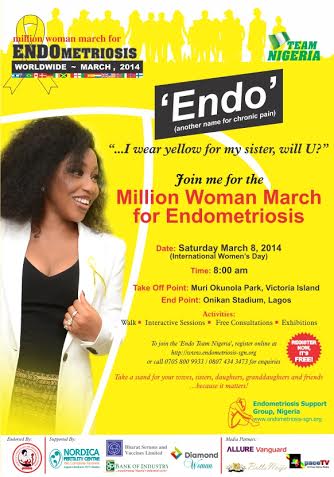 You're invited to join in the walk for Endometriosis in the Million Woman March for Endometriosis in Lagos, Abuja and Washington DC.
See the dates, times and venue below.
Lagos state, Nigeria
The walk starts from Muri Okunola Park, Adeola Hopewell Road, Victoria Island and ends at the Onikan Stadium, Lagos. Program includes free consultations, exhibitions by participants, interactive sessions and counselling by the US and Nigerian Endo teams. The focus will be on educating the public on the symptoms, medical care for endometriosis, nutrition, exercises, sharing experiences and funding for the foundation.
Date: Saturday 8th March 2014
Time: 8AM
Venue: The Onikan Stadium
FCT Abuja
Keynote speaker: Gerald Harkins, M.D. (Fellowship Director minimally Invasive Gynecology Surgery, Penn State Mittons. Hershey Medical Centre Pennsylvania USA).
Date: Tuesday 18th March 2014
Time: 12Noon
Venue: YarÁdua Centre, Abuja
Washington DC
Global Million Women March for Endometriosis, Washington DC. A million march to the capitol by men and women all over the globe and Nigeria will be represented here.
Date: Thursday 13th March 2014
More about Endometriosis
The endometriosis pain felt by these women cannot be described but through their words, we get a sneak peek into their lives:
•"A knife stabbing my ovaries."
•"Like someone shredded my insides and is pouring lemon juice over the open wounds and taking sand paper over them at the same time on top of cramps."
•"My insides feel like they are on fire and the pain is so bad I pass out from the pain!!
•"Words can't explain the true suffering we feel. Bottom line."
Endometriosis is a fairly unknown illness but common and one of the most common gynaecologic problem. This is a chronic disease where tissues that are normally found lining the womb (uterus) is found elsewhere in the body. These tissues form lesions which are most often found on the ovaries and other organs within a woman's pelvis and causes bleeding in their respective locations outside the womb. This causes inflammation and the formation of scar tissues, leading to severe pain or even infertility.
Introduction to Endometriosis Support Group Nigeria
ESGN (Endometriosis Support Group Nigeria) is a Non-Governmental Organization with the sole aim of assisting women, both young and old who are challenged with the endometriosis condition.
The Support Group since 2005 has been at the forefront of internationally recognized peer reviewed and professional services, programs and resources; actively lobbying for better outcomes, care, treatment options, awareness, support for these women affected with the endometriosis condition.
We are the first and only organization focusing on this condition in Nigerian and the West African sub-region.
_________________________________________________________________________________________
BellaNaija is a media partner with the Million Woman March for Endometriosis