Hey Tripican fam!
Think this week went by too fast? Definitely didn't feel like a week. But now that it's the weekend, we've got a line up of movies to make it fun filled and exciting.
We have special offers for you this weekend! You can get 10% off Mr Peabody & Sherman and Dallas Buyers Club movie tickets. Use discount code: PEASHERMAN and MCCONAUGHEY respectively. You;re not going to work, so why not spend it doing something we all love…watching movies!
And don't forget to checkout show times for Genesis Deluxe Cinema Enugu and Portharcourt on www.tripican.com. Enjoy!
Feature Movie: Apaye
Genre: Drama
Starring: Clarion Chukwurah, Kanayo O.Kanayo, Belinda Effah, Mbong Amata, Millicent Jack
Synopsis: A touching story of a woman's quest to succeed against all odds. Inspired by true events, 'Apaye' is the story of Elder Irene Yepayeye Uriah, born in the creeks of what is now Bayelsa State, abandoned by her husband and left to fend for her six children. She struggled and toiled to provide for her family and to make sure they enjoyed a life that she never had.
Mr Peabody & Sherman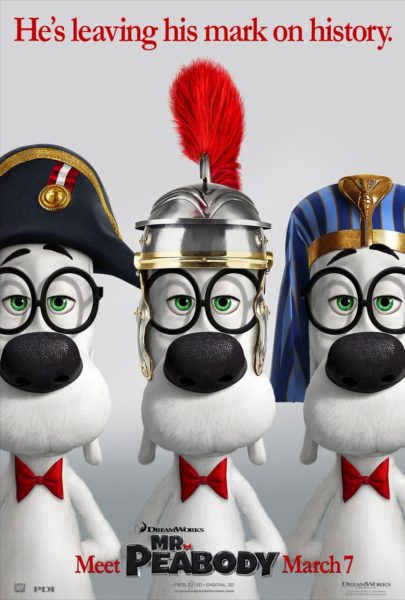 Genre:  Adventure, Animation, Comedy
Starring:  Ty Burrell, Max Charles, Lauri Fraser, Guillaume Aretos
Synopsis: The time-travelling adventures of an advanced canine and his adopted son, as they endeavor to fix a time rift they created.
Genre: Biography|Drama|History
Starring: Matthew McConaughey, Jennifer Garner, Jared Leto
Synopsis: In 1985 Dallas, electrician and hustler Ron Woodroof works around the system to help AIDS patients get the medication they need after he is himself diagnosed with the disease.
Pompeii
Genre: Action|Adventure|Drama
Starring: Kit Harington, Carrie-Anne Moss, Emily Browning, Adewale Akinnouye-Agbaje
Synopsis: A slave-turned-gladiator finds himself in a race against time to save his true love, who has been betrothed to a corrupt Roman Senator. As Mount Vesuvius erupts, he must fight to save his beloved asPompeii crumbles around him.
Genre: Comedy
Starring: Will Ferrell, Christina Appelegate, Paul Rudd
Synopsis: With the 70s behind him, San Diego's top rated newsman, Ron Burgundy, returns to take New York's first 24-hour news channel by storm.
Genre: Animation|Adventure|Comedy
Starring: Will Arnett, Elizabeth Banks, Craig Berry
Synopsis: An ordinary LEGO minifigure, mistakenly thought to be the extraordinary MasterBuilder, is recruited to join a quest to stop an evil LEGO tyrant from gluing the universe together.
Genre: Romance|Drama
Starring: Alia Bhatt, Randeep Hooda, Durgesh Kumar
Synopsis: Right before her wedding, a young woman finds herself abducted and held for ransom. As the initial days pass, she begins to develop a strange bond with her kidnapper.
Genre: Comedy, Romance
Starring: Kevin Hart, Michael Ealy, Regina Hall, Joy Bryant
Synopsis: New love for two couples as they journey from the bar to the bedroom and are eventually put to the test in the real world.
Winter's Tale


Genre: Drama, Fantasy, Mystery
Starring: Jennifer Connelly, Will Smith, Matt Bomer, Colin Farrell
Synopsis: A burglar falls for an heiress as she dies in his arms. When he learns that he has the gift of reincarnation, he sets out to save her.
Robocop 
Genre: Action|Crome|Sci-Fi
Starring: Joel Kinnaman, Douglas Urbanski, Abbie Cornish
Synopsis: In 2028 Detroit, when Alex Murphy (Joel Kinnaman) – a loving husband, father and good cop – is critically injured in the line of duty, the multinational conglomerate OmniCorp sees their chance for a part-man, part-robot police officer.
Genre: Comedy
Starring: Robert De Niro, Michael Douglas, Morgan Freeman
Synopsis: Three sixty-something friends take a break from their day-to-day lives to throw a bachelor party in Las Vegas for their last remaining single pal.
Genre: Action|Mystery|Thriller
Starring: Chris Pine, Kevin Costner, Keira Knightley
Synopsis: Jack Ryan, as a young covert CIA analyst, uncovers a Russian plot to crash the U.S. economy with a terrorist attack.
Genre: Biography|Drama|History
Starring: Chiwetel Ejiofor, Lupita Nyong'o, Brad Pitt
Synopsis: In the antebellum United States, Solomon Northup, a free black man from upstate New York, is abducted and sold into slavery.
Genre: Comedy|Drama
Starring: Vince Vaughn, Chris Patt, Cobie Smulders
Synopsis: An affable underachiever finds out he's fathered 533 children through anonymous donations to a fertility clinic 20 years ago. Now he must decide whether or not to come forward when 142 of them file a lawsuit to reveal his identity.
For more information and to buy movie tickets visit www.tripican.com.