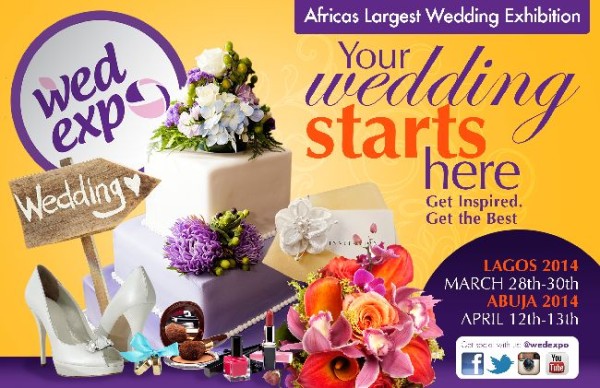 Are you a makeup artist, wedding planner, photographer, designer, decorator, caterer, baker, bridal house, groom house or offer any service in the wedding industry?
If yes, then you have to be at WED Expo – Africa's Largest Wedding Exhibition! It's the go-to destination for thousands of couples in Nigeria. Your business cannot afford to miss out.
Over the years, WED Expo has offered hundreds of business owners the opportunity to grow and expand their business and this year's exhibitions in Lagos and Abuja promises to be even bigger.
Check out the Promo Prices!
Name
Booth Description
WED Expo Lagos
WED Expo Abuja
Economy Booth
These are 3 by 2 meter booths that are allocated last.
N100,000
N100,000
Standard Booth
These are 3 by 2 meter booths allocated as soon as you pay based on the next available options.
N150,000
N120,000
Preferred Booth
These are 3 by 2 Meter booths and are the first 2 booths on each lane.
N250,000 

SOLD OUT

N200,000
Premium Booth
These are 3 by 3 meter booths and as the name suggests are located in the most prime location in the hall. They are the first set of booths you see when you enter the hall.
N450,000 

SOLD OUT

N300,00 

SOLD OUT

Booth Sharing
We allow a maximum of 2 vendors to share a booth. Note that conditions apply.
N60,000
N60,000
Promo prices above end Monday March 17th, 2014.
How to Book a Booth
Booking a booth at WED Expo is very easy. You can get a booth in just one day by following these easy steps:
Step 1: Send your company name, email and phone number by text to 08147217096
Step 2: Make payment to the WED Expo account depending on your choice of booths listed above
Bank Name: Diamond Bank
Account Name: WEDExpo Limited
Account Number: 0040977710
Step 3: Send a text with payment details to 08147217096
WED Expo is FREE to attend as a guest.
For further enquiries please call Akin Eso on 08147217096, Sadiya 08147790300 or Efe 07012952255 | Add BBPin: 7C6B6761 | Email [email protected]
WED Expo Lagos
Dates: Friday 28th – Sunday 30th March 2014
Venue: The Haven Event Center, Ikeja GRA, Lagos.
WED Expo Abuja
Dates: Saturday 12th – Sunday 13th April 2014
Venue: M&M Event Center, Garki, Abuja
__________________________________________________________________________________________
BellaNaija.com is a media partner with WED Expo Abuja & Lagos