From Koko Mansion to Diplomat wife!
The beautiful Chioma Akuezue met Consul General of the Federal Republic of Germany Walter von den Driesch on a plane from Germany to Nigeria in 2010. Their meeting was brief – they parted at the airport, but when the beautiful aspiring singer – who participated in D'banj's reality show Koko Mansion – and diplomat crossed paths again months later, he wouldn't let her go without getting her number … now the couple has now been married over a year!
Today BN Weddings catches up with Chioma on her current adventures as a diplomat wife and asks about her future endeavours.
We have to say we are so happy to see an increase in inter-cultural and inter-racial marriages recently. Love truly has no limits.
All images by K Lala Photography.
Enjoy!
***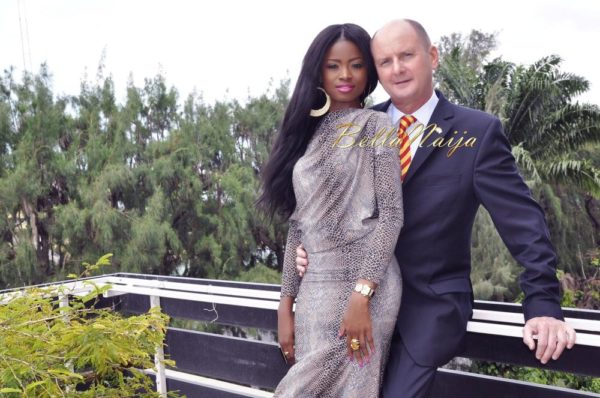 BellaNaija Weddings: How has life been away from the spotlight? How's married life treating you?
Chioma: It has been great, apart from my family I have been more focused with my current projects in Germany and at the moment I do not need the spotlight as I have to concentrate on my goals and achievements. I am happily married, my husband and my daughter are doing great in their fields.
BNW: Aww, you just mentioned your adorable daughter. She looks just like you! How was it like finding love with a beautiful daughter in tow? Did she warm up to Walter quickly?
It's been great finding love with someone I love and admire. I have learned and am still learning a lot from my husband, he's the best thing that has happened to me, and he adores me a lot, has so much respect for me and, most importantly, he loves my daughter and cares so much for her. They both make crazy jokes and laugh a lot. My daughter wasted no time in warming up to him, the first time she saw him she asked me, "mum who is he?" and I said to her, "he is my friend and he is going to be my husband" and I told her so much about him, they both got to know each other and after only some hours of playing together and my daughter told me, "mmhmm ok I like him, and I think I can call him dad when the two of you get married". I was quite impressed by her response and immediately I knew I wouldn't have problems with her getting to know my husband. And for sure as soon as I got married I took her with me, she's really happy and having fun with her life, she's very communicative and sociable, she is just my carbon copy, and the fun part of it is people actually believe she is my younger sister lol! which is good I believe, and by the way my daughter will be 9 years old this coming Sunday, she grows so fast lol! Soon we will both wear the same shoes. She attends school in Berlin. She is the only African student in her international class and everybody likes her.
BNW: Aww, that's so beautiful to hear. We wish her a happy birthday in advance! It's great that she's adjusting well. Now, your parents … We all know African parents can be a little bit conservative. How did your family feel about marrying a non-Nigerian?
Earlier my father thought it was not okay as I will be living far away from home but after a while he accepted and saw that I am very happy and he had no choice; my parents, family and friends are all happy for me.
BNW: Was your husband's family accepting?
Unfortunately my husband's parents are late, he lost them already a couple of years ago, but his younger brother and friends in his hometown are happy for us.
BNW: Talking about Walter's hometown, how's life in Germany? 
The experience has been great living in Germany – new faces, new challenges, integrating into the culture, it has been great am loving it.
BNW: Do you speak German?
I do speak German, when I met my husband I already started to attend German classes in Lagos and I have continued doing so in Berlin.
BNW: Cook German dishes?
I cook German dishes, I took a one month crash course with a German friend of ours – Mr Jost, who runs a hotel in Ikoyi as managing director and chef. My husband taught me a few things as well and now I am almost a pro. In fact, now there is asparagus season in Germany; asparagus being one of the German national dishes 🙂
BNW: Your family life has been splendid! How's your professional life? You were an aspiring singer in Koko Mansion, but now you also design. How has the transition been?
There was no sharp transition from music to fashion design, I am doing both –  I'm attending classes with a renowned vocal coach and apart from that I foster my existing contacts with Berlinale Annual Cinematographic Film Festival in Berlin. I took a long break because I had a job with Nigerian-German Business Association and later moved on to work for Lufthansa – the German Airline. Music and fashion has always been my passion, and fashion runs in the family, since my mum is a fashion designer and I am taking after her.
BNW: Like mother, like daughter, how cute! Now back to your love story! How did Walter propose?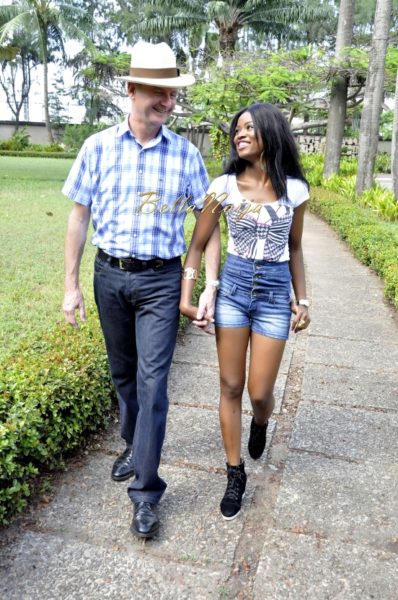 In December 2011 I went to Germany for training. He called me on the phone and said, "we should go see your parents" and I said "For what exactly?" and he said "Chi Chi I want to marry you". So I started laughing as I thought he was joking, because he didn't propose the usual way – like with an engagement ring and all.
When I returned to Lagos he picked me from the airport and in the car he said, "So what do you think about my proposal the other day?" I asked how serious he was and he confirmed he was serious about it. I told him I'd like to think about it and he said "Chi, there's nothing to think about", (as he already bought our flight ticket to Abuja to see my parents in 2 days!) I was both happy and surprised how fast things were happening, so I called them immediately to get ready – their in-law was coming! 🙂
BNW: You've now been married for over a year, but looking back to the wedding planning, what advice do you have for engaged couples?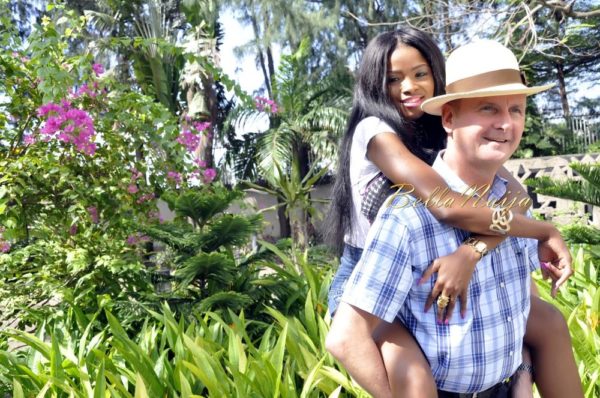 Take your time planning your wedding, as it can be very stressful. Communicate often to understand each other better and also consider your partner before making final decisions.
BNW: It's been great chatting with you! What next can we expect from Chioma von den Driesch?
Success and great achievements.
Thank you so much for sharing with us Chioma! We wish Chioma & Walter all the beautiful blessings of married life.
***
Chioma's Wedding Photos!
***
Photography: K Lala Photography and Films | klalaphotography.com | instagram.com/klalaphotography | info (at) klalaphotography.com
Wedding Date
White Wedding: 27th April 2013
Wedding Venue
White Wedding: La Cour Hotel, Ikoyi
Wedding Attire
Bride's Makeup: Elaine Shobanjo of Shomya Lag | instagram.com/shomya_lag
Hair: Ugo of Make Me Salon
Wedding Dress & Bouquet: Enthyst Bridal
Reception Dress: Mori Lee
Wedding Shoes: Divatude by Amina – Divatudeshoes (at) yahoo.com | +234 806 320 0112, +234 818 301 2500
Groom's Suit: Stresemann
Vendors
Invitation Cards: Koza
Cake: Cakes and Cream
Wedding Planner and Decor: Nwando
Food & Drinks: La Cour Hotel, Ikoyi
________________________________________________________________________________
We love weddings as much as you do – get in touch for inquiries, inspiration & more!
E-mail: weddings (at) bellanaija.com | E-mail for #AsoEbiBella: asoebibella (at) gmail.com