Say hello to our new friend Chiwetel Ejiofor.
Oh well, we can dream, right? BN's Moremi Amuta and Damilare Aiki were honoured to be invited to interview the actor who stars as Odenigbo in "Half of a Yellow Sun."
The movie has already been premiered in Canada and the UK. So it's no surprise that the buzz about the upcoming Lagos premiere has been huge!
We got there early – over an hour and a half early to be precise (we don't do African Time y'all!) and registered on time, so we could be the first to interview Chiwetel and his co-stars and crew including Gloria Young, Tina Mba, OC Ukeje and Biyi Bandele.
Unfortunately, Genevieve Nnaji and Onyeka Onwenu were MIA.
Moremi and Damilare had lots of questions, but narrowed it down to the most juicy ones for our dear BellaNaijarians.
And the Interview Begins!
We walk in and there is Chiwetel, the Academy Award nominee looking debonair, yet simple, dressed in a leather jacket, checkered shirt and jeans.
Damilare asked if he was a shaker or a hugger.  "A handshake is good," he said, as he smiled warmly.
This may sound cliche but he looks better in person, but we noticed he looked tired. Concerned about our new pal, Moremi asked how he was feeling this morning, he says "I'm a little tired I just got off the plane this morning."
However, his tiredness did not deter him from giving us some juicy information about the movie and other exciting topics…
Getting the Role of Odenigbo
With a budget of over $10 Million, Half of a Yellow Sun is arguably the biggest Nigerian production yet. Of course, we were interested in finding out how Chiwetel, one of Hollywood's most in-demand actors got the role.
"It's a long story" he says. Chi, (yeah we can call him that), revealed that it was his mother who gave him the book to read, back when it had just been published.  He read it and was greatly moved by the story.
When he heard that the production of the movie adaptation was under way, he expressed his interest to the director, Biyi Bandele.
Does he speak Igbo?
Igbo Kwenu! Chimamanda Ngozi Adichie has spoken about the beauty of the Igbo language. So it was only be fair to ask the "son of the soil," if he could speak Igbo.
"A little bit," he said, chuckling. Although he has been trying to learn the language over the years, he tells us it hasn't really worked out.
Hinting that he may be heading home eventually, he said that he may settle in Nigeria and hopefully pick up more of the language.
British? Nigerian? British-Nigerian? Come on the debate has been going on forever, Chiwetel please set the record straight.
If you recall, on "The Ellen Show," Chi said he is originally from London, but his parents are from Nigeria (missed it? click here).
Speaking about the  now infamous quote, he shared that although he is of "Nigerian heritage," he was born and raised in London and as a result, has to be associated with the UK.
So we asked whether he was British or Nigerian, and he said "I am very much both…I am Nigerian-British."
James Bond Villain Report
Will he be interested in kick fighting on the big screen with Daniel Craig? Oh yes he is!
As BN previously reported, he is being eyed to play a villain in the next instalment of the James Bond franchise ( if you missed this story read it here).
"It is uncertain at the moment," he said, but he is very much interested.
"Famzing," we told him that he'll be more killer than Javier Bardem in the last movie. Flattered, he smiled and cryptically said, "Oh well, we will see."
On his Oscar Nomination
"I survive. I will not fall into despair. I will offer up my talents to Master Ford. I will keep myself hardy till freedom is opportuned". WOW, who can forget his amazing portrayal as Solomon Northup in Steve McQueen's "12 Years a Slave"?
Chiwetel made history as the first black British actor to be nominated for the 'best lead actor' category at the Academy Awards. No need to remind that he is British-Nigerian, lol!
And although he lost out to Matthew McConuaghey for Dallas Buyers Club, the 36-year old actor says he was truly "honoured" to be nominated.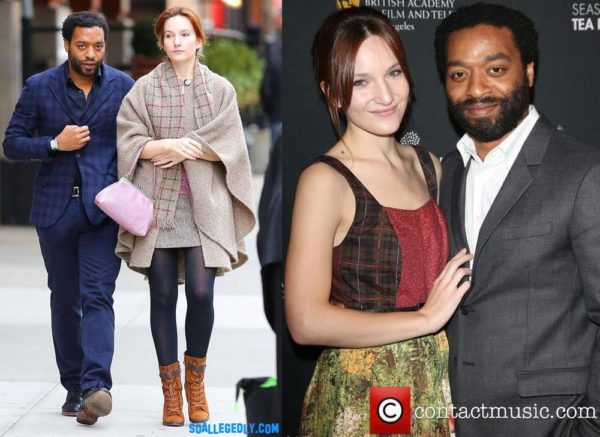 Meeting Sari Mercer
We love LOVE and we know our BellaNaijarians feel the same way! And so you know we just had to ask about the special woman in his life, Sari Mercer.
And guess what? The story of how they met is so sweet! Like a love story from the pages of a romantic novel.
Okay guys, here goes Moremi calling him a sex symbol. "Oh really?" he says. Yes, Chiwetel, yes you are.
So, here's how they met: Chiwetel decided a couple of years back to explore select places around the world. One of the many spots he visited was Lake Como in Italy.
Sari was also on tour in Italy, they met and instantly clicked, he shares. Aww….
On Wedding Bells
Sari supported Chiwetel throughout the awards season, complementing him in her designer dresses. We absolutely needed to know if she will support him for life, and not just on the red carpet.
Will there be any wedding bells soon? "Well, you will be the first to hear if that happens," he says, grinning from ear to ear.
Whoop! Whoop! Just so you know BellaNaijarians, we will e-mail his publicist every other day for any updates on this.
How about a couple of Little Ejiofors?
"Now you're asking questions. I thought this was just going to be about the movie."
Lol, Chiwetel, not completely.
He cleverly made his way around the question, but however shared that family is very important to him, also making reference to Half of a Yellow Sun and how it connects to family.
Selfie time!
After an amazing interview with Chiwetel, we moved on to the official Half of a Yellow Sun press conference, held at WheatBaker Hotel in Ikoyi, Lagos.

BN as well as other media representatives were present to ask him questions. Below are a few to which Chiwetel responded to:
On whether Biafra was discussed while growing up: "The Biafra war was a very seminal part of my upbringing and my family history. In fact, I will say that the Biafran war was the reason why I was born in London and not Nigeria.
It was as a result of the war that my parents left Nigeria. It was something I always remembered being talked about in my household, and in my family. Years later I spoke to my grandfather about my mother's side. He spoke about his experiences between 1960 and 1970."
On the Anti-Gay Bill:
"People have the right to make decisions…express individuality…I dislike the idea that we can be split based on our race, gender, Religion, and sexuality. We are all one."
On rumours of him not being connected with his "Nigerianess": "I have always been aware of my Nigerian heritage. I grew up understanding my history, identifying as Ibo. I'm feeling the connection to all of those things."
On the importance of the Biafran Story to Nigerians and movies such as "Half of a Yellow Sun"; "We must understand that it isn't just a story about Nigeria. It has its implications and its relevancies across the world. It is also an international story.
Whatever you describe as a tribe is so pertinent and creates all of these complications and issues which is why I still feel..the very surviving images of the way Africa has been represented in the western world – starving Children swatting away flies, Kwashiokor – are deeply ingrained in the psyche of western society and even to this day, in most people's minds, this is the only idea they have about Africa.
And so it has became important to start to tell these stories in a geopolitical context, and not just in an abstract context. There's been an extraordinary amount of progress in Africa, and people in the west need to recognize that. It hasn't still been recognized."
We are looking forward to seeing Chiwetel in "Half of a Yellow Sun". You can watch the movie in cinemas across Nigeria from the 25th of April 2014.