It has not been a good week for Oprah Winfrey.
Yesterday, BN brought you part 1 of a two-part Daily Mail UK interview with Barbara Winfrey, Oprah's ex-stepmother. Did you miss it? Click here for all the juicy info.
The American media mogul is kicking Barbara who married Vernon Winfrey in 2000, out of her $1.4 million house and to "retaliate" Barbara scored a scathing tell-all interview with the publication.
In the second part, she shines the spotlight with her shocking words on the relationship between Oprah, her best friend Gayle King and partner of 28 years Stedman Graham.
Oprah and Gayle's friendship has faced criticism over the years, with many calling them – GAY.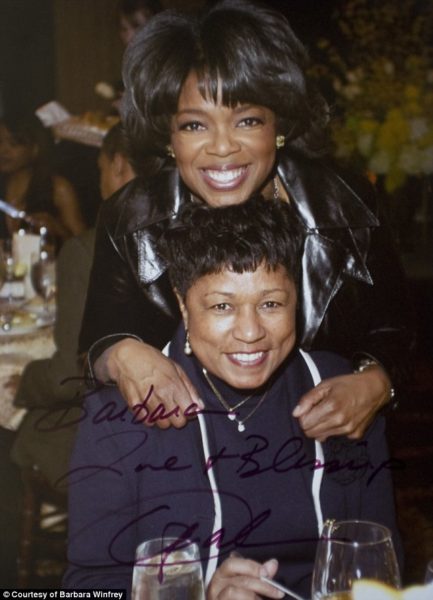 To read the full interview, click here
Read excerpts below;
Oprah has had Stedman followed for years: "She told Stedman a member of her security team had told her. When he asked, "How come this guy knows everything about my life?", she said "That's what I pay people to know."
She had had him followed I don't know for how long. Once you're in Oprah's world, she owns you."
Oprah wanted to get married: "He was comfortable like an old shoe, to her. They stayed in the same room when they were here but he didn't live with her exactly. He travels so much; he would fly here and there to her. He's at her beck and call.
I think in the beginning it was different. Vernon told me how one time he was driving and Oprah was taking Stedman to meet family in Mississippi. He said she was running her hands through his hair the whole trip, till he was so fed up he was ready to put her out of the car.

She wanted to get married at first but he wasn't so keen. Then she became this powerful person and things changed, the balance switched."
Stedman financially depends on her: "Stedman isn't a good steward of money and that suits Oprah fine. He is financially dependent on her. He knows her secrets and she knows his.
Why would they marry now? He's there at her beck and call. He knows his role in her life. And just as importantly he understands Gayle's role in Oprah's life."
Gayle is more present than Stedman: "Gayle is very, very present. I don't know any man I've ever dated who could tolerate that, but Stedman knows Gayle's going nowhere.
They speak on the phone three or four times a day…the relationship is unhealthy.
Once Oprah took us on a Mediterranean cruise. That was an amazing thing she did. She rented a $30 million yacht and went on an 11-day cruise.
She's very flamboyant. We had meals three times a day, three courses, different place settings, different cutlery, glassware, different everything three times a day but she never talked to me and Vernon.
She didn't spend any time with us. It was always her, Stedman and Gayle. The three of them. Anytime you looked up they were together. To me it was just bizarre."
On Oprah's sexuality: "I can only say what I saw and observed over the years. Gayle was more present than Stedman."
On the duo's strong friendship: "The day I called to tell her that her father had been held up at gunpoint in his barber's shop her response was…'Well, I expect him to be found dead in there one day.'
I asked her why she would say something so cold, she said, 'Coz it's true. Gayle and I have already discussed it and we've accepted that.'
That's how it was with them. Sometimes I believe that Oprah is more dependent on Gayle than the other way round.
I don't know what she would do without her friendship and if it's not more than friendship then they're certainly giving every appearance that it is.
But don't forget, Oprah has her brand to live up to and her father is a very conservative, traditional man. He's a deacon of his church. He always thought she should get married."
Oprah is a "stress eater": "Food is her comfort. Potatoes are her downfall, potatoes, potato chips…any kind of potato. But you rarely saw Oprah fix a plate of food and eat it at the table with everybody else.
If she joined you she would pick at other people's plates. If she saw something she wanted she'd just take it straight off their plate and wouldn't even ask.
Nobody can live up to being Oprah. She's human like I'm human. She's not perfect"
Oprah's battle with her skin colour: "She tells the world what to do but she's in inner turmoil. Everybody thinks she has all the answers but she needs to sit down with Dr Phil.
Vernon often told me that he thought if Oprah could change the color of her skin she would – she'd make it lighter."
Although it is said that there is no smoke without fire, but Oprah picking up food from someone's plate? Barbara's words seem more attacking than revealing.
In an interview with Barbara Walters in 2010 – the year she ended the 25-year run of The Oprah Winfrey Show, she addressed lesbian rumours.
"Well…I have said we are not gay, enough times. I am not lesbian, I am not even kinda lesbian. And the reason why it irritates me, is because it means somebody must think that I am lying, that's number 1.
Number 2, why would you want to hide it. That is, that is, not the way I run my life." said Oprah.
Watch!