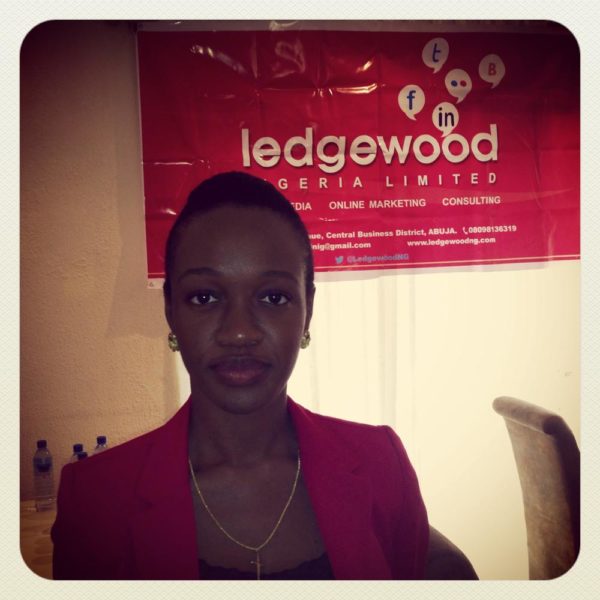 Move Back to Nigeria is a series on BellaNaija which aims to encourage young and not-so-young professionals in the diaspora who are trying to make the decision of whether to move back to Nigeria. In collaboration with the brilliant team at MoveBackToNigeria.com, we hope to bring you a weekly interview with individuals who have successfully made the leap, considering the leap, as well as those who have tried it and realized it is not for them.
MoveBacktoNigeria.com's mission is to showcase stories of Nigerians abroad who have moved back home and are taking giant strides, often against all odds and to serve as inspiration to others. This, however does not preclude us from sharing stories of the people who have moved back and are facing various challenges.
This week, we are excited to profile Mitun Dada, Abuja-based civil engineer, social media expert and business consultant, clearly a woman of many interesting parts. For more on her academic and professional background,as well as her youth empowerment initiatives, do read on.
Thanks for speaking with us. Can you please introduce yourself and describe yourself professionally and otherwise?
My name is Mitun Dada and I am a Civil Engineer by training. I currently work as an Assistant Project Manager for a construction project management company and I also run my own company, Ledgewood Nig. Ltd; a leading social media, online marketing and business consultancy organization based in Abuja.
When and why did you leave Nigeria?
I first left Nigeria in 1990 as a very young girl with my sister. Our parents had moved to the states the year before and settled down there, so we went over to join them. We must have been like 5 years old then.
Tell us about your educational background.
I have a BSc in Civil Engineering with a focus on Construction Management, from Rutgers University in New Jersey and an MSc in Property Development from the University of Portsmouth in the UK.
Did you always want to be an engineer?
Not right away. Actually, I always knew I wanted to run my own business, but while I was in high school, my two favourite subjects were math and physics and I wanted to study something challenging that I could not learn on my own or teach myself so I decided on engineering. Initially, I wanted to do computer engineering but I didn't quite like that, then I declared Industrial Engineering as a major and after a year of taking those courses, I still had no idea what exactly they did. So, after that summer, I sat down and researched all the various engineering options and decided on civil engineering. I love buildings and structures and the idea of creating something almost out of thing.
How did your professional life and career begin?
My professional role as an engineer, began in the States while I was still in university. In my final year studying civil engineering, I started to look for work as a construction manager but could not find anything satisfactory. Instead what I ended up doing was working as a structural engineer which I started part time as a student then continued full time after I graduated, until I decided to move back to Nigeria. I had to do a lot of learning on the job as this was not my core focus in school, so I found it challenging but very rewarding.
When did you move back to Nigeria and what prompted the move?
I moved back in 2008, my parents had moved back to Nigeria a few years earlier and they convinced my sister and I to quit our jobs and come do NYSC and check it out. So we quit our jobs and packed our bags.
It was as simple as that?
Yes it was actually. The joys of being young! But I moved back to the UK the year after NYSC and did my Masters and worked for a little while before settling down for good in Abuja in early 2012.
Please tell us what you do professionally in Nigeria.
I believe in generating multiple streams of income and I always love a good challenge. I am a bit of a serial entrepreneur and I love to help people and impact everyone positively everywhere I go. So aside from my 9-5 as an engineer, my social media and business consultancy organization runs a youth empowerment program every other month in Abuja for now called Ledgewood Nig. Business Development and Career Day. It is absolutely free to the public, targeted towards anyone between the ages of 19 to 33 and we have trainings, seminars and workshops on personal and professional development and on various entrepreneurial skills.
I also recently started a Customer Service and Customized training company and I co-run an NGO called Nigeria Reads Initiative which aims to promote literacy all over Nigeria by establishing local community libraries in outer communities to foster good reading habits and a strong reading culture to less privileged children and young adults. Our pioneer library is the Tasha Community Library and we currently have a few more underway.
That's very impressive but sounds like a lot on your plate! How do you successfully juggle it all?
I don't sleep! Well, I am usually always on the go, but I am very conscious of the fact that I need to maintain a work-life balance; if I do not take care of myself properly then I will not be able to function at my optimum. I generally wake up a bit early during the week between 5.30am and 6am, say my prayers ask God for the strength to do all the things I need to do then get some work done. Then, I get ready to do school runs and head to the office. I tend to have lots of meetings after 5pm and on the weekends and I have some good people I team up with and that really helps. If I find myself feeling overwhelmed or swamped, I simply pull back and try to regroup and I usually do this by reducing my work load for a day and go for a nice run that always helps to clear my head.
How have you found the move? Highs and lows?
I love Nigeria, but the move back definitely has had its highs and its lows. Sometimes I just want to go back to constant light and power and petrol. Working and Living in Nigeria is a whole different ball game compared to having lived and worked in the States and UK. Things here are not as straight-forward. There's a lot of politics and things do not always go as planned. However, on the flipside, I love the fact that nothing is quite impossible in Nigeria. There are a lot of opportunities here, as we are still a developing nation and Nigeria is the most populated country in Africa so I find that quite exciting.
And have you had to make significant lifestyle adjustments?
Yes, a few. For instance, I take less vacations. Americans love their vacations, now I am lucky if I can squeeze one in a year. Most of my lifestyle differences would be more of a personal decision, I have always been big on volunteering but I do volunteer more since I moved back; there is just so much that can be done and I work-out a lot more, which I love to do as well and it keeps me refreshed and fit.
Have you also had any particular work-related challenges and positives? If yes, how have you dealt with the challenges?
When I first moved back I found it a bit challenging finding a job. Even though I had gotten a few job offers, the jobs just never started or I just wouldn't hear back from the company. I couldn't believe the whole process! I would have gotten the offer letters, signed and returned them and then nothing! That was quite unnerving but I got over it and God did see me through those times, anytime I fell down He always picked me right back up.
You've clearly risen beyond those challenges…Moving on, where do you see yourself and your brand in the mid to long term?
In the mid to long term, I hope to see a lot of growth for myself and my brand. I would like all my businesses and NGOs to go nation-wide and also hopefully feature in the international markets as well.
Finally, do you have any tips or words of advice for people potentially considering a similar move back to Nigeria?
Go for it! You will not lose, and if it does not quite work out the way you expected, chalk it up to a great learning experience and keep going.
Many thanks for your time and best wishes moving forward.
______________________________________________________________________________________________________
The  primary objective of MoveBackToNigeria.com is to connect Nigerian professionals with various opportunities in Nigeria, ranging from recruitment drives to information & support regarding relocation processes, financial & tax advice and much more. Move Back To Nigeria also features social interest topics such as what's on, where to live, how-to survival tips and so on. Consistently engaging with and featuring Nigerian professionals in weekly  interviews, Move Back To Nigeria regularly publishes social interest articles relevant to the general public. Everyone is welcome to their online discussions & fora and you are invited to air your views & suggestions on the topical and trending matters section. For more information and further inquiries, please contact [email protected]