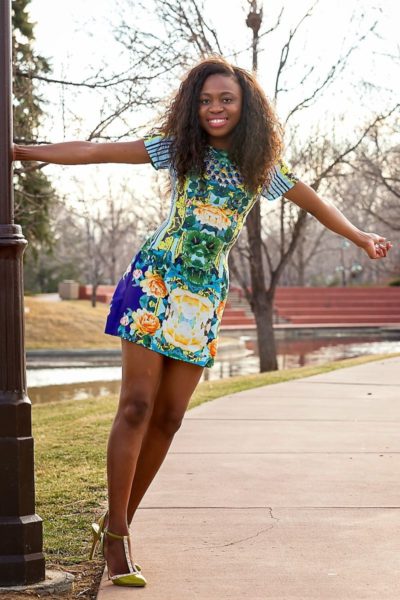 "Fashion is what you make it" – Louisa Moje
It's time for another fabulous edition of My Style – our monthly BN Style feature that aims to celebrate the unique style of our amazing BN readers.
The My Style page is all about showing how diverse and universal style can be. Style is individual, unique and fun and is a personal representation of how each person expresses their take on fashion; so BN Style watchers let's appreciate her unique style 🙂 Enjoy.
BellaNaija reader Louisa Moje is our My Style focus for this edition and we are loving her eccentric and free spirit. This Nigerian born fashion lover is the last of 7 girls and 3 boys; and with all those females in the family she knew it would be hard for her not to love fashion.
Louisa is currently in school studying Pharmacy; and dressing up, shopping, travelling and blogging came quickly to her as a way to cope with her studies – with her style blog – La passion Voutee. Keep scrolling to find out more about Louisa and her amazing style.
My Style is…
simple, elegant, chic, affordable and dynamic. It intrigues me to see the intricate amount of details that designers put together to create a piece. You know the popular saying, "one man's poison is another man's meat"? That's the best way I can describe my love for style because an outfit can look terrific on one person and look hideous on another person. I love style because it allows you to figure out what works best for you.
Where Style Meets Personality
Style to me is a form of expression. It is a way for me to portray not just my sense of style but my thoughts and feelings at any point in time. I'm a calm, cheerful and very giggly personality. Based on how I feel, I choose to either blend in with the crowd or stand out.
Where I Shop Till I Drop
I shop at a variety of places from ASOS, Boohoo, Topshop, Urban Outfitters, Zara, Forever21, Lulu*s, DSW, Nordstrom to smaller stores like Moddeals and thrift stores for more bargain choices. I believe a girl can look like a million bucks if she's got the confidence to pull off whatever she puts on. I am a huge online shopper because in the cowboy town where I reside, there are no malls.
My twin sister is a financial advisor and she deliberately placed me on a budget so my shopping doesn't spiral out of control and because of this, I buy most of my clothes when they go on sale.
My Tresses
I love easy to maintain hairdo and so I gravitate towards straight or wavy hair and once in a while, I get my hair braided.
My Makeup Look
My routine is very easy and takes me less than 7 minutes. I use a powder, eyeliner, mascara and a lip gloss/neutral lipstick. I mostly don't wear foundation as I tend to break out easily.
How I Accessorize
I tend to go light on accessories and usually wear one or two statement pieces at a time.
Feet & Shoes
On A Regular Day
Bag Life
I Own the Night
I Think Every Girl Should Have
My wardrobe staples include midi skirts and wiggle dresses with a hint of color. But I think every girl should have a classic pair of neutral pumps, a midi-length dress and a beautiful purse.
My Advice for Other Stylistas
Do not dress to please anyone. Find what works great for your body and embrace it.
A Pop of Me
My Skirts are Larger than Life
If I Could Steal A Celebrity's Wardrobe
If I could have anyone's closet right now, it would probably be Lupita's wardrobe. I just love her simple yet elegant style.
Which Celebrity Stole My Look
Tiwa Savage! I may not remotely look like her but I appreciate her sense of style – minimal and gorgeous just like mine.
My Style Philosophy
Fashion is what you make it; your personal style or just another trend.
See Ya!
Thank you to Louisa for sharing her style with us. To find out more on Louisa and follow her awesome style, you can Visit her Blog: http://lapassionvoutee.blogspot.com | Find her on Facebook: www.facebook.com/lapassionvoutee | Follow her on Instagram: @lapassionvoutee | Watch her on Youtube: louisamoje
_________________________________________________________________________________________
If you are interested in appearing on My Style, simply send two pictures of yourself or that of a friend depicting a typical day and night look with a short summary of your style to style(at)bellanaija(dot)com. When your entry is approved, you will be required to send in more pictures and personal commentaries on your style or that of your friend as the case may be!