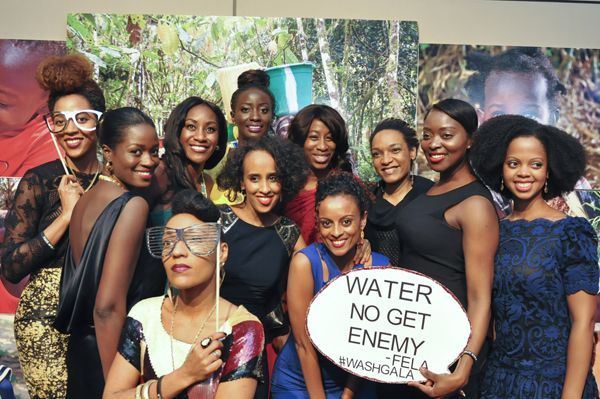 On Saturday 22nd March 2014, for the UN World Water Day, FACE Africa held its 5th Annual WASH (Water, Sanitation and Hygiene) Gala in New York City at Chelsea Piers.
Hosted by Nigerian actress Ebbe Bassey, the Gala attracted 320 guests and raised close to USD $250,000, all of which will go towards building clean water projects in Rivercess County, Liberia and provide 12,000 people with clean water. FACE Africa, founded by Saran Kaba Jones in 2009, has a mission is to bring safe drinking water to some of the 350 million people across sub-Saharan Africa who lack access to this basic necessity.
The Honorary Committee for this year's WASH Gala included Alex Cummings, EVP and Chief Administrative Officer of The Coca-Cola Company, Former NBA All Star Dikembe Mutombo, and Leymah Gbowee, 2011 Nobel Peace Laureate.
Watch a recap of all the fun at the WASH Gala 2014.

This year's event honored Nigerian entrepreneur, investor and philanthropist – Tony Elumelu and the Tony Elumelu Foundation (TEF). While he could not attend in person, the award was accepted by Ernest Dio, Acting General Manager at the United Bank of Africa (UBA).
The foundation tweeted the following message "We are grateful for the award by FACE Africa at the FACE Africa WASH Gala". The FACE Africa award recognized the Foundation as a driving force of business and philanthropic leadership in Africa. FACE Africa understands that unsafe water inhibits economic growth. Clean water supply is a basic infrastructure for an enabling business environment. Thank you to FACE Africa & other Liberian entrepreneurs for their support & continued work. And for honoring TEF.
More fun photos!
"Water makes the world go round"; "Water no get enemy"; "Peace, love & clean water"; "Water = Life"; "Water is always in style"; "It starts with water" – The fun WASH Gala campaign photo section.
Photo Credit: Cali York Photography & Solwazi Afi Olusola.