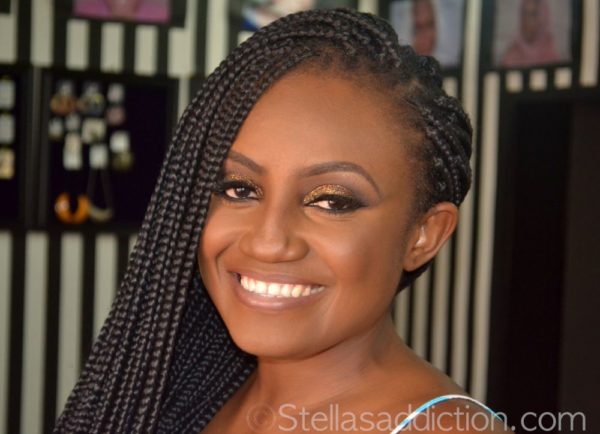 Boom, boom, pow…it's time for another Stella's Addiction Celebrity inspired makeup tutorial.
Today, she is taking BN Beauty and our gorgeous belles over to the Real Housewives Of Atlanta (RHOA) Season 6 reunion with a Porsha's Makeup look recreation.
Featuring the funny and very beautiful Omalicha of 93.7FM, Stella created a beautiful glittery makeup with a deep base for Omalicha's hosting duties at the 2014 Mr Nigeria Finale.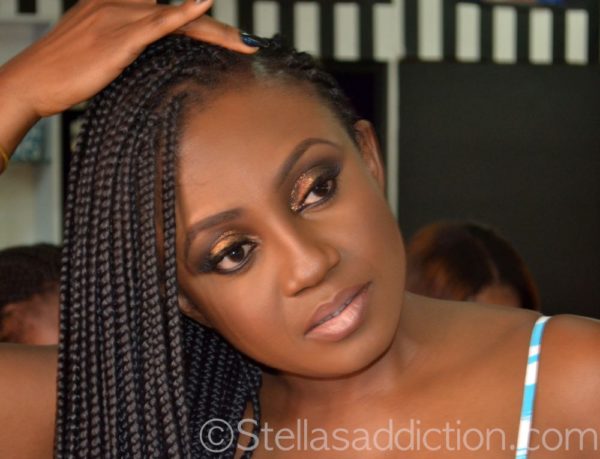 Enjoy!
***
Today's celebrity inspired look is inspired by Porsha from RHOA in the season 6 reunion show. Porsha's makeup was done by the amazing Shyla (IG: @Makeupshayla) if you don't follow her yet you totally should. As soon as I saw Porsha on the show I knew I had to try her look, so when Omalicha came in for a makeover to host Mr Nigeria I knew this was my chance.
The look features a glamorous glittery eye and soft nude lips. Porcha's lips are light pink but for Omalicha I stuck to her favourite 3 tone nude lip.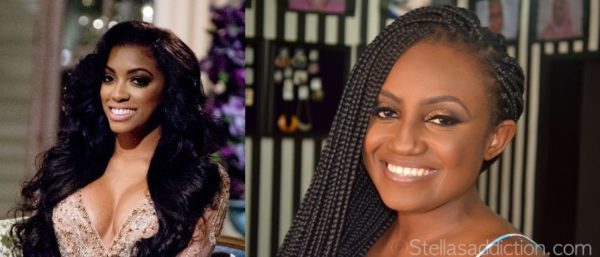 Products
Face
RCMA Foundation
Ben Nye Banana Powder*
Sleek Makeup Face Form (Dark shade for contour)
Sleek Makeup Translucent Pressed Powder
La Femme blush in Sienna
Eyes
Jordanna 7″ Brown pencil
Peggy Sage Paris Eye Shadow primer*
Sleek Makeup DipIt eye liner in Black
Magnolia Makeup Loose Eye shadow in Spinx (shimmery gold)*
Magnolia Makeup Loose Eye shadow in Just Black (mattte black)*
Magnolia Makeup Loose Eye shadow in Ganache (matte brown with bronze sparkle)*
Litt Cosmetics Glitter in Soul Sister
Litt Cosmetics Clearly liquid Glitter Base
Mabylline Collosal Mascara in Black
Amazing Shine Human Hair Individual lashes in Medium and Short
Lips
Zaron Lip liner in Cappucinno*
Magnolia Makeup LipFix in Bare*
Magnolia Makeup LipFix in Stalk*
*Products available at Stella's Addiction Boutique Click Link to SHOP NOW
Watch

_____________________________________________________________________________
Stella-Maris Ikelionwu is a professional makeup artist, beauty blogger and vlogger. She is the brains behind Stella's Addiction makeup studio and boutique in Lagos and she writes the beauty blog of the same name.
She holds degrees in Communication & Strategy Management, Makeup Artistry and French but choose a career centered around her passion for makeup and hasn't looked back ever since. You can fin her on www.stellasaddiction.com.