Thought sleeping won't pay off? 1 Million naira from the "Mouka Sleep Like A Millionaire" promo will change your mind.
The prize presentation of the ongoing "Mouka Sleep like a Millionaire" promo which was held on Wednesday 7th May 2014 saw four of the lucky individuals emerge as winners of 1 million Naira each.
Two of the winners, Olubajo Olasukanmi, and Obaretin Osemwengie were presented with their cheques at the first prize presentation held in Lagos at the Mouka Office.
Speaking at the Prize Presentation, Head of Human Resources and Admin, Boniface Nwabuko, stated that "Mouka Sleep like a Millionaire Promo was designed to assist consumers identify authentic Mouka mattress at the point of purchase and reward consumers for their loyalty".
The Promo which kicked off on Sunday 30th March 2014 would end by Friday 20th June 2014.
Other lucky winners won cash prizes ranging from N5,000 to N500,000.
Check out pictures from the event below.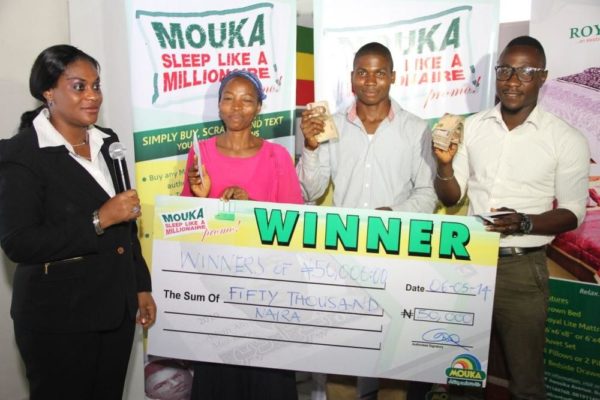 _
_____________________________________________________________________________
Sponsored Content