BellaNaija presents Celebrating Academic Excellence! Class of 2014. It's graduation season and last month, we made a call for submission of entries. BellaNaija readers, it's time to celebrate academic excellence. The idea is to have a platform to showcase graduating students who have excelled in their course of study. We acknowledge the fact that everyone who has graduated this year is a winner. We, therefore, want to celebrate people who have gone over and above the norm. People who have gotten meritorious distinctions and awards from their institution of study. We hope that you are inspired and we look forward to receiving more entries.
We're kicking off this year's edition with University of Lagos graduate Boluwatife Awonaike. The second child in a family of four, Boluwatife affirms that she is a strong believer in God. She describes herself as a simple person who likes to read novels, watch movies and listen to music.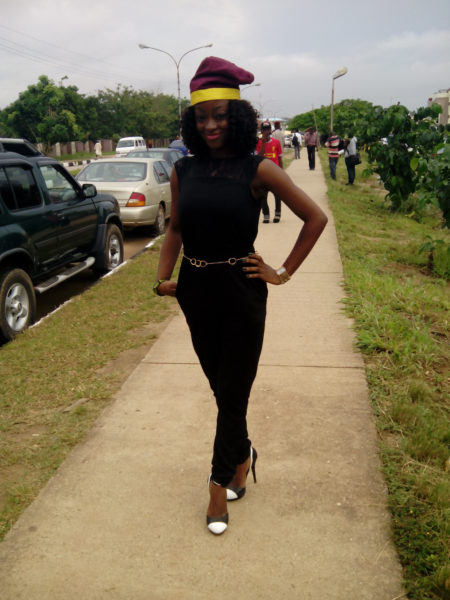 Academic Journey
My education has been pretty good for as far back as I can remember. I know I used to get a lot of prizes in primary school. I also came out tops from my secondary school in 2008. I got into UNILAG through diploma. Ironically, I didn't meet the cut off for my Post UME, I wasn't fazed anyway because, my JAMB form was filled incorrectly, and getting in through UME would have resulted in me studying Microbiology when all I really wanted to study was Chemistry. So I did a diploma in Chemistry and here I am today with my BSc in Industrial Chemistry. I strongly believe that my love for Chemistry really aided my excellence in school.
Bumps Along The Way
Regardless of the 6 month hiatus last year caused by the ASUU strike which really bothered me and at a point I began to make me feel like my final semester would not be as good as previous ones.
Overcoming Against All Odds
With God's help I was still able to pull through and get a perfect semester GPA of 5.00 for my final semester which elevated my CGPA to the 4.85 I finished with. Aside from my First Class Honours, I also graduated as the best student in the Department of Chemistry, the best student in the Faculty of Science and the overall best graduating female student in the University for the 2012/2013 session with a CGPA of 4.85/5.00.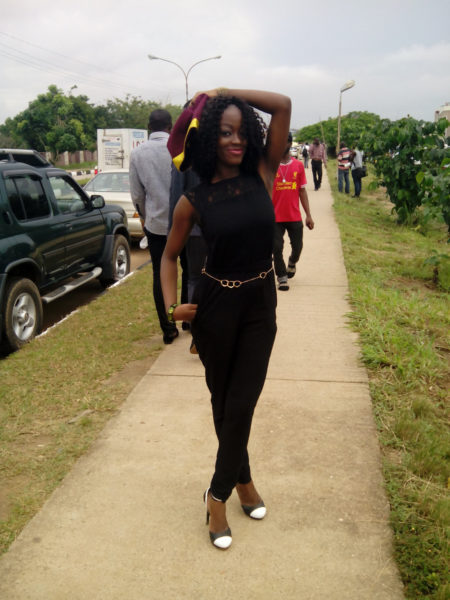 The best overall student in the University (a guy) had a CGPA of 4.86, a difference of 0.01 from my CGPA. I believe I put in a good effort even if it fell a little bit short.
I was also the only first class graduate among the 36 students who graduated from the entire department of Chemistry.
Looking to the Future
I'm looking to get a Masters degree and possibly a PhD in Environmental Engineering. The environment is one of my many passions. I'd rather drop trash in my handbag than on the street. I wanna curb pollution in my own little way as time goes on.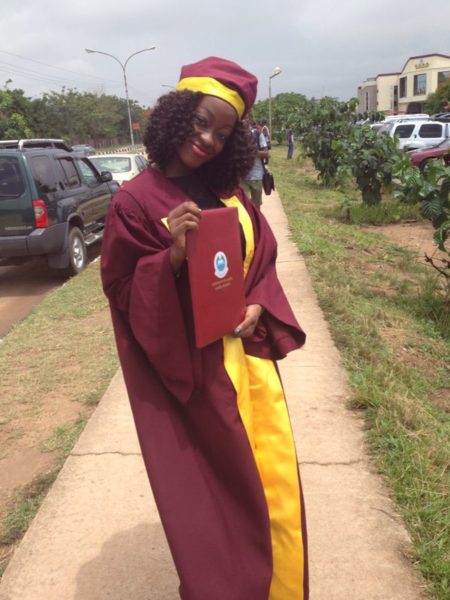 Fun Fact
I love singing! I actually have a great voice. I could sing all day. I love dressing up, the higher my heels, the better! And I'm obsessed with the colour green.
__________________________________________________________________________________
If you want to be part of this inspiring and amazing feature or if you know someone who is part of the Class of 2014 who should be featured here, please send an email to features(at)bellanaija(dot)com. We look forward to reading from you and sharing your academic excellence.