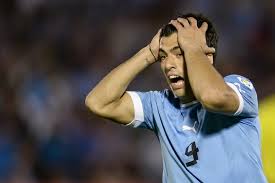 Brazil! Brazil!! Brazil!!! The land of samba, festival and mesmerizing soccer has produced inspiring upsets, stunners and heroes.
I have been impressed time and time again with the displays of some of the South American teams in this tournament. Colombia for instance, was a team that only brought up the name Radamel Falcao to memory when thought of before this tournament, but in his absence, they have produced one of their finest displays in recent international football history. Costa Rica comes in as the tournament's surprise package with the ease they progressed to the next round topping a group with three world cup winners. The USA has also come with a winning game plan, to show that their pre-tournament friendly wins were most definitely not a fluke.
If we follow the trend of events in Brazil, (with underdogs wins that abound) I think I will be judged right to say that Argentina should be weary of their match up with the Nigerian Super Eagles. Then again, African countries are failing to impress with their displays. We've witnessed a shocking 90th minute eviction of the Ivorian's, the Ghanaian's in a tight corner and Algeria with only a glimmer of hope.
This tournament made heroes out of Neymar, Messi and Arjen Robben with Muller also having a say in the race for the golden boot and showcased various talents for future mundials. Arjen Robben is definitely a player to inspire the young one, even though he trails Neymar and is tied with Karim Benzema for the most World Cup goals so far, many believe that Robben's play has far surpassed both of those players and the play of teammate Robin van Persie, with whom he creates one of the world's most dangerous attacks. At 30, the winger seems to have improved with age, when he should be slowing down, he just looks to become faster and faster.
Someone has been watching too much vampire stories as the number one villain of this tournament has to be Luis Suarez. His gallant displays, this time for Uruguay, so far will be overshadowed by his "taste for human flesh". He has been punished twice for biting an opponent but has plainly not been deterred. The man-child who single handedly destroyed England's World Cup hopes has a pathological problem and I think this time, he must pay for it with a lengthy ban from football.
As a pundit rightly said, "Diving, rolling, handling the ball on the line, racial abuse, three cases of biting: Suárez is a force of nature as a footballer and a rogue of a man."
_______________________________________________________________________________________
Adeola Omitiran is a BSC Graduate in Mass Communications with news, sports & lifestyle journalism experience for over 3 years. As an avid lover of sports, she is living her dream of keeping the football world on its feet.