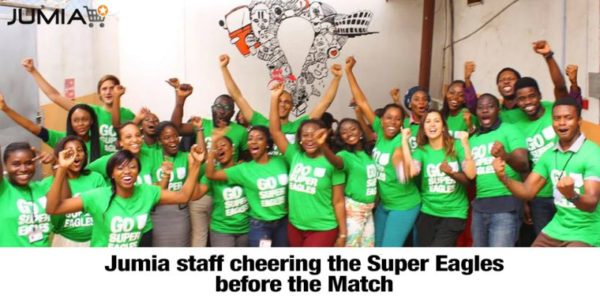 Jumia Nigeria joined the rest of the world in celebrating the biggest sporting season that only happens every 4 years. It was also a good time for Jumia to support the Nigerian home team 'The Super Eagles' as they were one of the few African nations to make it to the big league – Brazil 2014.
And Jumia Nigeria went all out with the world cup celebration. Giving out "Go Super Eagles" shirts to students and people around Lagos, also organizing a friendly football match with Unilag. The big one was putting the World Cup on the "Go with the Jumia World cup Truck" for the Nigeria versus Argentina match.
Fans of Super Eagles had a chance to watch the Nigeria match in luxury in the World Cup truck with drinks, food and great company at University of Lagos.
In all, Jumia supported the super Eagles all the way and here's how.
Watch The Jumia World Cup story

Pictures from Jumia's World Cup events.
_____________________________________________________________________________
Advertorial – Sponsored Content