I was fortunate to spend a weekend in Manchester on a trip sponsored by Virgin Atlantic. With a considerable number of Nigerians residing and schooling in Manchester, Virgin Atlantic now offers a flight to Manchester.
My journey began at the Murtala Mohammed Airport, Lagos. I arrived at the airport at 7.45am and got my suitcase checked-in straight to Manchester, then proceeded to security and the boarding gate. It was my first time travelling with Virgin and for someone who is  naturally big on service I would rate the experience an 8 out of 10, which is excellent in my books!
I arrived at London Heathrow terminal 3 on time at around 4.20pm where I met the other people on the trip. A transfer to terminal 1 to catch The Little Red to Manchester and later, dinner with the group while we waited for our 8.45pm flight. Although we had quite a wait before our flight to Manchester, in my opinion, it definitely is the most convenient option if I consider other available options:
Option 1: Get to Heathrow and take a coach from the airport to Manchester. Approximate travel time: 6.5 hours.
Option 2: Get to Heathrow, take the underground to Euston Station and catch the Virgin train to Manchester. Approximate travel time: 4.5 hours
Option 3: Get to Heathrow; take the Virgin Atlantic Little Red connecting flight to Manchester. Approximate wait time: 4 .5 hours.
Eliminating the stress of handling luggage, train delays, taxis, the underground, oyster cards and travel passes, The Little Red makes a lot more sense!
The flight to Manchester from London was an easy and comfortable 35 minutes. We got to the Lowry Hotel at 10pm and it was off to bed to rest and prepare for the next day's exciting line-up of activities.
We started day 1 with a tour of Manchester. Our hotel was right in the middle of the city centre; ideally situated on the Banks of the River Irwell (which made a fantastic view from my room on the 4th floor) in the Chapel Wharf area.
We took a walk exploring the city's landmarks, museums and attractions which included; the Museum of Science & Industry, John Rylands Library and the Town Hall. It was fantastic experience learning about the lively cosmopolitan city, which was the powerhouse of the Industrial Revolution. We ended the tour at the Exchange Square with lunch at Selfridges.
The Exchange Square is one of the key retail areas of the city centre with High end stores like Selfridges, Burberry and Hugo Boss and just nearby is the Arndale Centre where you will find all your favourite high street stores. Definitely a treat for shoppers like myself! Dinner was at the famous 'Curry Mile', known for their fantastic Indian food, which was a joy for those already missing the Nigerian spicy flavours!
Let me be honest, I was not looking forward to Day 2! On our to-do list was a trip to Old Trafford and as a loyal Arsenal fan I had no business on those grounds but I will have to admit, it was a sight to behold! We got a tour of the stadium grounds; the press room, dressing room, substitute corner etc.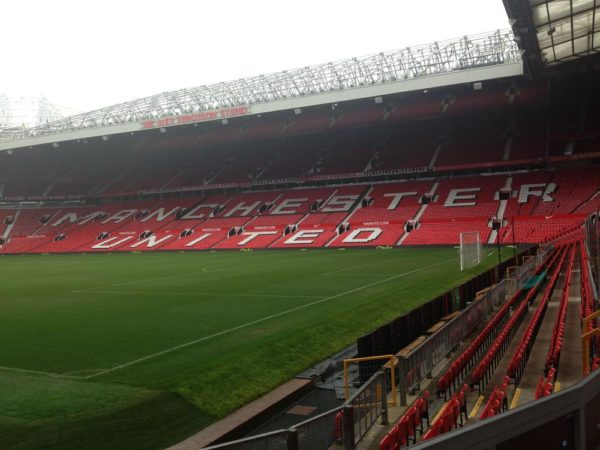 We also went around the Manchester United Museum and had lunch at the Red Café; for the fans in our group, this was a really special treat! It should definitely be a on the bucket list for all Manchester United Fans; spend a weekend in Manchester and catch a home game on Sunday!
After our tour we returned to the Lowry Hotel where we were hosted for dinner and where I had the prettiest dessert I have seen so far! Check on it!
On our third and final day, I decided I needed some retail therapy and dashed quickly to the Arndale Centre to pay a visit to my favourite high street stores. This was followed by lunch with the group at Roots Restaurant Manchester, like its name suggests, we were taken back to our roots with jollof rice, pepper soup, eba, goat meat stew and the likes to prepare us for home! 🙂 It was then back to the hotel to pick our bags and to the airport to catch our 6.55pm flight to London Heathrow!
The self check in process at the Manchester airport was quick and easy, we got through security in no time and had a few minutes to spare which were spent in the lounge.
Then it was off to catch our flight, a fast arrival in London, a transfer bus to Heathrow terminal 3 on arrival, duty free shopping and time in the Virgin Atlantic Clubhouse. Yes! It was smooth sailing all the way! Loved the convenience!
One of the first people I called when I got into Lagos was a dear friend of mine who went to University in Manchester. I could not believe she never invited me to visit! It is such an amazing place and I look forward to going back and exploring the city more and its nightlife!
Planning a trip to Manchester soon? Find out key facts about the city and the Virgin Atlantic Little Red below:
Key Facts About Manchester:
Manchester is the 'original modern' city and has earned a reputation as being revolutionary, innovative and entrepreneurial
Manchester is a top UK choice for overseas visitors with approximately 988,000 people visiting the city centre each year
Manchester Airport is the largest UK regional airport and busiest outside of London
Manchester is home the National Football Museum and the world's largest football collection
Key Facts About The Little Red:
Virgin Atlantic Little Red is the new Virgin Atlantic UK domestic service, It flies three times daily between London and Manchester. The Little Red also flies to Edinburgh and Aberdeen
Little Red has one class
If you're a Flying Club Gold member or you're connecting from a Virgin Atlantic longhaul flight in Upper Class, there is access to the lounge facilities at London Heathrow and priority boarding. On your return journey, there's priority check in, access to the Escape Lounge at Manchester Airport and priority boarding.
The Little Red checked in luggage allowance is 23kg. Flying Club Gold passengers can bring an extra bag of up to 23kg.If you're connecting to a Virgin Atlantic longhaul flight, Premium Economy passengers can bring an extra bag of up to 23kg. Upper Class passengers can bring three bags of up to 32kg
To find out more, or to book, visit virginatlantic.com ____________________________________________________________________________________________
This post was sponsored by Virgin Atlantic.