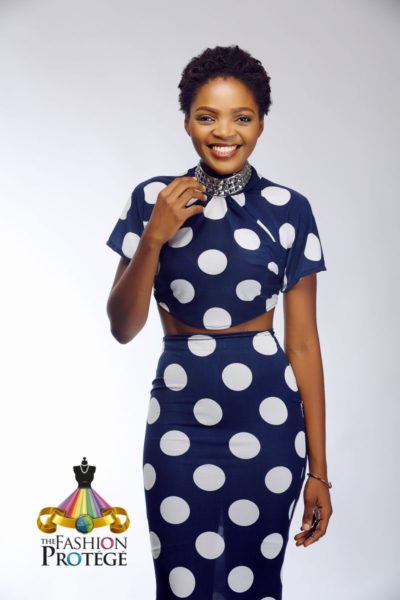 Did you catch the finale episode of MultiChoice presents the Fashion Protege  yesterday?All four finalists; Omon, Oluwatobi, Bisola and Antoinette presented a five capsule collection .
There was a lot at stake as the winner would be walking away with:
An international fashion trip to the Vodafone Fashion Weekend sponsored by the British Council
A cover feature for DSTV Magazine
A special feature interview on BellaNaija.com
A feature in a top Nigerian Fashion Magazine
Lookbook with a top photograper
NGN 1,000,000 (One Million Naira)
So how did Omon scale through to come up tops as the winner? You'll have to read on to find out!
Prep time with MUD Cosmetics & Touch of Glamour
Cross section of guests, supporting the contestants and awaiting the fashion show
Meet the Finale Judges
Oluwatobi was the first to present her collection.
Her capsule collection featured jewel tones in green, gold and red in lace textures and ankara.
Her collection was well received by the judges, but they all indicated that they would have loved to see more attention to detail especially with the finishing of her garments and more cohesiveness with the collection.
Omon went next!
For her collection, she stuck to one colour – cobalt blue.
From structured jumpsuits to flirty lace dresses, Omon's collection stunned the judges as it was styled to perfection with stylish turbans which added to the cohesiveness of the collection.
However, she was criticized for her choice of fabric which failed to do justice to some of her designs.
Antoinette took on a different aesthetic with her label for the finale.
She went from the demure, feminine pieces which we were accustomed to and presented a collection that was about structure featuring blazers, structured dresses and pants.
She kept the feminine touch with drapery. While the judges applauded her craftsmanship and their artistic expression, they were hoping to see wearable pieces and more of her brand identity in the collection.
The last collection on the runway was Bisola's.
Playing with monochromatic styles, Bisola let clean lines and structure rule the collection.
She added a bit of a girly flair with lace and pleats. Her collection received high praises from the judges for its execution as she adequately conveyed her aesthetic with an ideal sophistication.
It was a tough competition!
After all contestants presented their collections, the judges invited them in again to have an upclose inspection of their pieces; they needed to make sure the winner was right in all fronts; from creative expression, to finishing to clean execution. 
After hours of deliberation, it was time to announce the winner.
Omon is announced as the winner of the  Fashion Protégé and Bisola as the runner up.
Massive congratulations to Omon, the winner of the frst ever edition of the Fashion Protégé!
Catch the repeat of the Fashion Protégé finale on Friday at 9.30pm, Sunday at 8.30pm and Monday at 1.00am on Africa Magic Entertainment, Channel 151.
The Fashion Protégé was produced by BellaNaija & Glam Networks
Strategic Partners: BellaNaija.com, British Council, MUD Cosmetics Nigeria, Touch of Glamour
Media Partners: 360Nobs, ThirdWorldProfashional, OneNigerianBoy, OloriSuperGal, ForStyleSake
Photo Credit: Insignia Media & TCD Concept
PR & Media Relations: Redrick PR