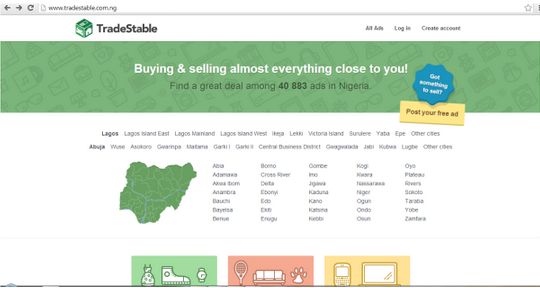 Online shoppers in Nigeria have been relieving their experience on Tradestable, one of the leading trading platforms in Nigeria.
Users, buyers and seller in the South West area of Nigeria are lauding the platform. Jeniffer Ugwu, has been making purchases on the online platform and says "I find great deals every time I go on Tradestable. My friends & I love using it!"
Similarly, Godwin Ahmedu, who used the platform to sell in Lagos has this to say. "I sold my blackberry on Tradestable. It was quick and easy to use – no wahala."
Officials of the company, say this is so because they take a personal interest in users of its site and go the extra mile to protect their transactions. One of the ways trained officers achieve this, is to manually review every ad published on the platform. This measure, according the company's sources, ensures that only quality and credible ads are placed on the site thus ensuring very high standard.
Managing Director of TradeStable, Andrew Hall, is excited that his company is earning the confidence of shoppers in Nigeria which he attributes to the safety measures built into the platform (www.tradestable.com.ng). According to Hall, these help provide easier and faster access for users to search for new and used items to buy in Nigeria with a new design and functionality that makes the site much lighter and easy to navigate.
"Our platform has a clean and simple layout and navigation, making the site the easiest and fastest to use. For instance, while other competitive sites have a list of categories, ours usually begin with regions and maps. This way, all you have to do is select your location, and you stand a better chance of meeting buyers or sellers within your locality, and not in far-flung areas of the country. This is one of the things that stand us out in the industry," he said.
Tradestable is available across a variety of devices. The mobile version, m.tradestable.com.ng is very well adapted to feature phones and smartphones alike. While the Android app combines a clever design with high speed technologies, it can be downloaded via Google Play for free.
___________________________________________________________________________
Advertorial – Sponsored Content