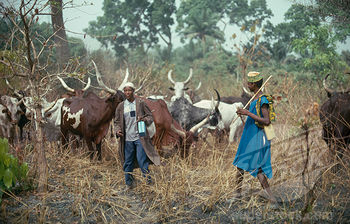 Unidentified gunmen reportedly tracked-down and killed 13 Fulani herdsmen today who were returning from village markets in Maihula and Garba-Chede in Taraba.
The herdsmen were said to have gone to the market to sell their cows, and were waylaid on their way back to their abodes.
Joseph Kwaji, Police Public Relations Officer (PPRO) of the state's police command revealed that herdsmen were waylaid and killed by an unknown group of armed youths along a bush path in the outskirts of Maihula in Bali Local Government Area of the state, Vanguard reports. 
According to reports, no arrest has been made yet. The command has increased security in the area to trace the perpetrators. 
Photo Credit: madukovich.wordpress.com