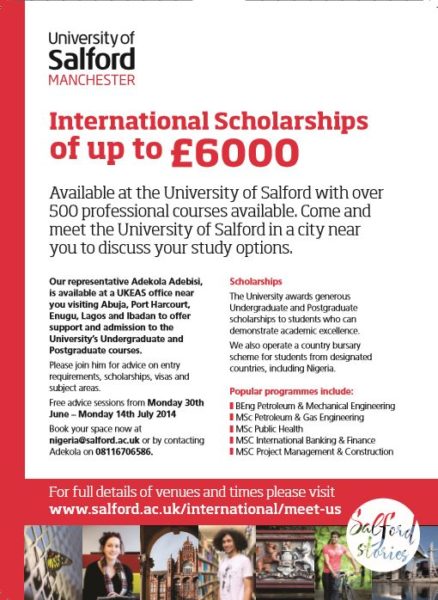 The University of Salford located in Manchester, UK is offering a variety of scholarships up to £6000 to International students starting this September 2014.
Are you willing to work and study in the UK this September? Then you should apply at the University of Salford. The University is open to all international students from Nigeria offering a wide range of courses in Business, IT, Petroleum and Gas Engineering, Health, Environment and Media at the Foundation, Undergraduate, Post -graduate and Research level. The best part is they are heading to a state near you!
They will be in Abuja, Port Harcourt, Enugu, Ibadan and Lagos to meet with potential students this month.
See the schedules below;
Abuja
Date: Monday 7th July 2014
Time: 10AM – 4PM
Venue: UKEAS Abuja office Suite 3, 2nd Floor, Hatlab Place, Plot 1952 Sokode Crescent (beside GTBank), Wuse Zone 5
Contact: For more information please call Adekola on 08116706586 | Send an e-mail to [email protected] | Visit their website: www.salford.ac.uk/international
Port Harcourt
Date: Tuesday 8th July 2014
Time: 10AM – 4PM
Venue: UKEAS Port-Harcourt office, Plot 156, 11 Tom Inko Tariah Street, Rumogba Estate, off Genesis Hotel, Aba road, Port Harcourt
Contact: For more information, please call Adekola on 08116706586| Send an e-mail to: [email protected] | Visit their website: www.salford.ac.uk/international
Enugu
Date: Wednesday 9th – Thursday 10th July 2014
Time: 11AM – 4PM
Venue: UKEAS Office Suite B8, First floor, Bethel Plaza, 36 Garden Avenue, Enugu
Contact: For more information, please call Adekola on 08116706586 | Send an e-mail to: [email protected] | Visit their website: www.salford.ac.uk/international
Ibadan
Date: Monday 14th July 2014
Time: 10AM – 5PM
Venue: UKEAS Ibadan Office, 1, Shell Close, Ile Ori Detu, Onireke, Ibadan
Contact: For more information, please call Adekola on 08116706586 | Send an e-mail to: [email protected] | Visit their website: www.salford.ac.uk/international
Lagos
Date: Wednesday 16th July 2014
Time: 11AM – 3AM
Venue: UKEAS Lagos Office, 3rd Floor Affordable Cars Building, 67 Opebi Road, Ikeja, Lagos
Contact: For more information, please call Adekola on 08116706586 | Send an e-mail to: [email protected] | Visit their website: www.salford.ac.uk/international
To apply and get your shot, visit www.salford.ac.uk for more information.
______________________________________________________________________
Sponsored Content