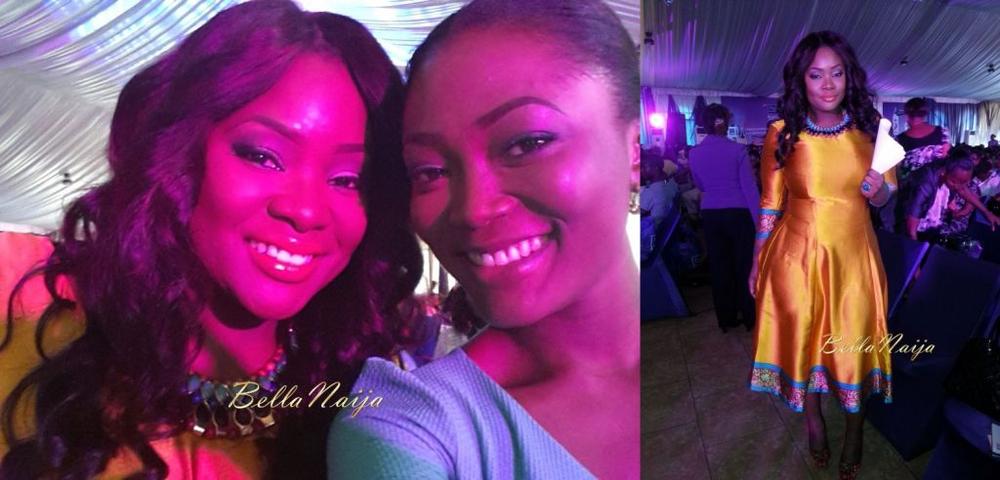 On Tuesday 22nd July 2014 while the rest of the world was getting settled into work at 10AM, BN Beauty was having an unexpectedly good time at Dark and Lovely's "Braids 'n Weaves" official launch in Lagos.
The event, which took place at the Anchor Events Place, Agidingbi, Ikeja, Lagos, had members of the press, partners as well as some special guests attend. On arrival, I must admit I had no idea what I would meet – a press conference maybe or even a brief product unveil. But I was definitely pleasantly surprised as the event was packed with fun activities and information.
It kicked off with a welcome address by Idy Enang (Managing Director, L'Oréal West Africa) who welcomed not just the press men and women and the partners, but also the special guests – the Associations of Hair Dressers from various zones like Eko, Ejigbo, Surulere, Kosofe as well as the Opral Benson School of Cosmetology, Elegant Twins and more. (I bet you didn't know they had associations did you?)
Idy disclosed the reason for the event and also gave a brief introduction to what the L'Oréal brand is all about saying – "because beauty has the power to change lives, we're providing beauty for all".
Side Note: Did you know that L'Oréal has 8 international brands under its wing including Yves Saint Laurent (YSL), Maybelline New York and Lancome?
After his brief introduction, Sekou Coulibaly (General Manager, Consumer Products Division) spoke briefly before bringing Kessiana Ogbemi (Group Brand Manager, Soft Sheen Carson) who unveiled the 4 product range for Braids 'n Weaves.
Now, when I heard this range of products for braids and weaves that literally takes care of all your weave problems, I had both fingers crossed. No more smelling weaves, no bumps and hair loss after braiding and no dandruff? I better be getting samples.
Kessiana unveiled 4 products;
1. The S.O.S Hairline: This comes in a 100ml bottle that protects your hairline from the root and aids in its growth.
2. The Scalp Soother: A 250ml solution to bumps and tightness from braiding which contains peppermint and jojoba oil. It is anti-itch and anti-dandruff solution.
3. The Scalp Wash: A 100 ml dry shampoo that doesn't need water and has anti-flakes.
4. The Hair Refresher: An anti-odor spray that contains jojoba oil and peppermint to keep your hair looking refreshed even weeks after the first sew-in.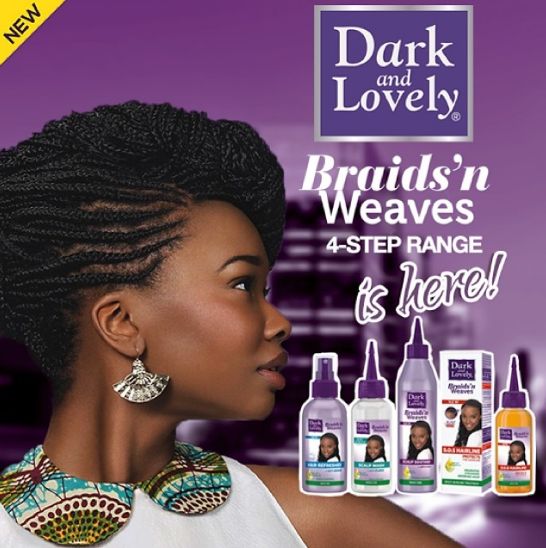 He further explained that the recommended price for these products were N600, but left it open to the hair dressers associations.
After his presentation which was aided by a video presentation, it was time for a brief photo session and TV interviews.
At this moment I thought the event was over and had started walking out when I bumped into a certain OAP and the Co-Host for the event – Toolz. Of course I had to get a picture of her fab dress…
…and a selfie. Smile!
I also ran into Tewa Onasanya of Editor-in-Chief, Exquisite Magazine.
A few minutes later, what I would like to tag "the ghen-ghen part" of the event started and I am so glad I didn't leave.
The hosts Toolz and MC Danny B came on stage and invited Idy Enang back for welcome address No.2. He properly hailed the associations and the media partners and then handed the microphone back to the hosts to carry on with the show.
And then the moment we were all waiting for – the grand unveil of the Braids 'n Weaves line. Tada!
After the unveil it was fun, fun, fun all the way. There was a drama group presentation which had 4 sets. Normally I don' t like watching live dramas, but they added a little flare by making it a fun demonstration of how the products work in everyday situations that I have definitely had. I related to each one.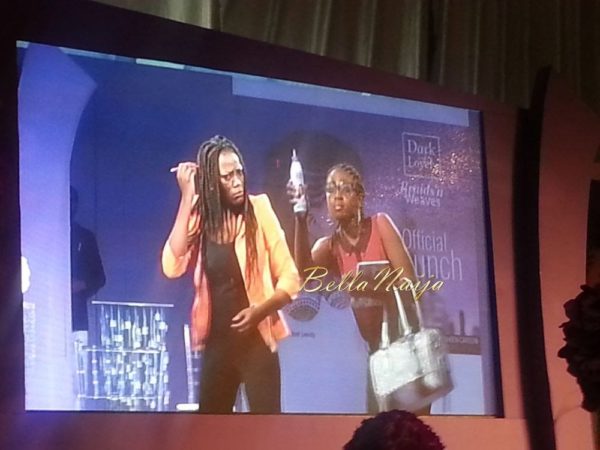 After the drama presentation, then came the catwalk. They had a fab Braids Showcase where models "werked it" while showing off braided hairstyles created by technicians from the L'Oréal team. Of course the theme was 'FUN' as the models danced on their exit; and with the technicians when they came out for their bow.
The dancing was fun, but that didn't compare to the surprise Idy Enang gave them for a job well done. Each technician got a free weekend at the Golden Tulip hotel for them and their families. Awww…I want a free trip too!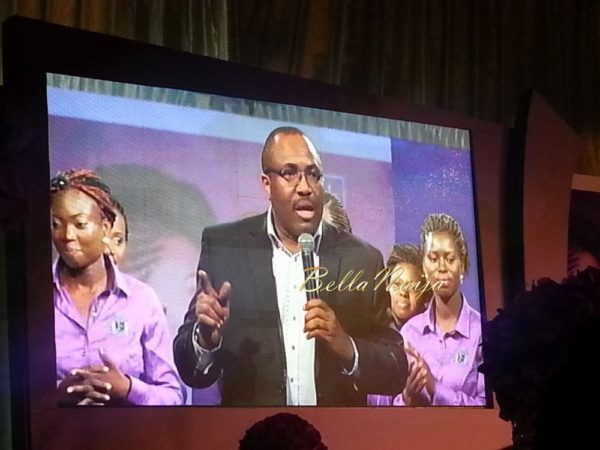 At this point I had gotten my Braids 'n Weaves set and was already planning to snag one of the hair dressers for my next hair appointment. Hey, any hair dresser who attends this kind of event to better her craft is alright with me!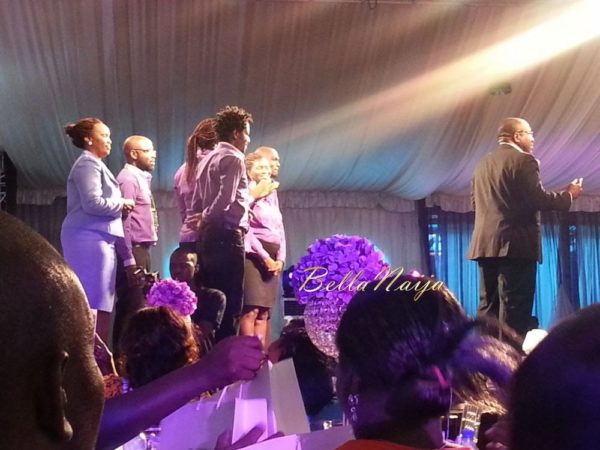 Dark and Lovely hair educationist Titilola Igri-Offor also gave a brief demonstration on how the hair dressers can use the products.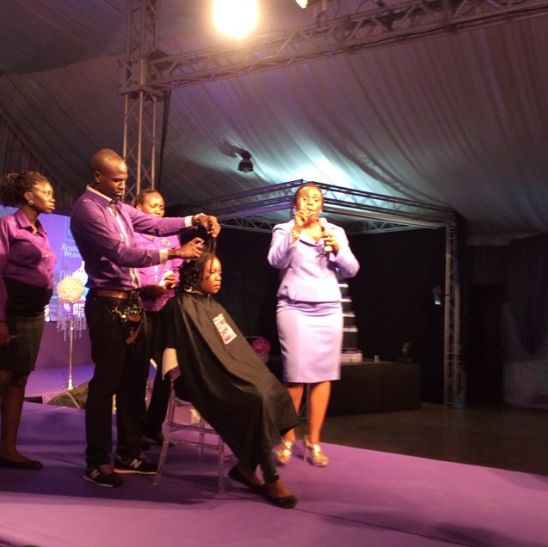 What would I say the highlight of the event was for me? The dancing competition! Each association was asked to bring 1 member to rep their crew (so to speak). And it was EPIC!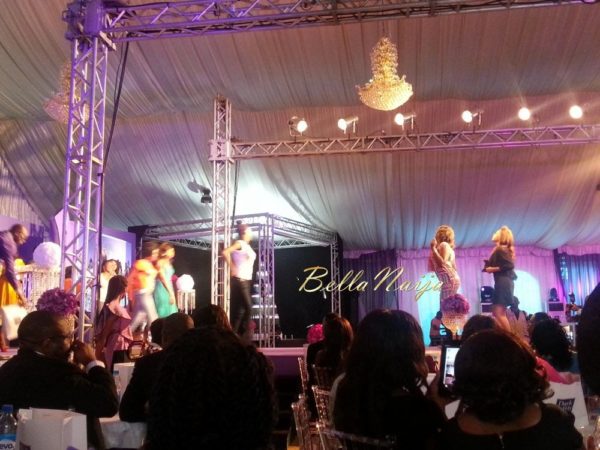 All in all it was a great event with a lot to see and do, but by 3PM I had to get back to work! Well, that was before I took some more selfies with Lola Faleye of Pops Concepts and The Makeup Fair and the fab people at L'Oréal.
Did I have fun at the event? Yasssss Honey! Be sure to check out your favourite beauty store for the products and share what you think with us!
See Ya!