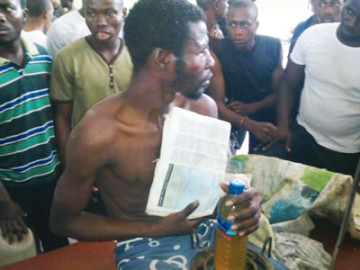 Students of Obafemi Awolowo University, Ile-Ife, Osun, caught a man who claimed to be mad bringing in some flammable materials into the campus.
Adedayo Daniel was seen with a keg of petrol, wires, stove and newspapers on Sunday.
Daniel told the students that he was mentally ill when they were suspicious, and quickly apprehended him. According to Punch, they believe he is responsible for a fire outbreak which occurred in the institution last Wednesday.
The students also believe that he is not "mad" as he claims, but a witness said she knew him as mad and he is called "Rasaki Synco Master".
A lot of the students were not convinced, as Daniel pretended to be a student as soon as he was caught.
After he was beaten, Daniel confessed that he was sent to wreck the hostel, and that he was behind the Wednesday explosion in OAU. He was later taken to the investigative room.
The students also believe that Daniel wanted to cause explosion during the final match of the World Cup between Argentina and Germany.
A Security Officer of the University, confirmed the story.