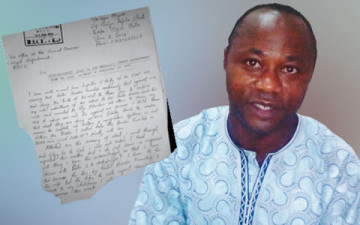 Ayadi Moniaye is a Nigerian man based in the UK. He is accusing the Redeemed Christian Church of God's "Jubilee Parish" in Manchester of turning his former wife against him.
The pair tied the knot in 2000 and according to Punch, they separated in 2009 after years of domestic violence. They have three children together.
Ayadi claims that a group in the church teaches women how to get the support of the UK immigration policy by abusing their spouses.
"Nigerian women in the UK were brainwashed by the group to abuse their husbands so they can claim their husbands' property and exploit the UK immigration policy to their advantage.
I challenged the church, telling the coordinators of the programme that the Bible did not support such practice. Unknown to me, my wife was part of it." he told reporters.
On many occasions, Ayadi said his wife assaulted him, but she got frustrated when he did not fight back. He also said his wife called the police to kick him out of the house, but when they met the children consoling him, they did not do so.
"After series of such unprovoked attacks, my wife admitted that she was maltreating me to get me out of the house." he said.
An elder in the community, however claims that it was Ayadi that had beaten his wife several times.
Ayadi revealed to reporters that he is concerned about the negative impression "women are portraying the image of this country to the outside world".
Ayadi is also trying to reach Pastor Enoch Adeboye, the General Overseer of the church, but all efforts have been refused.
An official at the Jubilee parish stated that the pastor of the church will not respond to the allegations.
The Chief Legal Officer Ayodele Oladeji of RCCG said that they are currently investigating the matter.
Photo Credit: Punch