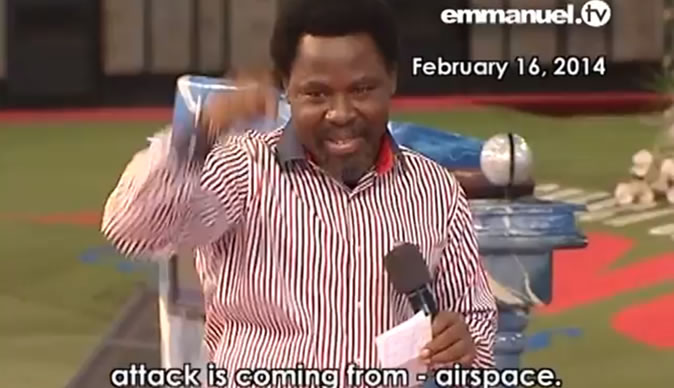 The Synagogue, Church of All Nations (SCOAN), yesterday released a video of the head pastor T.B. Joshua predicting the crash of Malaysian Airlines MH17.
MH17 crashed in Ukraine in the middle of its journey, with 280 passenger and 15 crew. It took off from Amsterdam's Schipol Airport on Thursday morning on the way to Kuala Lumpur.
The video is dated February 16, 2014 and although T.B. Joshua did not mention Malaysia, the church via its Emmanuel TV claims he prophesied about the tragic crash.
"I was telling you about Russia that you should pray for the young man, a very charismatic leader, that he should take note of his airspace. Because when I was saying I want to see where this attack is coming from…airspace.It could be in form of aircraft crash or whatever.

It could be from a place to that place or that place to that place but it will be connected to…just to rubbish the wonderful country. But now they should take care of their airspace. We too we are on our knees praying for the nation, that is, Russia. I was made to see the airspace; they should take care of the airspace. I am seeing an attack but we will continue to pray."
Watch