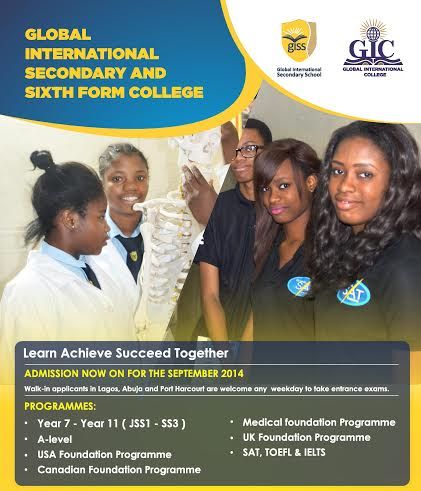 Strategic Offshore Placement Limited will be holding entrance examinations for entry into Global International College in September 2014 across the West, South and North of Nigeria and is inviting you to participate.
The examinations, scheduled to hold this month in Lagos, Ibadan, Warri, Port Harcourt, Enugu and Abuja will also have university placement processing for post-graduate applicants.
Its target applicants include students who have completed their SS3/Year post-graduate applicants. Interested applicants should come to the venue with their credentials as on-the-spot admission into Global International College to undergo your Foundation Programme will be given to eligible students.
Post-graduate students will also have their applications processed into the following universities;
UK
University of Essex, University of Kent, University of Exeter, University of Northumbria, University of Surrey, Swansea University, University of Newcastle and St. Georges' University, London.
Canada
Carleton University, University of Manitoba, Brandon University, St Francis Xavier, University of Alberta, University of Winnipeg, University of Ontario
US
Suffolk University, Boston, Oregon State University, University of South Florida, University of Massachusetts (5 Campuses), Abilene Christian University, Dallas Baptist University, Le Totrneau University, Texas University
Hungary
University of Szeged, University of Pecs, Semmelweis University, University Budapest, University of Debrecen
Dubai
Gulf Medical University, Institute of Petroleum, SAE Institute, American University of Emirate, Michigan State University, American University of Dubai, American University of Shajar.
Caribbean
University of the West Indies
Date: Saturday 19th July 2014 (in Lagos, Ibadan, Warri, Port-Harcourt, Enugu & Abuja)
Time: 8AM
Venue(s);
Lagos: Global International College, Plot 12 Block 26 Admiralty Way Lekki Phase 1 Lagos | Call: 08055461116
Ibadan:  18 Oba Akenzua Avenue, off Oshuntokun Avenue, Old Bodija, Ibadan | Call: 08036706483
Warri: Redeemer's Sure Foundation School, 106/108 Airport road beside Mom Civic Centre, Warri | Call: 08035523943, 08097531642 or 08023145132
Port-Harcourt: No 61 Olu Obasanjo Way, Port Harcourt | Call: 08084182246
Enugu: Kidsville, 15 Ituku Street, Upper Chime Street, New Haven, Enugu | Call: 07083797961, 0802455454, 09092155493 or 08097914171
Abuja: Global International College, Plot 111, EbituUkiwe Street, Near Chida Hotel off Mike Akhigbe street, Jabi district, Abuja | Call: 08038905205
__________________________________________________________________
Sponsored Content