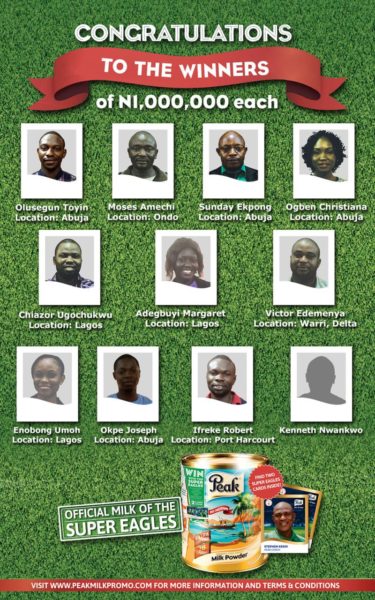 Peak Milk flagged off a consumer loyalty promotion tagged "Win with the Super Eagles" in April 2014 to reward consumers for their loyalty as well as associate with the Super Eagles during the 2014 FIFA World Cup.
Consumers who purchased a tin of Peak powder 400g during the period got 2 Super Eagles cards inside each tin and each card came with a unique code behind it. Consumers participated in the promotion with a view to win One Million Naira each by submitting entries (unique codes) for 11 different players plus a coach Stephen Keshi card via SMS to 38120 or www.peakmilkpromo.com.
The first 11 consumers who submitted complete entries have won One Million Naira each.
Peak team would like to use this medium to appreciate Consumers for their participation in the promotion and hope that consumers will continue patronizing our brand.
Here is the list of eleven, 1 Million Naira Winners:
Olusegun Toyin – entries in by Friday 25th April 2014 11:32AM
Moses Anoh – entries in by Sunday 4th May 2014 12:38PM
Sunday Ekpong Agbe – entries in by Monday 5th May 2014 11:17AM
Ogben Christiana – entries in by Monday 12th May 2014 10:13AM
Chiazor Ugochukwu Martins – entries in by Monday 12th May 2014 4:48PM
Adegbuyi Margaret Mayokun – entries in by Tuesday 13th May 2014 8:59AM
Okpe Joseph – entries in by Tuesday 13th May 2014 2:40PM
Victor Edemenya – entries in by Wednesday 14th May 2014 8:09AM
Enobong Umoh – entries in by Wednesday 14th May 2014 9:44AM
Ifreke Robert Afia – entries in by Thursday 15th May 2014 7:58AM
Kenneth Nwankwo – credentials under verification
Follow Peak Milk on social media; Find them on Facebook: https://www.facebook.com/Peakmilk | Follow them on Twitter: @peakmilk
__________________________________________________________________________________
Advertorial – Sponsored Content