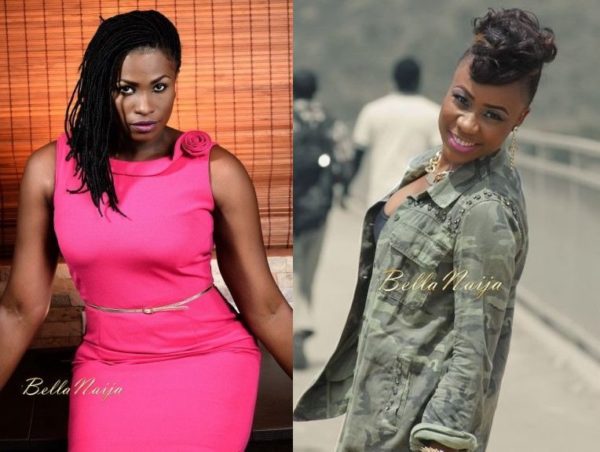 Last weekend, Nigerian movie producer and director Blessing Effiom Egbe caused quite a stir online when she took to social media to say a good number of Nigerian actresses are promiscuous.
From her tweets, it seemed she was directing it to a few ladies in the industry.
A few hours ago, singer and rising actress Adokiye called out the producer, saying she should not label actors as "women who sleeping with countless men to climb to the top!".
Read;
How desperate can one be in pursuit of fame\ money? In d end, Where will u end up? In hell or in heaven? Not all who call God are true. Sad!

— Blessing Effiom Egbe (@BLESSINGEGBE) August 15, 2014
Single & Married women sleeping with countless men to climb to the top!. Pls when u get there, what next please? Vanity vanity vanity! — Blessing Effiom Egbe (@BLESSINGEGBE) August 15, 2014
Some say the competition is too stiff & must do the uncanny to stay abreast. Pls if u don't have anything to offer, go n sell recharge card!

— Blessing Effiom Egbe (@BLESSINGEGBE) August 15, 2014
People now put all artist under d same umbrella. We are not respected because of some greedy, talent less lot who flood d industry. Ewu mme! — Blessing Effiom Egbe (@BLESSINGEGBE) August 15, 2014
Husbands skip a heartbeat whenever their wives are on location bcos of d dirt that goes on. Orgies in hotel rooms involving married people!

— Blessing Effiom Egbe (@BLESSINGEGBE) August 15, 2014
Acting is now d gateway to prostitution. Pple will do anything to have their faces on d screen bcos market go come & true true market plenty — Blessing Effiom Egbe (@BLESSINGEGBE) August 15, 2014
After they will be wandering why evil things befall the industry. If only people knew half of the dirt that goes on in this industry of ours

— Blessing Effiom Egbe (@BLESSINGEGBE) August 15, 2014
God is merciful & forgiven but When u do ur mess & carry out ur dirty act, leave d name of God out of it if not thunder go fire u one day! — Blessing Effiom Egbe (@BLESSINGEGBE) August 15, 2014
The work we do is highly creative & prestigious but these loose bunch mess it up and now, we are looked upon as an industry of lay abouts

— Blessing Effiom Egbe (@BLESSINGEGBE) August 15, 2014
And some producers are not even helping matters. Collecting money from talentless people and inturn giving them lead role's to play. Gosh! — Blessing Effiom Egbe (@BLESSINGEGBE) August 15, 2014
You spend money to make money! No wonder some of these new acts pay to act . An avenue to tow in d line of their predecessors! Their stars!

— Blessing Effiom Egbe (@BLESSINGEGBE) August 15, 2014
Married women with mumu husbands or shall I say gogolo husbands for house travelling to locations and engaging in orgies with other men.!!! — Blessing Effiom Egbe (@BLESSINGEGBE) August 15, 2014
In response to the viral tweets, Adokiye said…
Blessing Egbe. It's ok to be mad or frustrated about something but the truth is, it's very wrong and bad to pour it all on the Innocents too

— Adokiye (@adokiye) August 21, 2014
I think you should face the reason for the Frustration, one on one. Don't judge something you don't even Understand. — Adokiye (@adokiye) August 21, 2014
What you think is anathema to you, happens even everywhere, trust me. We just pray to God for changes and for a better society.

— Adokiye (@adokiye) August 21, 2014
It's wrong to JUDGE. Or you think the Entertainers are the only ones consuming all the condoms that are entering into the Country? — Adokiye (@adokiye) August 21, 2014
Don't make the good ones or the Passionate ones feel bad because you have refused to face your problems appropriately.

— Adokiye (@adokiye) August 21, 2014
Don't be a teacher in this way. I know you are fighting with somebody. Address it appropriately. I hate to do the "Call Out"….. — Adokiye (@adokiye) August 21, 2014