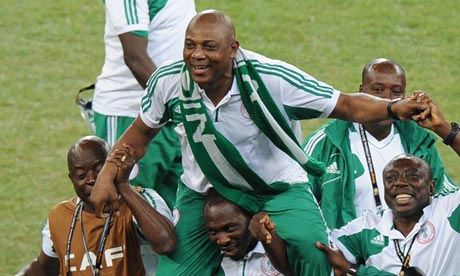 After his contract with the Nigeria Football Federation (NFF) expired, Stephen Keshi told reporters that he is looking forward to going back to his family and facing fresh challenges.
It was later reported that the NFF was in talks with him on coming back at the coach of the national football team. Keshi's alleged demand was better pay and a few additions to continue as coach.
He was previously paid $30,000 a month.
We have been waiting to hear the news that he is back, but nothing yet.
It could be because of the recent drama in the NFF which saw Aminu Maigari impeached as President and later reinstated, as well as the recent fire outbreak at the head office in Abuja.
Whatever the delay is, Stephen is done waiting.
In a chat with the BBC Sports, he says "I have moved on. I can only wish the country well for the future."
the 52-year-old added that;
"I've had about seven countries approach me in the last two months but I kept them all away.

There's a game in two weeks (Nations Cup qualifier against Congo) but no-one is thinking about it and at the same time they expect you to win.

I understand the ongoing crisis facing the federation but the national team should not suffer from such at this crucial stage.

Sadly, I also think attention is focused more on the upcoming NFF elections and the national team is simply not a priority.

I love my country and I am aware of the dream our fans had of me taking this team to the next level.

While acknowledging the efforts of some people involved in the negotiation, I think others probably have other important things to do."