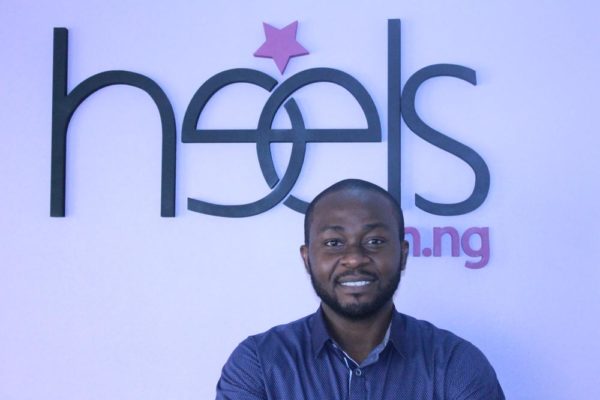 Move Back to Nigeria is a series on BellaNaija which aims to encourage young and not-so-young professionals in the diaspora who are trying to make the decision of whether to move back to Nigeria. In collaboration with the brilliant team at MoveBackToNigeria.com, we hope to bring you a weekly interview with individuals who have successfully made the leap, considering the leap, as well as those who have tried it and realized it is not for them. MoveBacktoNigeria.com's mission is to showcase stories of Nigerians abroad who have moved back home and are taking giant strides, often against all odds and to serve as inspiration to others.This, however, does not preclude us from sharing stories of the people who have moved back and are facing various challenges.
Nigeria is well and truly in the middle of a dot com boom. Perceptions are changing, trust is building and this is creating huge opportunities for technology entrepreneurs. Ikenna Okonkwo moved back to Nigeria in 2008, and after trying his hands on a few things, launched an E-Commerce platform, catering to a quite specific need in the Nigerian marketplace. Read on to learn more about his educational and professional backgrounds, as well as understanding the motivations behind his decision to get into the tech space in Nigeria.
Thanks for speaking with us. Can you please introduce yourself, tell us who you are and what you do?
My name is Ikenna Okonkwo, I am the CEO of Heels.com.ng, an ecommerce start up with a specific focus on retailing affordable female designer shoes.
Have you always been in Nigeria?
Yes, I have always been in Nigeria. I attended Kings College, Lagos and then went on to Oxbridge College, Ikeja for my A-levels. I left Nigeria for the U.S to attend West Virginia University, graduating with degrees in Chemistry and Economics. I also have an MBA from the same college.
Is this what you have always wanted? A career in business?
Not exactly. In Nigeria and as with most Nigerian parents, if you are the kid who fixes stuff around the house or asks too many questions, you are the one chosen to study either law or medicine. So growing up and going through secondary school, my core subjects were actually chemistry, physics and biology. However, I actually never saw myself as a doctor.
Fortunately, in the U.S, an undergraduate chemistry major in a liberal arts college you are allowed to take various courses outside of your core major. I found economics the most interesting, so between my second and third year, I decided to do a double major and started up piling up credits in economics and in a year and half, I had taken the core courses to also graduate with an economics degree. Of course I also discovered love for the business side of things and I went on for my MBA, but prior to that, I have always had an entrepreneurial spirit, trading at quite a young age.
You certainly sound business-like.After the MBA, what did you do next?
After the MBA, I moved back to Nigeria in 2008. I did want to stay behind but my parents and my dad especially wanted me back. This coincided with the 2008 financial crisis/credit crunch and Nigeria had not experienced the crunch yet, so I got a job at Zenith Securities, where I was a business development analyst. I worked there for a year and then I got a job in finance as an analyst with CBO Capital Partners. I worked at CBO for less than a year, not thoroughly satisfied I quit and continued my entrepreneurial journey, dabbling into various businesses that eventually led to heels.com.ng.
When you had to move back, was it difficult for you to transition back to Nigeria or was it a seamless process for you?
Prior to my time away, I had lived my whole life in Lagos, so it wasn't that difficult for me but of course some of the independence that I had enjoyed while I was in the states was taken away on moving back. That was not the only problem, I came back to the same power problems, a slower internet service, traffic etcetera but I got used to those real fast so it wasn't a seamless transition but it wasn't also a difficult one.
You mentioned dabbling into various businesses, can you tell us more about that?
While still at Zenith Securities, I started and managed a fund with investments from close friends and family. The fund invested strictly in mobile products and coupons where paid quarterly to the investors. There were no major online market places like we have now and most marketing was done through word of mouth. The mobile craze was huge then, so that was enough to get us customers. The only marketing channel we used was Nairaland, so I would create posts with keywords Nigerians were most likely to use #bold3, #storm3 etc and that got us a lot of traffic through generic Google searches. I discovered Facebook ads much later; but, since we did not have a website, customers were redirected to the Nairaland page to view the products we had for sale. During this period, I got into JV with a friend and purchased a mack truck for retail logistics with NNPC. That died a quick death soon afterwards.
Why did you move on from that into something else?
We were doing great, but we did not have an effective structure to sales and then Dealdey, Jumia and Konga emerged. At first we were still able to somewhat compete and even did business with Jumia and Dealdey, but this was not sustainable as the major manufacturers of mobile products moved into Nigeria and arbitrage opportunity decreased even further. So after much thought about the business and the potential for growth with our current structure, I divested.
During this period, the Nigerian e-commerce industry witnessed strong growth as a result of increased Internet penetration, shopper's preference for convenience and a general westernisation of our culture. Nigerians are being westernised whether we like it or not and we are also very fashionable people, so heels.com.ng was born.
You're clearly a serial entrepreneur. Tell us about heels.com.ng, what's it about?
As the name implies, we sell shoes online, Female shoes to be precise. This time a lot of homework was done to give heels.com.ng an efficient structure. Prior to launch we sought and gained direct access to over 50 top designers in the world and built a solid platform that offers our customers easy ways to sort through our wide assortment of shoes while ensuring that we stock the name brands that Nigerians can identify with.
With direct access, we are able to offer Nigerians shoes from their favourite designers at the manufacturer suggested retail price (MSRP). Thus our customers in Nigeria can have the same shoes they see on their favorite UK or US online retail stores at their doorsteps in 1-3 days without having to travel or wait for their friends or family to bring it back during the holidays. And yes we do offer discounts and have flash sales, so you needn't travel for that neither.
What was it that made you think this was going to be viable project for you?
The Opportunity. Like I previously said, Internet penetration is increasing yearly and Nigerians are also becoming more fashionable. We see this everyday in events and weddings covered on Bella Naija. More Nigerians increasingly trust ecommerce stores and are shopping online, an externality of the success of sites like Jumia and Konga. So the time was right, we executed and everything else is gradually falling into place.
So you've been in business a year, what has the reception been like?
Oh, it's been wonderful! We deliver to all states in Nigeria plus Abuja, and offer cash on delivery (COD) services in Lagos, Abuja and Port Harcourt. COD service allows our customers to see, feel and try their shoes before payment. That level of customer service makes our customers very happy.
We have also introduced a new section on our website which is pretty unique. It is the 'BUY ONE GET ONE FREE' (BOGOF) section; it is a permanent section, not a timed promo. So basically, if you go to that section on our website and select any 2 pairs of shoes of your choice, the site automatically deducts the price of the cheaper pair and you get to pay for just one pair. It has been widely accepted and every other week, we add more shoes to that section.
In January, we introduced the Heels Gift Card. Our gift cards are ideal when you do not know her size or simply want her to make her own choice. It has a running balance and does not expire, so you can revisit our website at any time in the future and make use of it as long as your balance has not been exhausted. All in all, the reception to all our value added services has been great!
And how have you found running a company in Nigeria, from logistics to infrastructure to staffing etc?
In terms of logistics, when we first started, we had our own mini fleet for our Lagos deliveries, but it wasn't the most effective. We have since outsourced our logistics to a start up logistics company, Apost, allowing us to focus on running and growing our core business. For our off Lagos delivery we use Fedex/Redstar Air, so our packages typically gets to the customers in 1-2days after payment is received.
We try our best to give our staff on the job training. Heels.com.ng is a start up in the truest sense, running on bootstrapped funds. We are yet to receive any outside investments, so we have the start up spirit and anybody joining us must be passionate about the company and their respective roles. We carry out rigorous recruitment exercises and try to hire people that are fit for what we are looking for. If it is customer service personnel we are looking for, it has to be someone that has some customer service experience or at least exhibits that during the interview process. So we look out for smart folks.
We currently have very capable people who are very efficient at what they do.
What are future plans for your brands?
I see Heels.com.ng being the one stop shop for female shoes in Nigeria. We don't want females to go anywhere else to buy shoes. We intend to launch a Bridal Collection section soon, where females can get their bridal and bridal train shoes. It is no news Nigerians are very big on weddings, so we are excited about this. Our Loyalty Rewards Program, also coming soon will reward our customers with points for their purchase and social media interaction.
Finally, what would you say to people who might be considering moving back to Nigeria, what words of advice would you give them?
Don't do it if you have a good job and you are fulfilled. Don't do it because you come home for Christmas and it is all fun and excitement. The end of January is actually harsh. Do it if there is an opportunity. Do it if the time is right and circumstances permit you. Do it if you are moving back for employment and have a better or equal offer, Nigeria is much more fun if you have a good paying job.
There were days before heels.com.ng that I would wake up and not have anything to do, leaving me frustrated. Entrepreneurship is very daunting and you must have the mental strength because it's also addictive, even when failing. So keep making your contacts, talking to people and exchanging ideas. Do not sit on your ideas, share them, and network, especially with people smarter than you, you'll learn a lot. In the end, it might just all add up and you'll get all you want.