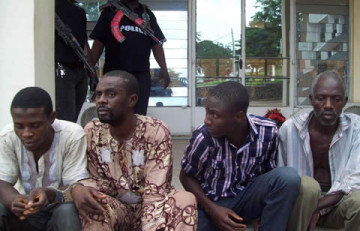 Officers from the Oyo State Police Command have arrested four armed robbers who stole two cars from a pastor, took valuable items from his house, with one also raping his daughter.
The pastor reported that on July 21st, 15-minutes before 12am, the four armed men pictured above came into his house. At gun point, they ordered everyone to lie down while they stole.
Among the items stolen were a Sony laptop, a Samsung android device, three mobile phones, six wrist watches and N200,000. A Toyota as well as Mercedes Benz cars were also taken away.
One of the suspects also raped his daughter.
The men were Afolabi Oluwatobi (24), Morakinyo Olufemi (43), Ayodele Ademola (55) and Azeez Rafiu (27).55-year-old Ademola was the one who raped the girl and claimed that was his first time robbing.
"I live in Ilesa and I sell gravel. I have never worked in Ibadan before. This is my first time of robbing anyone in my life. I was introduced to the game by a man who did not go with us on the day of the operation. I met the rest of the gang in a motor park. I raped a young girl during the operation." he said.
Investigations are still on going.