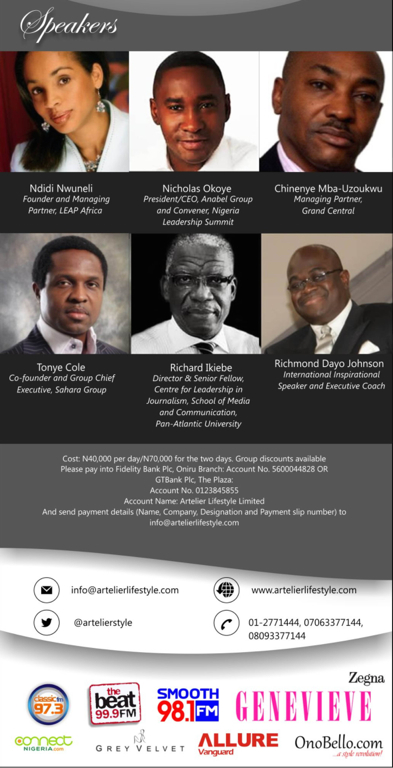 Artelier Lifestyle Consultants is a cutting edge Lifestyle Consultancy on a mission to help you "Polish, Project and Optimize Your Corporate or Personal Image".
To this end, the Artelier Lifestyle Consultants 2014 Symposium themed "A Culture of Excellence: How much difference can one person make?", will take place on the 18th and 19th September, at the Intercontinental Hotel, Kofo Abayomi Street, Victoria Island, Lagos, and will feature accomplished speakers, such as:
Ndidi Nwuneli – Founder and Managing Partner of LEAP Africa
Nicholas Okoye – President and Chief Executive Officer, Anabel Group and also the founder and convener of the Nigeria Leadership Summit
Chinenye Mba-Uzoukwu – Managing Partner, GrandCentral
Tonye Cole – Co-founder and Group Chief Executive, Sahara Group
Richard Ikiebe – Director & Senior Fellow, Centre for Leadership in Journalism, School of Media and Communication, Pan-Atlantic University
Richmond Dayo Johnson – International inspirational speaker and Executive coach
and others.
Our theme this year acknowledges the vast potential for improvement that exists within each individual, and seeks to ignite a renewed thirst for growth, excellence and continuous improvement in them. Emphasis will be placed on individual responsibility and its place in the quest for an entrenchment of a 'Culture of Excellence'.
Sessions such as "Swimming Against The Tide, 21st Century Etiquette", "Excellence In Communication", "What Has Your Image Got To Do with It?" as well as workshops on "Projecting the right image through professionalism" and "Leadership Potential" will reinforce the central message.
Registration
The cost of the seminar per participant is N40,000 per day, or N70,000 for the two days with attractive discounts for groups of five or more (contact us for more information).
Can be confirmed by paying into Fidelity Bank PLC, Oniru Branch: Account No. 5600044828 or
GTBank PLC, The Plaza: Account No. 0123845855; with all deposits payable to Artelier Lifestyle Limited.
_______________________________________________________________________________________
Sponsored Content