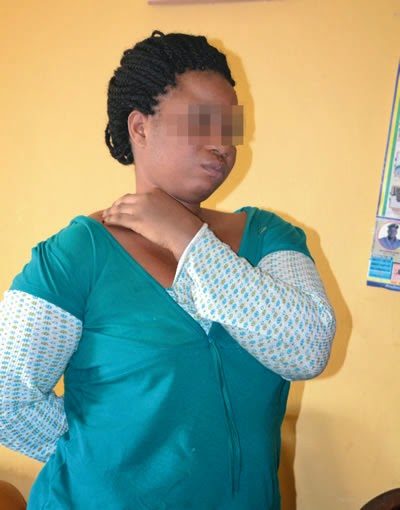 A 78-year-old politician died after having sex with his 30-year-old hairdresser lover on September 30th.
The politician named Adedayo Deru, was a married man, and was having extra-marital affairs with the hairdresser, Ijimo Ibrahim, Daily Post reports.
Following the incident, Ibrahim, who is a mother of two, reportedly dumped Deru's body by a roadside. She has since been arrested. Here is what she told police:
"He only came for sex in the mornings so that his wife would not suspect.

There was a day I was with him. We had sex but the wife caught us. So, I had to leave the town shortly after. I went to Lagos to work as an apprentice hairdresser.

When we reconnected after I got back from Lagos, we continued our love affair secretly because he was always there when I needed help. He came as usual on September 30 around 9am. I was on my way out of the house; I was going to work already that day. But he met me as I got out of the door and said he was visiting me.

I told him I could spare some hours before I left for work, so I went back inside with him. As soon as we got in, he stripped and I did the same. It was just one round of sex that we had and I don't know why that could have killed him. Our lovemaking was not even that long. He started complaining that he was not feeling fine. He said he was feeling tired and dizzy. Shortly after, he collapsed and stopped breathing".

My brother (the relation) told me to calm down, promising to come to my aid later that afternoon so that we could decide on what to do. But when I did not see him by evening, I realized he had run away and switched off his mobile telephone in fear.

We thought if I reported to the police, I would be in serious trouble. I didn't know."
An okada (motorcyclist), named Benjamin Friday, has also been arrested. He reportedly helped in dumping Deru's body by the roadside. However, he insists that he was unaware that he was helping to dispose a corpse, as Ibrahim had told him the man was just critically ill.
A photographer, Funmilayo Moyegun, has also been taken into police custody in connection with the case. She alleges that Ibrahim hired her to take photographs of the deceased.
"I only held the lamp when the body was being dumped", she said.
The corpse was dumped 100 metres away from Ibrahim's house on Oladipo Diya Road, Odogbolu.
Photo Credit: Punch Newspaper