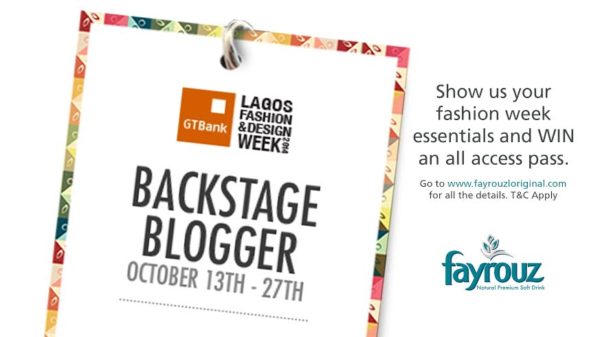 The Lagos Fashion & Design Week 2014 is scheduled to kick off on Wednesday 29th October to Saturday 1st November 2014. The 4 day fashion event will be refreshed by Fayrouz and they would like to give you a chance to experience fashion week in a unique way.
Want to know how? Enter Fayrouz's Backstage Blogger Contest on Instagram!
Winners will…
• Get an all access pass to meet and interview top designers, models, and watch fashion shows at the Lagos Fashion & Design Week
• Be the official bloggers covering Lagos Fashion & Design Week for the Fayrouz L'Original blog www.fayrouzloriginal.com
• Enjoy Fayrouz cocktails on the house all through fashion week
How to Enter?
• Follow @Fayrouznigeria on Instagram
• Upload a photo of your fashion week essentials on Instagram using #BackstageBlogger & #LFDWxFayrouz and tell them why you deserve to be the backstage blogger representing Fayrouz at Lagos Fashion & Design Week
• Get your friends to vote for your entry once it has been shortlisted and reposted on the Fayrouz Nigeria's Instagram page.
Shortlisting Criteria
• Clear/non pixelated photos
• Photos must include standard essentials for fashion week
• Good caption telling Fayrouz why you deserve to be the backstage blogger representing them at LFDW
• Instagram user must own the photos (No photos taken off the internet)
Terms and Conditions
• Photos should come in high resolution or at least be clear enough to be considered
• Only entries that meet the contest requirement will be reposted
• All photos will be reposted on the same day to avoid early voting advantage
• Top 2 entries with the most likes win
• Two winners will emerge in the competition: male and female
• Entries without the appropriate hashtags may not be considered
• Entries submitted after the closing date will not be considered
• Only fans within Nigeria are eligible to win
• Participants should be between ages 18 – 35
• Likes derived through illicit means during the voting period will result in entry being instanstly disqualified
Duration
• Call to entry/chance to post entries: Monday 13th – Wednesday 22nd October 2014
• Voting for entries: Thursday 23rd – Sunday 26th October 2014
• Announcement of winners: Monday 27th October 2014
__________________________________________________________
Sponsored Content