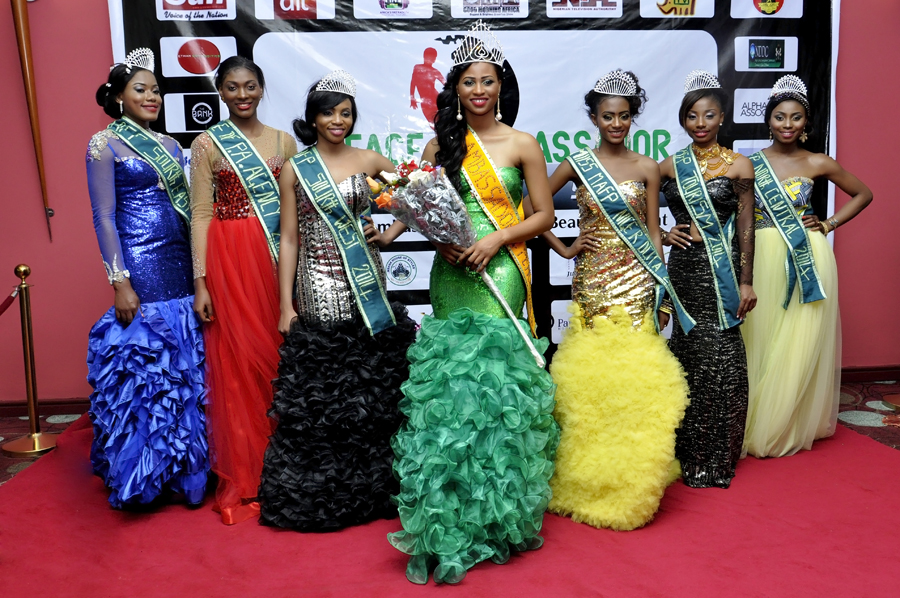 It was a day of joy and praises at the Ladi Kwali Hall of Sheraton Hotels and Towers, Abuja, when the Peace Ambassador Agency held the grand finale of its Miss Ambassador for Peace Award (MAFP) from which Ademoluti R. Omoboyewa (representing Ondo State) was crowned the new queen for the next one year.
The beautiful queen couldn't hide her joy when she was announced the winner. Speaking on her win, Omoboyewa revealed that, though her efforts have been crowned with a crown, it was hectic and rigorous. "I want to tell you that I'm so excited. I feel wonderful, elated and truly, I can't explain how I feel. Everybody who participated is a winner, because when we were in camp, there were people who could dance, act, sing and are more beautiful than I am. I'm so happy, because even after the announcement, there was no murmuring from the contestants or guests" she gushed.
She also promised to use her office as the queen to work towards promoting peace for the next one year, considering as it is the watch-word of the agency.
Other contestants crowned were: Igwe Cynthia O. (Miss Ambassador for Peace Tourism), Uduimoh Winifred (Miss Ambassador for Peace Niger Delta), Serena Joseph (Miss Ambassador for Peace South West), Viviene Akwanga (Miss Ambassador for Peace North Central), Ufondu Pepertual (Miss Ambassador for Peace South East) and Ebo Gabriella (Face of Peace Ambassador Agency).
In a related development, the president of the agency, Ambassador Kingsley Amafibe, thanked all those who graced the third edition of the show and called on patrons to prepare their minds for a better thrill.
"We tagged this year's pageant 'The Centenary Edition', because it isn't every year that Nigeria gets to become a hundred years old. For the past three years, the Peace Ambassador Agency has been a vehicle for carrying the peace message throughout the country."
"We, as an agency, have sought peace through a unique platform called the 'Peace Education Campaign'. This has taken us to various states in the country and we have involved Nigerian youths, in order to acquire proper knowledge", he buttressed. "An articulated event planned to inculcate the culture of peaceful co-existence among our vibrant youths, the pageant which was one part of the show which included the Peace Achievers' Award, has grown to become one of the leading vehicles for promoting peace in Nigeria and Africa. It was also held to mark the United Nations World Peace Day."
The Peace Achievers' Award recognizes individuals and organizations in Nigeria and Africa who have demonstrated strong commitment to peace-building and, upheld the peace message in service to their local communities and the Diaspora at large. Present were Italian Ambassador to Nigeria, United States Cultural Ambassador to Nigeria, UN representative and other Diplomats.
Nigerian celebrities also turned up to take their honours and support the event. Among those who were honoured were the wife of Annie Idibia (Best Actress), John Okafor aka 'Mr Ibu' (Best Actor) and singer Sanni Danja (most promising music act) who thrilled with his electrifying songs, Lady Rose Tony chukwu (Woman of the year), Philip Henry Chike, MD Kryxtal Suites (Youth Advocate); Hon Henry Ogiri, Executive Director, Finance/Admin NDDC (Niger-Delta Man of the Year); Amb. Dr. Godknows Igali, Permanent Secretary Ministry of Power (Award for Excellence in Leadership); 'Mr. Ibu' (Actor of the Year), Gandoki (Comedian of the year), Bakam Rachel Kuzayet (TV Personality of the Year), Matilda Duncan (Radio Personality of the Year), Ann Akpan, MD Mbana House of Styles (Female Designer); Omoniyi Makun, MD Yomi Casual (Male Designer); Wale Akinlabi, President Good Morning Africa & Planet Radio TV (Media Icon Award); YSG Entertainment Limited (Entertainment Company of the year), Collins Adeyemi, Lucky Ogbokwe, Mayor of Peace; Hon Emeka Ekwueme, Uyi Ogbebor, Comrade Erebuoye James,  Paulinus Oechukwu, Dr. Mohammed .T. Oba, Gen. Ibrahim Badamasi Babangida (Life Time Achievement Award), Collins Adeyemi, Lucky Igbokwe (Mayor of Peace), Paulinus Okechukeu, Jerusha Kifasi Danladi, Nunatso Charity Foundation (Peace Ambassador Humanitarian of the Year) & Dr. Pious Ndubusi, CEO Obama Estate (Peace Ambassador Health Personality of the Year).
________________________________________________________________
Sponsored Content