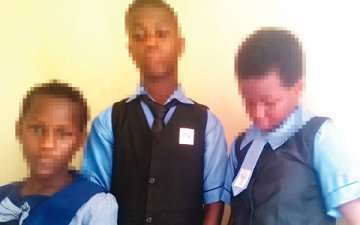 A man abandoned his three children at an Ogun State boarding school for eight years because he couldn't afford to take care of them.
The man, Segun Adepegba, enrolled the kids at Solid Model College in 2007, promising to come and pick them up after the first school term but he never showed up, Punch reports.
The children are: Seun 14, Seyi, 10; and Titilola, 13.
Sources say the tragic tale started when Adepegba and his wife separated, and the children were left with him. Because of the financial burden of taking care of them by himself with no source of income, he decided to abandon them at the school.
According to the school's principal, Samuel Ayegbusi, it was the children's father's sister that paid the initial school fees of N150,000. However after that, no further tuition payments were made, and the school decided to allow the children to stay enrolled and gave them free housing in the dormitories.
Ayebusi and other school authorities reportedly tried to contact the father numerous times, but got no response.
"Whenever we called him and he realised who was talking on the phone, he would switch off his phones and for the next weeks, the numbers would not be available," they said.
They would also try to contact his relatives, who would always claim that he was out of the country. On one occasion, some of the relatives revealed that they had given Adepegba money to pay for his children's tuition fees. However, the money was never paid to the school.
The school teachers say the father's absence has begun to take a toll on the children's academic work, and that one of them, had tried to run away on several occasions.
"Although I have a faint memory of my father, I will like to see him. If he comes today, I will ask him why he left us for so long…I don't care how long he has left us. I just want to see him. I really need to see him," said Titilola.

Photo Credit: Punch