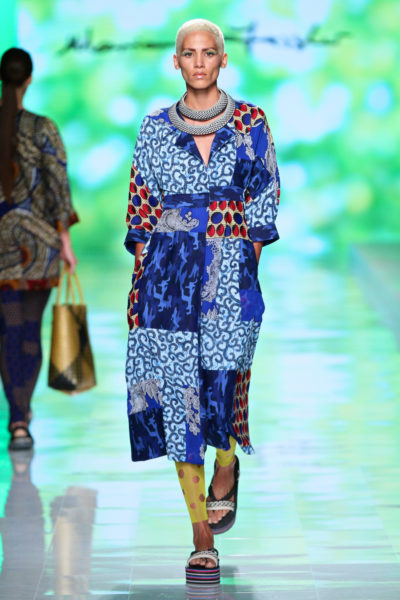 By now everyone knows that a collection by South African designer Marianne Fassler means prints on prints on prints on prints!
For her showcase at the 2014 Mercedes-Benz Fashion Week Africa, Marianne Fassler gave us a floral themed Spring/Summer 2015 collection that played on delicate lace fabric and gorgeous embroidery. She also went with a camouflage theme and animal prints for a few looks while choosing to go with solid black for a number of pieces.
To be honest the collection was a bit overwhelming but that is what fashion week is all about so we are down for it. Her accessories were also note-worthy with statement neckpieces, gorgeous print totes and more.
Marianne Fassler made a statement with clashing prints and geometric graphics.
She also made a statement by closing the fashion show with her cute daughters as they took a bow together.
Check out the full collection below!
Photo Credit: Simon Deiner / SDR Photo