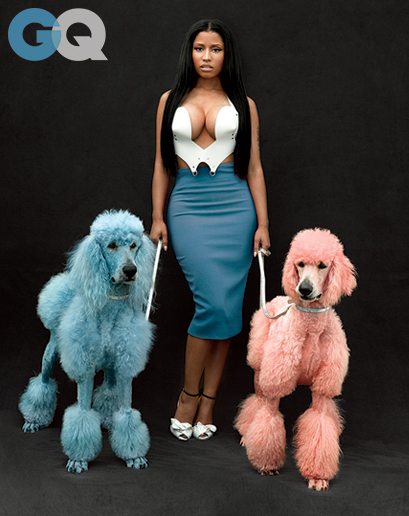 Nicki Minaj is giving us some early morning sexy with her feature in GQ Magazine's November 2014 issue.
Nicki Minaj unleashes her sexy style in the style magazines' latest issue as she is photographed by Mark Seliger, showing off her assets in a white angular bra and blue skirt while holding blue and pink poodles on a leash.
You can check out the full feature of Nicki Minaj in GQ magazine here.
Read highlights from the interview below!
On her customer service job: "I like dealing with people, but I don't really like a lot of bullshit, so maybe customer service wasn't the best job for me."
On her natural look: "I always thought that by the time I put out a third album, I would want to come back to natural hair and natural makeup. I thought, I will shock the world again and just be more toned down. I thought that would be more shocking than to keep on doing exactly what they had already seen."
On the video for "Anaconda": "I think the video is about what girls do. Girls love being with other girls, and when you go back to us being younger, we would have slumber parties and we'd be dancing with our friends."
On the "Anaconda" cover art, which spawned a million memes: "I just said I'll put it out, never thought in a billion years that people would be putting [other] people's heads on it. It's the craziest shit."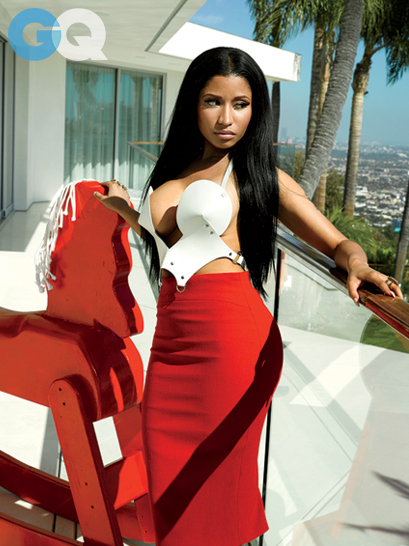 Photo Credit: GQ Magazine