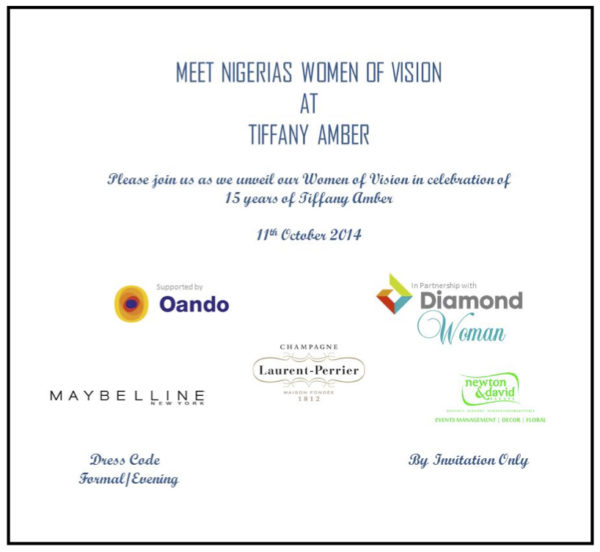 Fashion brand Tiffany Amber, in partnership with Diamond Woman, will reveal their "15 Nigerian Women of Vision" at an exclusive unveiling event today, on the International Day of the Girl Child, as part of the brand's 15th anniversary celebrations.
The Women of Vision Campaign, in line with the brand's age, will feature 15 women between the ages of 18 and 60 representing Tiffany Amber's multi-generational following. The chosen women are inspirational, empowered women who are leaders in their individual fields. They are women who have stopped at nothing to actualize their dreams. They are women to be celebrated. And this is exactly what Tiffany Amber intends to do.
Celebrating Women of Vision!
Can you guess who the "Women of Vision" are?
The Women of Vision Campaign Launch is supported by: Diamond Woman, Oando, Newton & David, MaybellineNY, Newton & David, Dark & Lovely & Laurent Perrier. Media Partners include Spice TV & BellaNaija.com.
__________________________________________________________
Bellaanaia is a Media Partner with the Tiffany Amber Women of Vision campaign