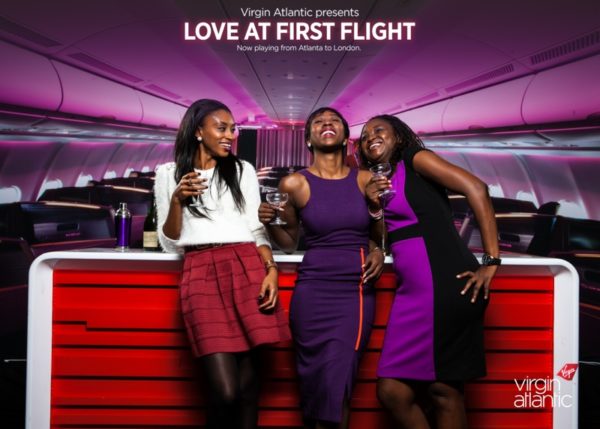 Beverly Naya went to Atlanta for Virgin Atlantic's first flight to Atlanta and boy did she have a blast!

From the food to top notch Virgin service to Southern hospitality and meeting Sir Richard Branson.
Enjoy her travel diary! For more photos & video, check out #BNVirginAtlanticinAtlanta & @bellanaijaonline on Instagram.
***
Day 1
I left for the airport very early in the morning, not that it makes any difference in Lagos as I was still stuck in traffic but I was fortunately able to make it to the airport in time for my Virgin Atlantic flight with our host, Kudirat (Virgin Atlantic Marketing Manager, Nigeria), Makida Moka (model/actress) and Akintunde (Business Traveller Africa).
The flight was smooth from Lagos to London as we were spoilt silly with delicious food.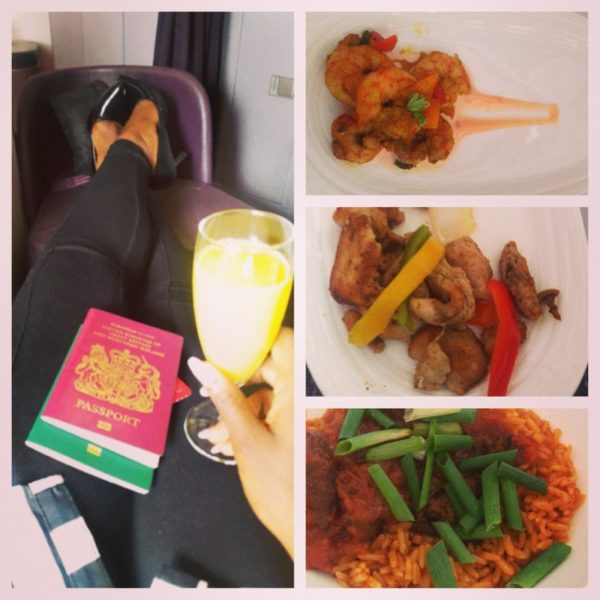 Not quite sure where to start, let's see…from the perfectly spiced chicken suya to the deliciously succulent prawns *starts to reminisce*...I really did enjoy the food as well as the impeccable service.
We landed safely in London Heathrow, and as I sat in our complimentary limo service to our next destination, I could not get over how cold London was. You would think that after living there for most of my life I would be used to the moody and unpredictable weather by now, but the cold shocks me every time, especially now that I have acclimatised to the Lagos heat. Maybe it would have helped if I had worn a proper jacket, but hey…lets move on *covers face*.
We arrived at Premier Inn Hotel (close to Gatwick Airport) about half an hour later and after we had settled in, we met up for dinner. Now, I was very tempted to order a full rack of BBQ baby back ribs with chips but after much deliberation and guilt trips from my mind I decided to act like the classic Englishman and order fish and chips (not that this was any healthier).
After dinner, I went straight to bed as I knew that the next day would be a long but exciting one.
Day 2
I woke up early, had a shower and then met the crew downstairs for a quick full English breakfast before heading to Gatwick Airport.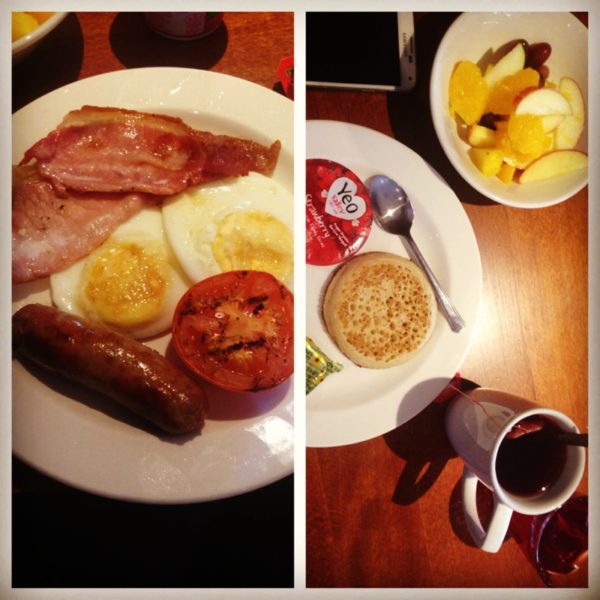 Once we arrived, there was an obvious celebration going on as we saw people dancing to the music being performed by a live band. It was a jovial mood that excited everyone, Virgin Atlantic was celebrating their inaugural flight to Atlanta from London! And as if that wasn't enough to celebrate, they were also launching their brand new plane for the journey, the Boeing 787 which they named 'Birthday Girl' to celebrate thirty years of Virgin Atlantic. Wow! What a milestone, they should be so proud!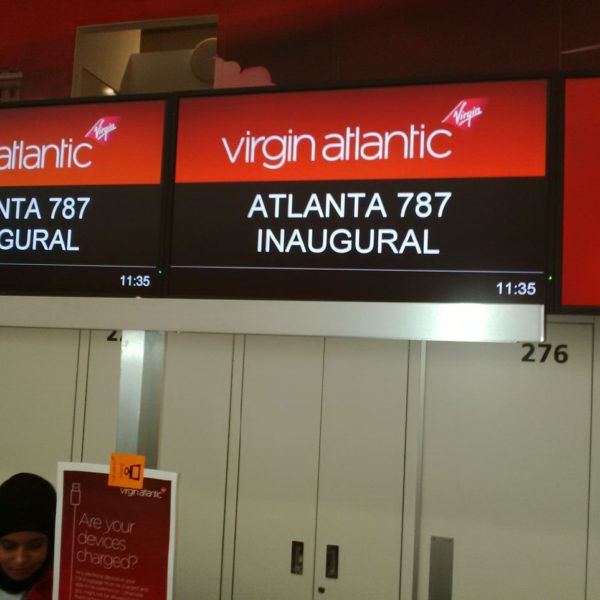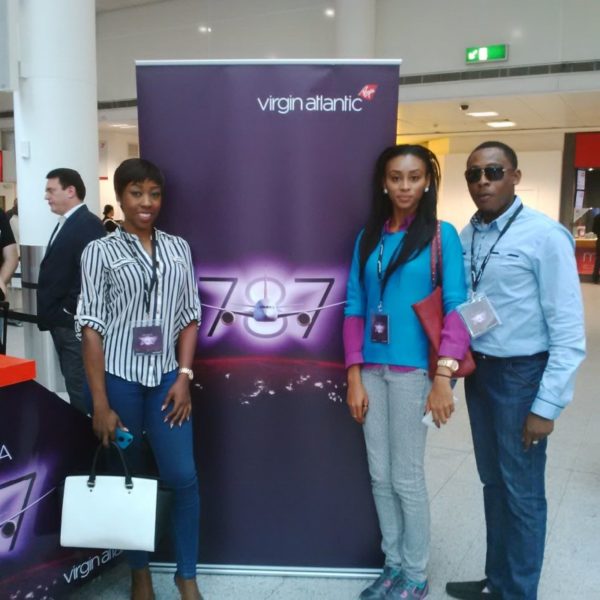 After checking in, we proceeded to the V-room, now this is where I felt the most guilty. I have never ever been offered this much food in my life, the waiters literally just kept coming with one scrumptious hors d'oeuvre after another. I felt like a kid in a candy store and I willingly chose not to resist the temptation, everything tasted so good but I most especially loved the mini burgers and the tiny pancakes with salmon, oh and the bbq pork belly bites. Oh goodness BellaNaija…take me back there now!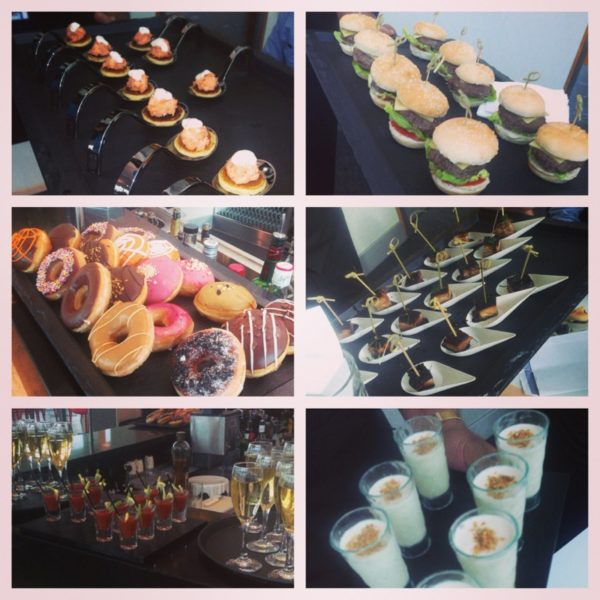 Once I was free from the spell of the hors d'oeuvres, we headed over to the gate and proceeded to board the inaugural flight to Atlanta. Boy, was I in awe of the beauty that is the 'Birthday Girl', she is such a beautiful plane!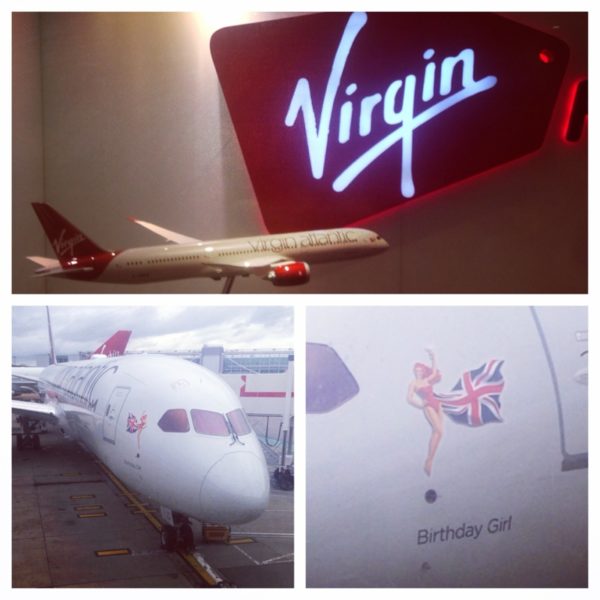 As soon as I got on the plane, I was taken aback by how amazing the lighting and decor were; the pink , purple and red all worked together to create a modern feel so magnificent I didn't want to get off the plane. Let's not forget the smell of the plane, there was this irreplaceable feeling I got every time I took in the unique smell, the newness, the freshness…it really was fantastic. And then you have the plush comfortable leather seats, the thought of being the first person to have ever sat in that seat was nothing other than humbling and surreal. I even got my very own branded Coke bottle!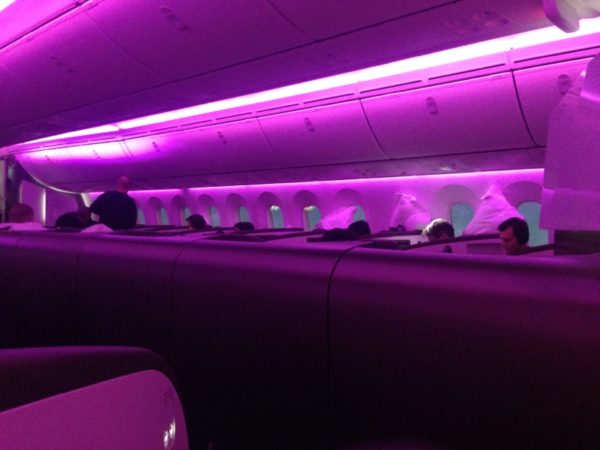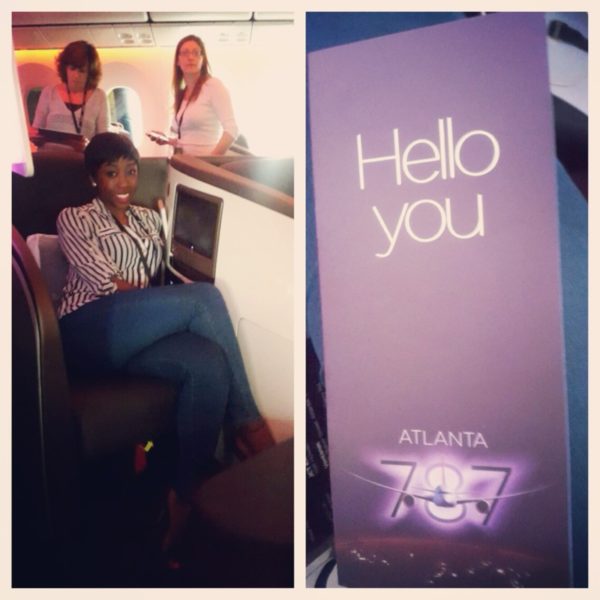 As promised, take off was as noiseless and smooth as anything and the lunch menu by celebrity Chef Lorraine Pascale was delicious and authentic, I opted for the sweet and sour pork balls with sunshine rice which I thoroughly enjoyed! Preparations for the party began not long after lunch.
Yes, you read correctly, we literally had a party in the sky!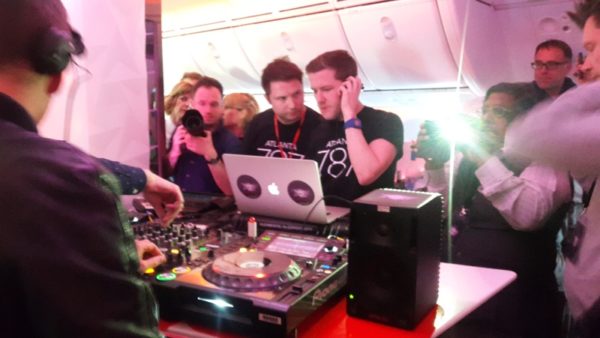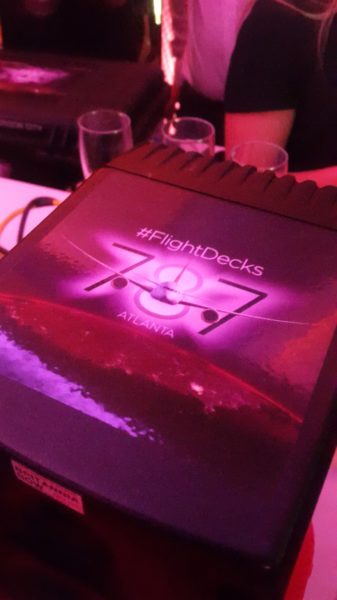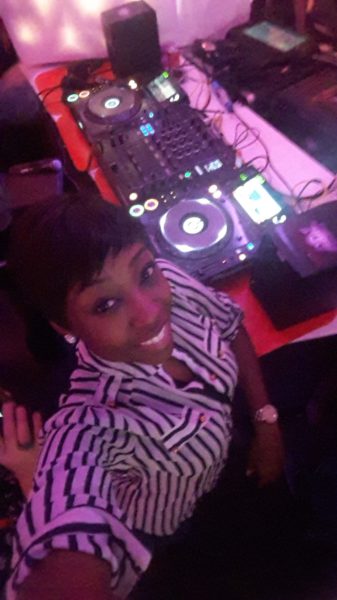 Internationally acclaimed DJs, Rudimental and Gorgon City kept the passengers entertained with identifiable garage and house music to which the audience roared with excitement. I joined in on the fun and found myself jumping and dancing to the late 90s UK garage hits. The alcohol was flowing in abundance, most especially Virgin Atlantic's new sparkling wine from Hambledon Vineyard.
Whilst the party was going on I got the opportunity to meet the CEO of Virgin Atlantic, Craig Kreeger.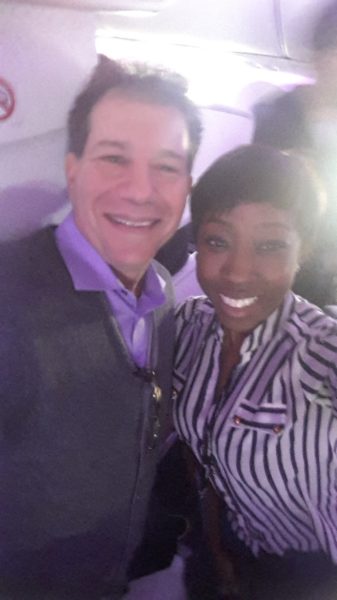 Considering all of his achievements, he was so humble and down to earth. I really enjoyed my conversation with him. He spoke briefly about his nervousness and excitement about the new Boeing 787 and this was all while he sat in his economy seat, it doesn't get anymore humble than that, definitely admirable. I asked him if he was tired and wanted to sleep at some point during the flight to which he replied, "no sleep, we are partying the whole weekend."
And that's exactly what we did, no one slept on the inaugural flight and I most definitely didn't have a lot of time to prioritise sleep during my stay in Atlanta!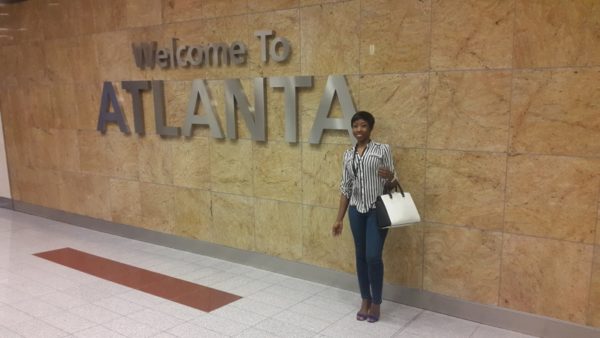 As soon as we landed in Atlanta we were warmly greeted by a choir whose voices reminded me of the ones you hear in black Hollywood films/Tyler Perry films. They sang from the very depth of their souls with so much passion and love, they gave me goosebumps and at that very moment I felt the hospitality of the south!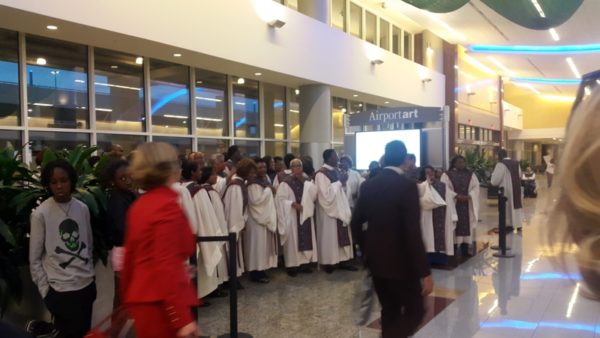 Once we checked into the W Hotel in Buckhead, I freshened up, threw on a nice LBD and headed downstairs to the Virgin Atlantic welcome party, we didn't go to sleep until about 3am (Atlanta Time).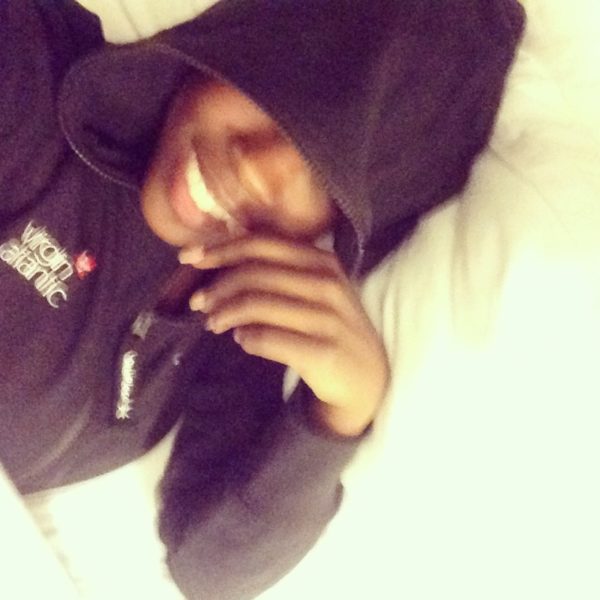 Day 3
I woke up nothing short of a few hours later, not quite sure if it was out of excitement or pure jetlag but I was really excited about the day ahead!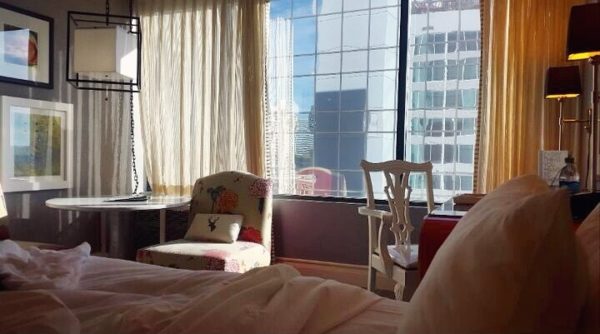 I had a light breakfast on the rooftop before I proceeded to head downstairs to the press conference about the new Virgin Atlantic London to Atlanta route and the Boeing 787.
As I walked towards the elevator, I ran into Kudirat (Virgin Atlantic Marketing Manager, Nigeria). Whilst we waited for the elevator, she was excitedly telling me that Sir Richard Branson was in town and that I would have the opportunity to interview him. I looked at her in total shock, what an honour this was going to be! As we stepped into the elevator and continued our conversation, the elevator stopped on the tenth floor and you will absolutely not believe who walked in with Craig Kreeger (CEO Virgin Atlantic)…it was SIR RICHARD BRANSON HIMSELF!
At that very moment I was honestly overwhelmed because I never expected that could ever happen. I turned and saw him and the only words that came out of my mouth were "Oh my gosh!" Really Beverly? That's it? *currently cringing* haha. I was standing a couple of inches away from Sir Richard Branson, owner of Virgin Atlantic and billionaire. I won't deny the fact that I got a bit misty eyed, it was incredibly surreal and I was rendered speechless by his presence, he sensed my shock and gave me a hug. I think that was officially the second time in my entire life that I have ever been star struck, the first was when I met Sisqo *pause*… Hey! Stop judging me, I was only 15 at the time and a huge fan haha. When we got out of the elevator he smiled and said "It was very nice to meet you". I smiled and really couldn't wait to interview him after that phenomenal experience.
During the press conference Richard Branson spoke proudly of how far Virgin Atlantic has come in the last thirty years. "Every airline we were competing with has disappeared except Virgin Atlantic," he also listed British Airways as his only competition at the moment.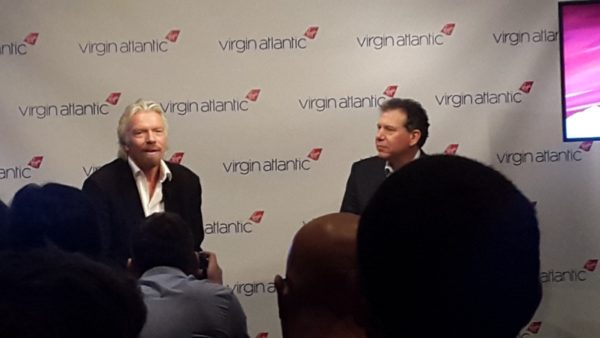 He secured the deal to build the Boeing 787 seven years ago in Seattle and both Craig Kreeger and Richard talked proudly about the new plane having better economy and premium economy seats with more room. Virgin Atlantic will also be opening a new club house in Gatwick for those traveling from that airport. We asked Sir Richard Branson if the plane would ever fly from Lagos to which he said, "the 787 is too small for the Nigerian market," this made everyone laugh. You know we love our heavy duty luggage! He also said that he thinks it is fantastic how Nigeria has shown America how to beat Ebola, lovely to have some positive international press. Felt amazing to hear him say that!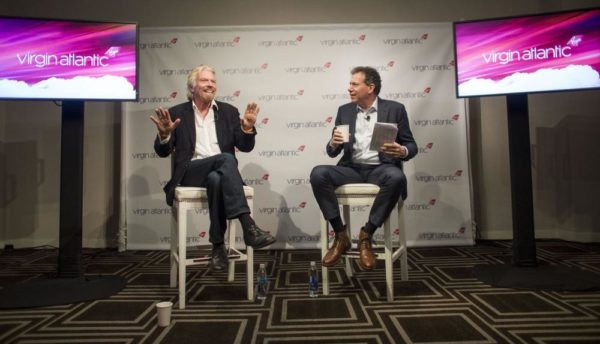 On why people should fly Virgin Atlantic Upper Class instead of getting on a private jet, he said, "Virgin Upper Class beats a private jet anytime in service and in comfort, I would recommend that those passengers book an upper class ticket with Virgin Atlantic and then give the rest of that money to charity, it really is a waste!"
After the inspiring press conference with Richard Branson, we went out for lunch at the JCT Kitchen, the food here was absolutely delicious.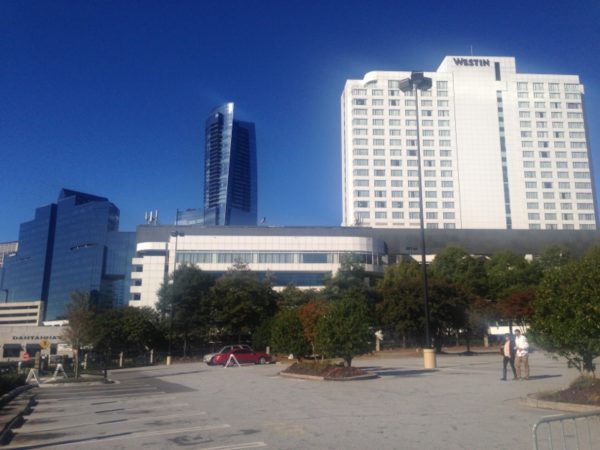 The beef was cooked to perfection, it was so tender and soft and seasoned beautifully, but the star of the lunch was definitely the arugula salad it was flavoured to perfection and the vinaigrette was like no other. I definitely would love to visit that restaurant again!
After lunch we visited Stone Mountain, this was an experience of a lifetime and I will cherish it forever.
The mountain itself was an incredible sight but the view from on top of it was irreplaceable, I have never felt so one with nature. At that very moment I was able to appreciate God for another one of his miraculous gifts on earth, moments like this make life so precious. From the top of the mountain you can see the skyline of downtown Atlanta and Perimeter/Dunwoody, the view is spectacular and I could have stayed there for hours if I didn't have go get ready for the main Virgin Atlantic party. Whilst in the sky view cable car on my way back down from the mountain, I got a closer look at the largest high relief carving in the world of the three confederate leaders of the civil war.
Once I got back to the hotel, (running on less than three hours sleep by the way) I got ready for the Virgin Atlantic official launch party. I wore a dress designed by Nigerian-based designer Gozel Green, and the dress coincidentally matched one of the Virgin Atlantic colours!
When I arrived at the party, I was in complete awe of the venue. It was so ultra modern, sexy, classy and chic that you just knew that you were definitely there to have a good time! And the view was out of this world, the lights from all the buildings just looked so gorgeous in the night! Makida and I headed straight for the bar where they were serving their cocktail special, 'The Atlantic' which was a mixture of different drinks with alcohol and then 'The Virgin Atlantic' which had the same mixture but without alcohol. I found the choice of names not only creative but quite hilarious and I immediately knew I was in for one amazing night.
They had light snacks floating around the venue but the one that I really enjoyed the most was the fish and chips, or shall I say fish and chip. It was a small piece of battered cod with a chip and some tartare, it was just pure genius as far as I am concerned and simply delicious with the batter fried to perfection.
Rudimental did their magic again, getting the crowd ready for the rest of the night just before the live band came on and performed some of our favourite hit songs flawlessly, this had us dancing the whole night away. Later on, we went upstairs and took pictures at the mock photo shoot they had set up, it was absolutely hilarious seeing everyone let go in front of the camera, some of the poses were crazy thus making the experience even more enjoyable.
As soon as I got back to the hotel, I went straight to sleep and finally had some well deserved rest.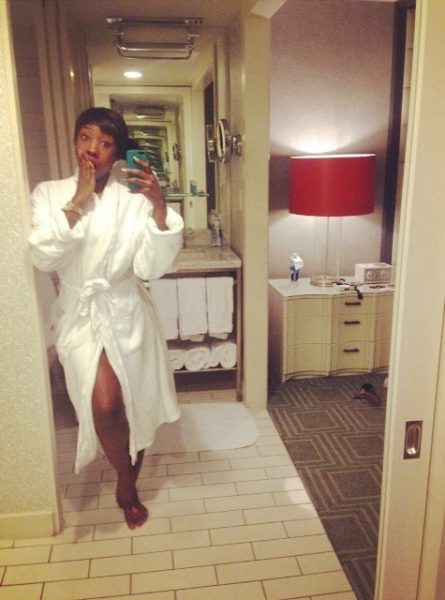 Day 4
Woke up bright and early, had breakfast and then headed to my favourite place…the shopping centre/mall. With not much time to spare, the plan was to only do a bit of window shopping but as I had conveniently forgotten to leave my card at home I ended up purchasing a brand new bag and a pair of strapless heels.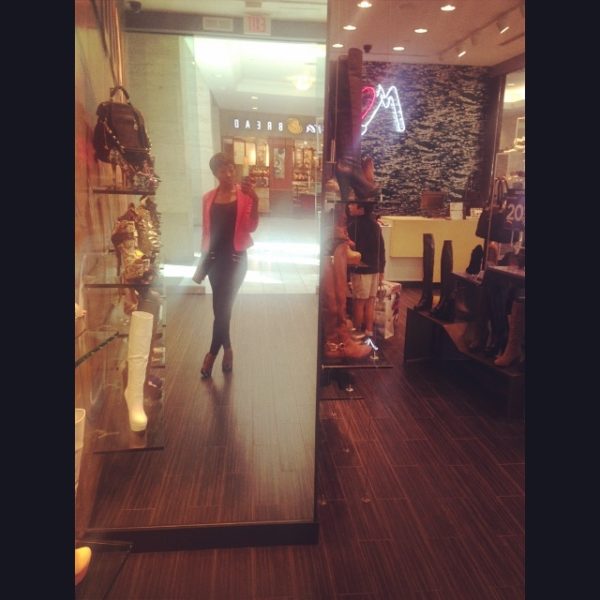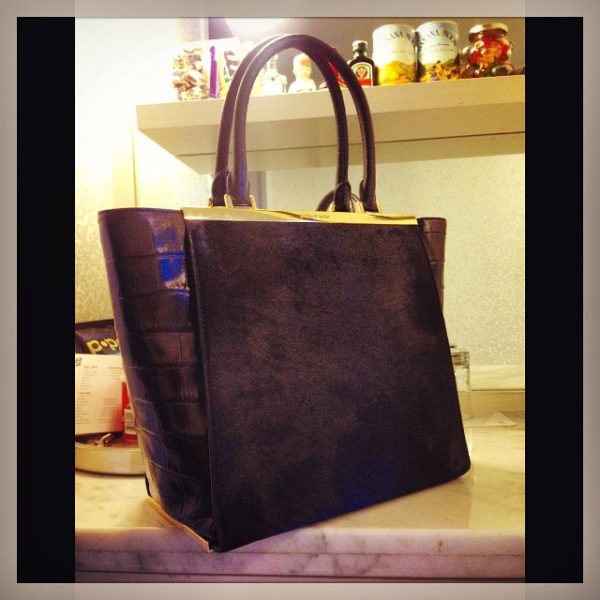 Once I got back to the hotel, I checked out and then we headed to the countryside for an interesting lunch at the farm. Although we got lost a few times, when we finally made it to the Serenbe Playhouse, we were greeted by a unique theatrical performance set in medieval times that consisted of singing and dancing. It was funny and witty and the actors engaged us in every way.
We were then led outside where they had a stunning lunch prepared for us. It was a real country lunch! Yup, we were definitely in the south! We had southern fried chicken, chick peas, roasted potatoes and macaroni and cheese, the hospitality was great! The weather was amazing and the scenery was beautiful, I had a fantastic time here.
After lunch, we headed to the airport and then checked in our bags as we prepared to bid Atlanta farewell. Once onboard the aircraft I began to think about how often I travel but don't actually take time out to appreciate the places that I visit. You know, take time to learn about the history, the sights, the culture…I'm rarely ever intrigued by stuff like that. My checklist usually consists of: Is this a good place to go shopping? Is there a good night life? Are there good restaurants? If I answer yes to all three questions then that's where I want to go, but there is more to a holiday than just that and I realised that in just two days of being in Atlanta. I go to Atlanta every year but on this trip I felt like I had only been there for the first time because I was exploring things and building new experiences for myself as opposed to sticking to what I've always known.
So as I converted my seat into a bed after dinner, I told myself that I would never just merely travel again, but live every second in that moment…learning about different cultures and history. That's what going on holiday is really all about, escapism and building memories! I don't want to just travel, I want to experience…you only live once, after all. And with that I closed my eyes and went to sleep.
Day 5
We landed in Heathrow very early in the morning, we said our goodbyes to all of the lovely people we met from around the world and then headed to the Crowne Plaze Hotel to while away time before our night flight. Didn't get up to much after breakfast, it had been an eventful week and I honestly wanted nothing more than to just sleep for some hours which was exactly what I did. We checked out of the hotel at around 5 p.m and then headed back to Heathrow for our final Virgin Atlantic flight of the journey. Once I had dropped my luggage, I decided to chill at the lounge for a couple of hours.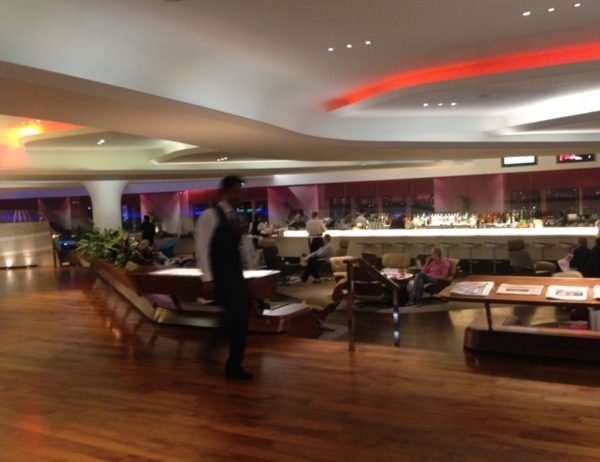 I ate a club burger with chips and drank a couple of their complimentary cocktails but I most especially loved their Bramble one, it was sweet and simply yummy. Spent the last hour or so talking with the Indian friend I made on the trip, he is so hilarious, kind-hearted and warm. As I watched him leave, I wondered if I'd ever meet him again. Isn't it amazingly weird how you can go through life connecting and bonding with people that you just may never see again? Honestly, I wonder what he's doing right now, wonder why I didn't get his email address for a time that I decide to visit India!
As the plane took off, I felt a bit nostalgic. I didn't have the chance to meet up with any of my close friends in London and for the first time in my life I was literally just passing through my city.
Day 6
We landed in Lagos at about 6 a.m, it feels good to be back. As I watched the huge heavy luggage going around on the conveyor belt, I remembered what Sir Richard Branson said "the 787 is too small for the Nigerian market". I laughed in my head and quietly concurred but my thoughts were rudely interrupted by a woman barging into me as she aggressively dragged her massive suitcase off the conveyor belt, no excuse me, nothing! I thought to myself, "I really should invest in some safety gear, especially head gear, in fact full body gear for moments like this at the airport in Naija!" I laughed and as I inhaled that usual Murtala Mohammed Airport air and walked towards the customs to hear them calling out to me "ace" "beby gal," "fine beby," "madam!" "sssssss," "fine gal, what did you bring back for us?"…I thought about how much I actually missed Lagos, there's nowhere quite like it!
Visit www.virgin-atlantic.com for your booking!