So close yet again but not quite…
Idris Elba makes the cover of People Magazine's Sexiest Man alive in 2014 issue. So we are just going to call him the 1st Runner Up!
However, the mag has announced the oh-so-hot swinger-of-hammers – Chris Hemsworth as their Sexiest Man Alive 2014. The news was announced by Jimmy Kimmel during his show where he was playing a fun Q&A with the Hollywood hottie via Skype.
Chris was delighted at the news saying "Thank you very much for the trophy. I'm most excited about the alive portion of that statement. I'm flattered. Thank you, Jimmy."
On if there will be any hard feelings between him and his brother Liam Hemsworth concerning the title, Chris said  "Liam is good. We've been throwing sexy looks back and forth all week. So he's been a real team player through this."
He added "I like everything there is about being sexy, to pursing the lips the right way to squinting at the essential time. Thank you, Matt Damon, and all the other previous intelligent men. This is based on an IQ test, not just the physical appearance."
He also had one more set of people to thank – "My parents, I guess, for putting this together." *sigh*…funny and hot.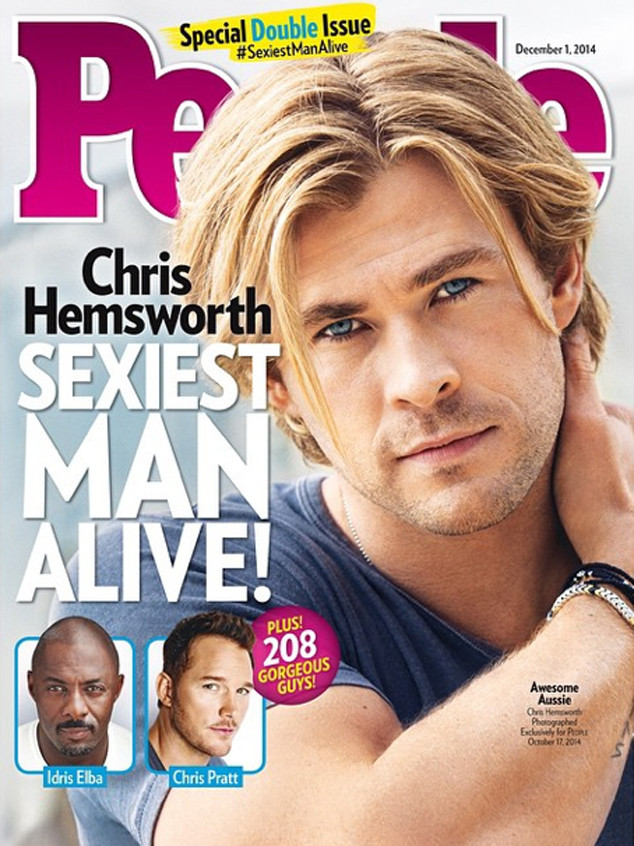 Chris and Idris join a steamy including George Clooney, Bradley Cooper, Channing Tatum, Matthew McConaughey, Ryan Reynolds, Brad Pitt, Hugh Jackman, Adam Levine.