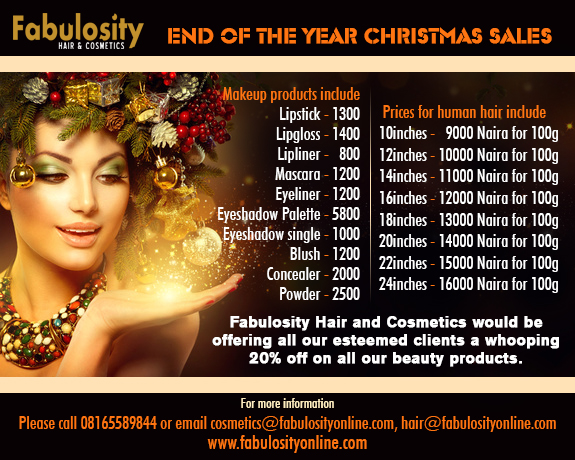 Christmas is around the corner again and Fabulosity Hair & Cosmetics would like to offer you a 20% discount off all hair & makeup products.
Their offer runs from now till till the end of the year – Wednesday 31st December 2014, and they thank you in advance for taking part in their promotion.
Also on Sunday 7th December 2014, Fabulosity Hair & Cosmetics will be at the Beauty A'Fair event holding at the Anchor Events Centre,  2 Registration Close, Behind Union Bank, Behind LTV, Agidingbi, Ikeja, Lagos; and will be selling items at discounted prices. So come on over and get your shopping on!
For more information, please call Fabulosity Hair & Cosmetics on 08165589844 | Send an e-mail to: hair@fabulosityonline.com or [email protected] | Visit their website: www.fabulosityonline.com | Find them on Facebook: www.facebook.com/fabulosityhair and www.facebook.com/fabulositycosmetics
_________________________________________
Sponsored Content