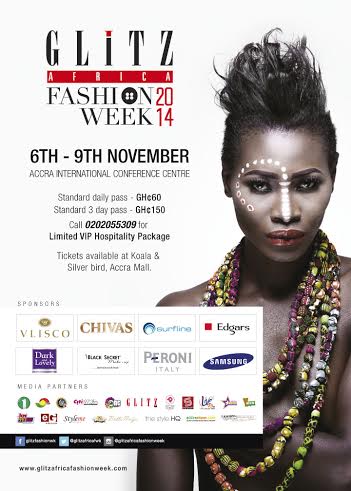 Glitz Africa Fashion Week, a brand extension of Glitz Africa is one of the biggest fashion week events in Africa that is held annually. The fashion event is unique and innovative focused on raising global awareness to diverse talent, promoting and celebrating African cultures, and bridging the gap between international buyers and African designers.
Glitz Africa Fashion Week will be a multifaceted four- day long event that will include runway shows, exhibitions, industry networking mixers, pop up shops, and more.
The event, scheduled from the 6th to the 9th of November 2014, will link international partners, business leaders, local buyers, agents, editors, celebrities, and industry insiders to the vibrant fashion and art that Africa has to offer.
Our able-bodied sponsors for this year's fashion week are; Vlisco, Surfline, Edgars Chivas, Peroni, Samsung, Dark & Lovely and Black Secret, and supported by Alisa Hotel and La Palm Hotel.
Date: Thursday 6th – Sunday 9th November 2014
Time: 6PM – 10:30PM Daily
Venue: Accra International Conference Centre, Accra, Ghana
For further information about Glitz Africa Fashion Week and press registration please visit: www.glitzafricafashionweek.com or send an email to info@glitzafricafashionweek.com.
For latest news please follow their Facebook: www.facebook.com/glitzafricafashionweek and Instagram pages: @glitzafricafashionweek
_________________________________________________________
BellaNaija is a Media Partner with the 2014 Glitz Africa Fashion Week