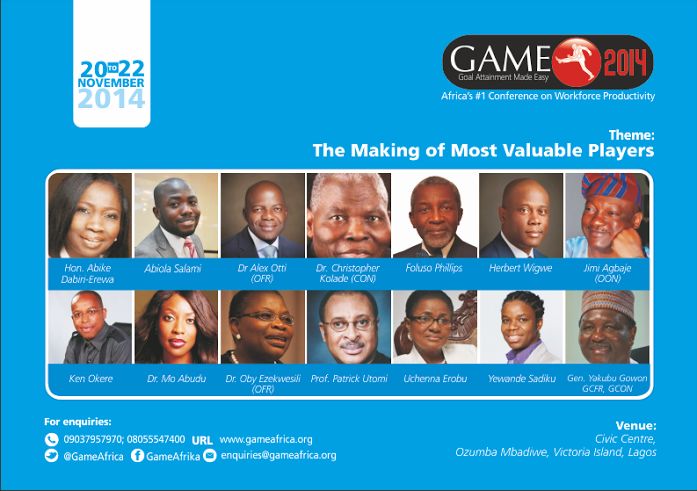 The 2014 edition of the Goal Attainment Made Easy (GAME) Conference, an initiative of iamCHAMP Limited, a Nigerian based Human Capital Development firm in partnership with Department for International Development (DFID), has been slated to start from Thursday 20th November 2014. This was announced on Thursday 6th November 2014 held at the British Government's Department For International Development office in Lagos.
While addressing newsmen at the event, the Pro-Chancellor of Pan-Atlantic University and Chief Host of the GAME 2014 Conference, Dr. Christopher Kolade hinted that time to take initiative to make Nigeria great is now, as no situation in the world changes itself. He commended the initiative, stating that the responsibility to make Nigeria great lies with the younger generation who constitute over 80 percent of the country's population.
"We need your initiative and spiritual link with God to get this country from where it is, to where it ought to be. The transformation agenda should not just be about Mr. President, but it should be a collective responsibility of all Nigerians". He said Speaking at the event.
The Convener of The GAME 2014 Conference, Abiola Salami explained the motivation behind the conference. According to him, "the pressure to meet up with targets, deadlines and their key performance indicators (KPI), the need to engage in continuous professional development, build and maintain career advancing networks and in some instances, decision making for career transitions have led to incidences of having professionals that are very successful in their careers while other aspects of their being are lagging behind."
"To guarantee progressive productivity of young professionals, there is need to create a platform that will foster knowledge importation, skills acquisition and opportunity maximization through the five areas of well-being. This is the reason we came up with the idea of this at a media conference".
Targeted at young professionals, the Goal Attainment Made Easy (GAME) Conference which started in 2012 with less than 30 participants has over the years grown rapidly, pulling over 300 participants in 2013, and expecting to get more at this year's edition and General conference to provide young professionals with the needed skills for personal and collective.
In a short remark, The Regional Director, Department For International Development, (DFID), Adesina Fagbenro-Byron, while commending the initiative of the GAME Conference, stated that the time to act upon our many challenges is now, so as to stop recycling the country's problems as it is This year's edition of the conference which is centered on total well-being draws eminent speakers from different walks of life among whom are Foluso Phillips, Herbert Wigwe, Jimi Agbaje, Dr. Mo Abudu, Prof. Pat Utomi, Dr. Christopher Kolade.
The conference also hosts two award ceremonies to honor women and men making difference in their chosen careers across various sectors of the economy. Some of the awardees are Otunba Grace Titi Laoye-Tomori (Deputy Governor, The State of Osun); Justice Amina Augie (Chief Judge of The Lagos Court of Appeal); Hon Abike Dabiri-Erewa (Federal House of Representatives); Dr. Olusegun Mimiko (Governor of Ondo State) and Senator Ibikunle Amosun (Governor of Ogun State).
Date: Thursday 20th – Saturday 22nd November 2014
Time: 8:45AM
Venue: Civic Centre, Ozumba Mbadiwe, Victoria Island, Lagos
Intending participants are to visit www.gameafrica.org/register/ to register.
___________________________________________________
BellaNaija is a Media Partner with GAME 2014