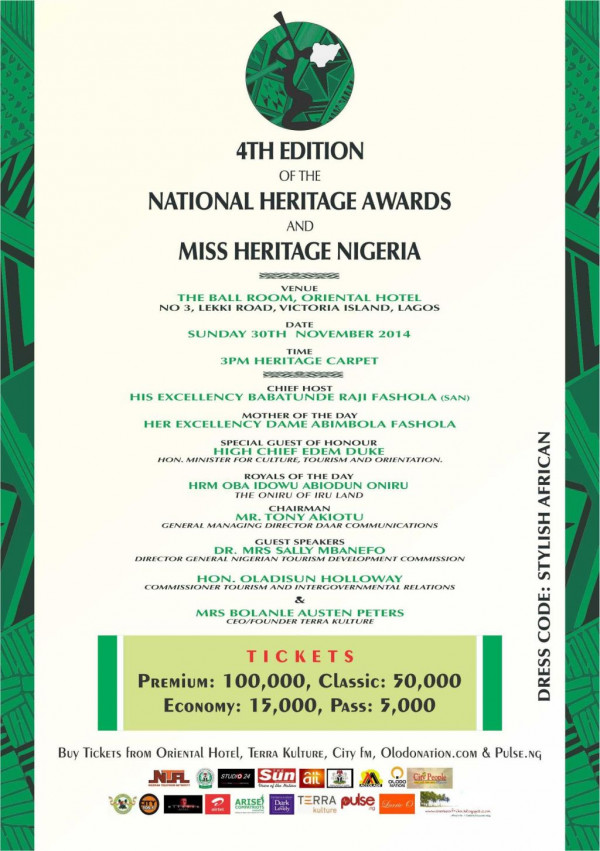 Get ready Lagos for the 4th edition National Heritage Awards & Miss Heritage Nigeria event!
This event focuses on youth empowerment & development, promotion of culture, heritage, tourism, re-orientation, and reviving of unity through culture, and this year the theme is "Unity & Culture". The National Heritage Awards & Miss Heritage Nigeria aims at rewarding excellent individuals, institutions & corporate bodies that have distinguished themselves in culture-related areas and have also supported the youth in their different works of life. While the Miss Heritage Nigeria is a platform to showcase the thorough beauty of an African woman, our African prints & arts.
Nominees for this years event are: Her Excellency Dame Abimbola Emmanuella Fashola, Chief Dr. Opral Benson, Chief Nike Okundaye, Sen. Ita Giwa, Hajia Abba Folowiyo, Prof. Patrick Utomi, Chris Oputa , Bolalane Austin-Peters, Tony Elemelu, Lady Onyeka Owenu, Rachel Bakam, Access Bank, Ebube Nwagbo, Tobechukwu, Illbliss Ejiofor, Mayo Oyedetun, City FM, Amb. David Egwu, Amb. Utchay Odims, Chima Anayso, Gbanga Oyeyiga and Clement Enajemo of Mudi Africa.
The Chief Host for this event will be His Excellency Babatunde Raji Fashola (SAN) Governor of Lagos State and his wife, Her Excellency Dame Abimbola Fashola. The Chairman will be Tony Akiotu (Group Managing Director, DAAR Communications). Guest Speakers at the event include Dr. Mrs Sally Mbaenfo (Director General Nigerian Tourism Development Cooperation), Oladisun Holloway (Hon. Commissioner Ministry of Tourism Lagos) and Bolalane Austin-Peters (Founder/CEO Terra Kulture).
Royal Father of the Day will be Oba Idowu Abiodun Oniru (Oba of Oniru Land).
This event is proudly supported by the Federal Ministry of Culture, Tourism and Orientation, Nigerian Tourism Development Co-operation, Lagos State Ministry of Tourism, AIT, Ray Power, NTA Entertainment, NTA 24, NTA Channel 2 Lagos, City FM, Hip TV, Airtel, Terra Kulture, Olodonation.com, City People, Pluse.ng, Arise o' Compatriots magazine, Rock View Hotel & Caires Grooming Agency.
Toattend you can get tickets at Oriental Hotel, Terra Kulture, City FM, Olodonation.com, and Pluse.ng.
Ticket Prices
Premium Tickets: N100,000
Classic Tickets: N50,000
Economy Tickets: N15,000
Pass Tickets: N5,000
Date: Sunday 30th November 2014
Time: 3PM
Venue: Heritage Carpet, The Ball Room, Oriental Hotel, Victoria Island, Lagos
Contact: Call +2348054348515 or 2348138490625 | Send an e-mail to [email protected] | Visit wwww.missheritagenigeria .org
_________________________________________________
Sponsored Content