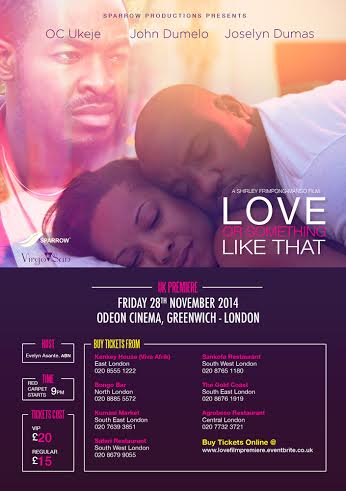 It's love…or something like that.
The highly acclaimed movie – "Love or Something Like That", which was recently endorsed by the Joint United Nations Programme on HIV/AIDS (UNAIDS), is set to have it's London premiere next Friday 28th November 2014 at the Odeon Cinema in Greenwich, London.
Starring OC Ukeje, John Dumelo & Joselyn Dumas, "Love or Something Like That" is written and directed by Shirley Frimpong-Manso and produced by Ken Attoh, Shirley Frimpong-Manso & Joselyn Canfor-Dumas.
Synopsis
A young surgeon's chance meeting with her ex-boyfriend throws her world into absolute chaos when she makes a horrible discovery about her past and what could be the end of a great career, and beautiful marriage.
A poignant story about moving on when there's no light at the end of the tunnel.
Watch the "Love or Something Like That" Trailer

To get more information, please visit www.sparrowstation.com
To buy Tickets to the London premiere, visit  www.eventbrite.co.uk
Date: Friday 28th November 2014
Time: 9PM
Venue: Odeon Cinema, Greenwich, London
_______________________________________________________
Advertorial – Sponsored Content