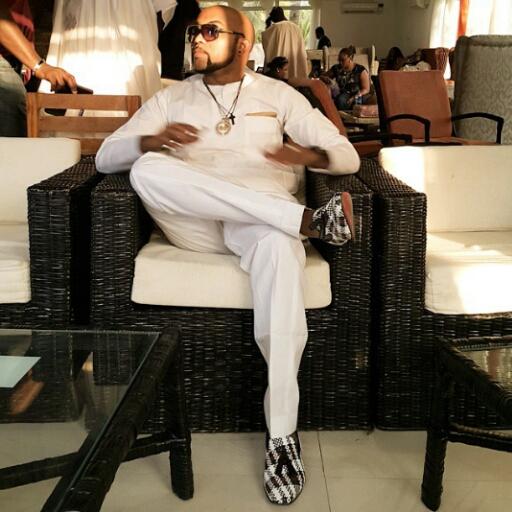 We know Banky W is talented and he occasionally writes about issues concerning the nation on his blog, but he is also one of the best people to follow on social media because we are treated to his very deep daily thoughts.
As we all know, Presidential aspirant Muhammadu Buhari will announce his running mate today Wednesday 17th December 2014. And Banky's choice is none other than the Governor of Lagos State Babatunde Raji Fashola.
Banky W also goes on to speak on how religion and tribe often divides us.
It should be Fashola.

— Banky Wellington (@BankyW) December 17, 2014
I don't care about my leader's tribe, religion, or whatever jargon they keep feeding us.

— Banky Wellington (@BankyW) December 17, 2014
Zoning. Religion-ing. It's all crap.

— Banky Wellington (@BankyW) December 17, 2014
Some of my mentors, clients, business partners, colleagues are from different tribes and religions than mine. What difference does it make?

— Banky Wellington (@BankyW) December 17, 2014
I don't choose who to do business with based on if they're from my village. I don't choose who to associate with based on their religion

— Banky Wellington (@BankyW) December 17, 2014
Like really…when will we EVER learn??

— Banky Wellington (@BankyW) December 17, 2014
Who cares if Fashola is a muslim? Didn't we vote him into power in Lagos? Did the fact that he's muslim affect the way he lead the state?

— Banky Wellington (@BankyW) December 17, 2014
I'm sick and tired of being sick and tired of all this.

— Banky Wellington (@BankyW) December 17, 2014
Tribe… Religion… these are just tools people use to divide us. And then we wonder why we're in the same position decades later.

— Banky Wellington (@BankyW) December 17, 2014
Abiola won the election (in a LAND SLIDE) on a muslim-muslim ticket. Wasn't that the same country? It didn't matter then. Why does it now?

— Banky Wellington (@BankyW) December 17, 2014
They brainwash us into thinking these things matter… and then we wonder why we're still here facing the same problems as a nation

— Banky Wellington (@BankyW) December 17, 2014
We wonder why people still kill each other in places like Jos… differences in tribe, religion… like that means anything.

— Banky Wellington (@BankyW) December 17, 2014
In the US its white cops killing blacks. Here we r all black & all Nigerian but we think tribe & religion matter so we kill ourselves anyway

— Banky Wellington (@BankyW) December 17, 2014
Why can't we see that We're all Nigerian. Further more, We're all human beings.

— Banky Wellington (@BankyW) December 17, 2014
Some of my favorite people (friends, mentors) have different tribes/religions than myself. It doesn't matter. It REALLY doesn't matter.

— Banky Wellington (@BankyW) December 17, 2014
But then when it comes to Political power/leaders, they trick us to believe that religion/tribe matters. So they can divide & control us

— Banky Wellington (@BankyW) December 17, 2014
Same country voted Abiola, on a muslim-muslim ticket, in a LANDSLIDE. Religion didn't matter then. Tribe didn't matter then.

— Banky Wellington (@BankyW) December 17, 2014
Now all of a sudden, religion and tribe are controlling our every decision. We've fallen so far from what we used to be.

— Banky Wellington (@BankyW) December 17, 2014
May God save Nigeria.

— Banky Wellington (@BankyW) December 17, 2014