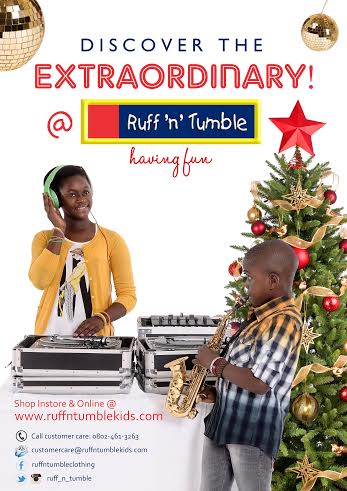 Ruff 'n' Tumble was born out of a need for good quality clothing and style for children.
Adenike one day ran out of pyjamas for her children. Unable to find suitable ones, she decided to make her own cotton pyjamas for her children. Impressed with the quality of the pyjamas, a family member placed an order for 7 pairs for her daughter and a store ordered 40 pairs.
From selling pyjamas out of the boot of her car, Adenike Ogunlesi, a woman of great passion and belief in her country Nigeria, has built a great children's clothing brand. Ruff 'n' Tumble is a perfect example of an SME fueling the engine of National Growth with 13 stores across Nigeria and counting!
Ruff 'n' Tumble is no doubt one of the fastest growing clothing brand for children, Proudly Nigerian and a dream come true for Adenike Ogunlesi. They encourage you to be you and believe in yourself because every dream can truly come true regardless of how big! Therefore dream big, find your own style, create it and discover the EXTRAORDINARY that lies in you.
Ruff 'n' Tumble is one of the leading contemporary kids clothing brands in Nigeria. Their stores are known for affordable fashion featuring designer detailing that allows the young dynamic individual to express their personal style and build self confidence. Over the years, the stores have evolved into boutiques that retail their own locally produced clothes, as well as international brands from Europe.
Their garments are hand crafted with care and are one of a kind, created with passion and inspiration from their local environment and the best around the world, giving you the freedom to play, express individual style and dream big while having fun! Because boys, girls and teens are all about fun, play, colour and style they help them create their own style while having fun.
With the collection in their stores and online, they have girls' look that include silk dresses, organza dresses, modern dresses, classic ballerinas, style dresses in pique, A-line cut dresses, feminine tees, tanks, blouses, ruffle sleeves and chiffon mixed with knit; while for boys it's a play on colour, skinnys, plaid and floral shirts, graphic tees, sneaker. They are big on the layered looks for boys and boys' coordination. The hoody is an essential item they've mixed in their looks – get'em in red, green, sky blue and even reversible.
The colours this season include neon, coral, mint, yellow, red and blue! Making your kids fly is what they do best so come have fun with Ruff 'n' Tumble and visit their store this Christmas to Discover The Extraordinary or their website: www.ruffntumblekids.com!
____________________________________________________________________________________
Advertorial – Sponsored Content