One of the leading sponsor of Copa Lagos 2014, Pepsi has expressed satisfaction with the performance of its team, Pepsi Football Academy (PFA) against FC Barcelona, one of the biggest clubs in the world in a match that ended 7-4 in favour of the visitor.
The academy made a come back from 5-0 but could not withstand the pressure from the experienced Barcelona team who kept on penetrating its defense.
Head of Marketing Seven-Up Bottling Company, Norden Thurston in an interview after the match in Lagos described Copa Lagos as one of the biggest beach soccer tournaments in the world. He said was amazed that such big event was being held in Lagos. He said the tournament has gone from strength to strength since it began in three years ago and that Pepsi was proud to be involved. He described the performance of the PFA against the FC Barcelona as impressive for an academy that started playing beach soccer for less than one month.
He continued – "Never in the last three years has the academy played with one of the biggest teams in the world. I think is a fantastic achievement not just for playing against FC Barcelona but also scoring against them. We had opportunity to make it 6-5 when the score was 6-4 but unfortunately we lost 7-4. The academy has just started playing beach soccer for less than a month and to lose 7-4 is an amazing achievement. I am very proud of the academy and Pepsi as a brand, Norden stated."
He noted that the opportunity to play Barcelona was a huge one for the academy. "When I was told that FC Barcelona was coming and that the PFA will have opportunity to play with them, I was exited."
Director Pepsi Football Academy, Chief Kasimawo Laloko said his boys could have done better but failed to take their chances. He said the boys had more chances than the visitor. He however said he was impressed that the team gave a respective performance. He explained that playing on the grass is different from playing on sand which the boys were not familiar with.
Chief Laloko lamented low development of beach football in Nigeria but expressed optimism that the involvement of Pepsi would transform the game in the shortest time. He however called on stakeholders in the sector to support the initiative of Lagos State Football Association to take the game to the next level.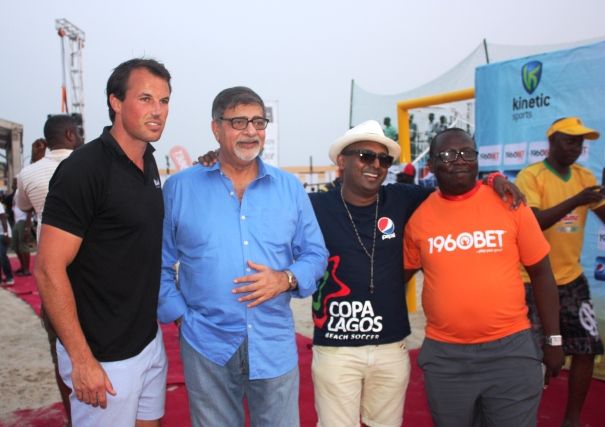 __________________________________________
Sponsored Content