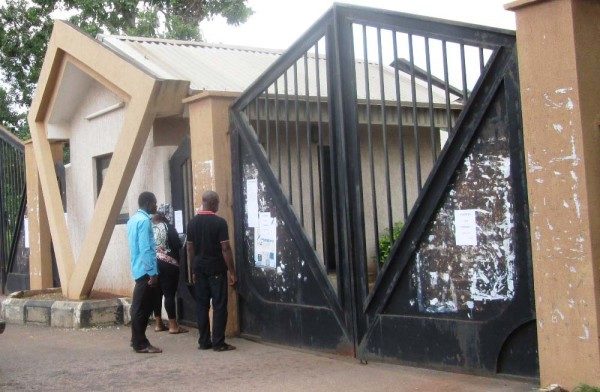 The Judiciary Staff Union of Nigeria (JUSUN) on Monday said it would only call off its ongoing strike if the government complied with the court judgment granting financial autonomy to states' judiciary.
Emmanuel Abioye, Chairman, JUSUN, Lagos State branch, made this known while speaking with the News Agency of Nigeria (NAN) in Lagos.
Abioye told NAN that he was satisfied with the level of compliance with the indefinite strike which began on Monday.
He said:"The national body of JUSUN has directed us to embark on an indefinite strike.
"They have actually told us that except government complies with the judgment of court, there is no going back.
"They have actually entered into several memorandum of understanding and till now, those were not respected and that is why the strike is on."
NAN reports that JUSUN embarked on the strike following the non-implementation of the Jan. 13, 2014 judgment of a Federal High Court in Abuja.
The court had ordered the Accountant-General of the Federation to make deductions of the amount standing to the credit of states' judiciary in the Consolidated Revenue Fund.
The court directed the AGF to remit it to the National Judicial Council which will then disburse same to the various heads of court.
JUSUN had earlier embarked on a warning strike in July 2014, to press home their demand for financial autonomy of the judiciary.
NAN correspondents, who monitored developments at the Lagos High Court, Igbosere and Ikeja, as well as some Magistrates' Courts in the metropolis, report that the gates to the court complexes were locked.
Some lawyers and litigants who were unaware of the strike were denied entry into the high court premises by security men and some JUSUN officials.
Ikechukwu Anima, a Lagos-based lawyer, told NAN that the judiciary workers were fighting a good cause.
He urged the government to put into effect the financial autonomy of the judiciary and yield to the demand of the judiciary workers.
The lawyer said that the strike would definitely cost him and his clients a lot because he was in court to perfect the bail condition of one of his clients, who was in prison custody.
"I support the financial autonomy of the judiciary for proper checks and balances in the government.
"Government should endeavour to yield to the demand of the judiciary workers, it is the right thing to do," Anima said.
A woman, who refused to give her name, told NAN at the Lagos Magistrates' Court that she was there to stand as a surety for her brother who was in prison custody.
She expressed displeasure at the strike because it would prolong her brother's stay in prison custody.